Design Guide
How to design a fully functional outdoor kitchen
Leverage our experience. Our design specialists have brought their knowledge to this helpful guide. When your outdoor kitchen is complete, we want there to be no reservations, no regrets, nothing inhibiting its usability. This is the path to total enjoyment of your space.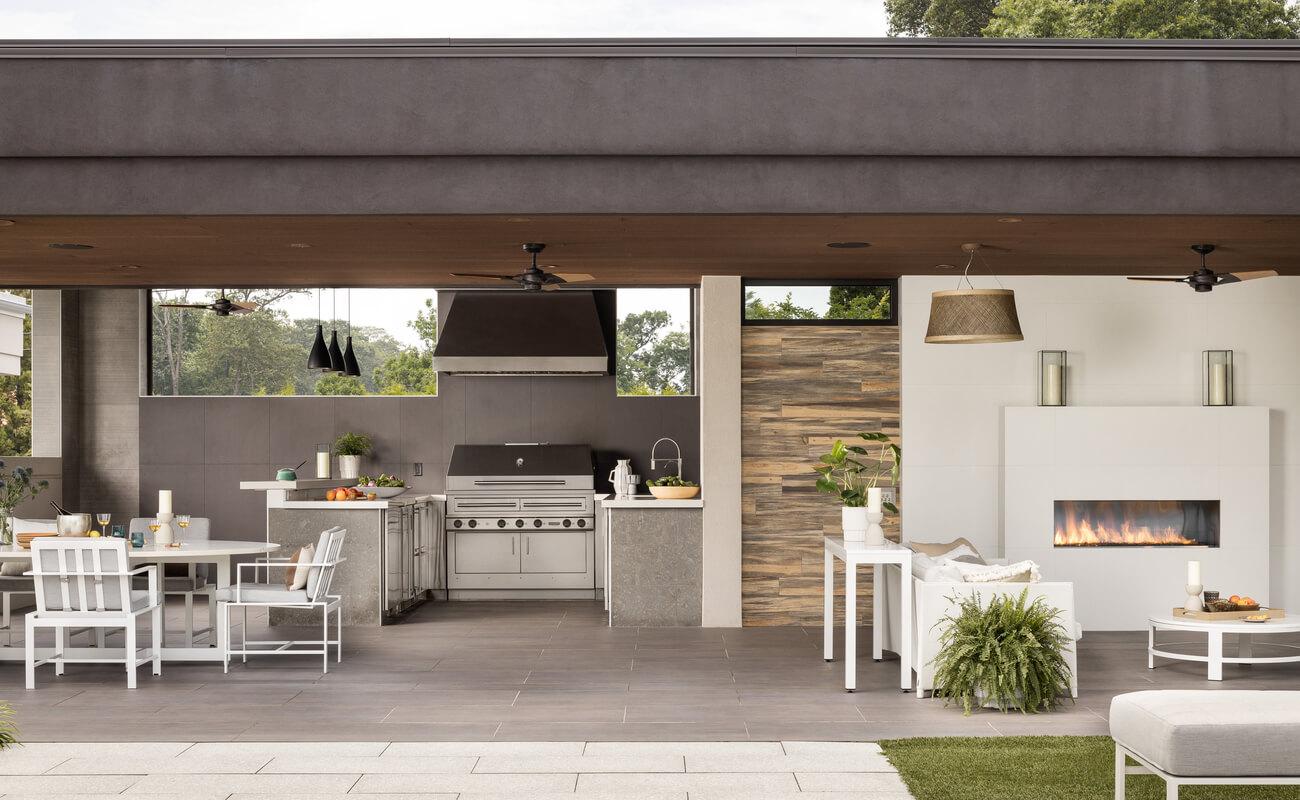 Transform your outdoor space into an extension of your home, a fully functional outdoor kitchen where you can effortlessly cook and entertain. This, of course, takes serious planning and design knowledge—so our experts have assembled this guide to help you through the process.
SITE ASSESSMENT
Can the potential outdoor kitchen location be:
Easily connected to home utilities?
Conveniently located to the indoor kitchen?
Sheltered from sun, wind and rain?
Leveled out if necessary?
The relationship between the indoor and outdoor kitchen is an important design decision. If they are closely tied together, the outdoor kitchen can rely on the indoor kitchen's capabilities more heavily. It can use a smaller sink and has less demands for prep space and refrigeration.
Always check to see if a permit is necessary before starting your outdoor kitchen project, and be sure to understand local codes, including easement, permeable surface requirements, water restrictions and height restrictions.
UTILITIES PLANNING
The location of your outdoor kitchen and equipment can affect the installation of your gas, water and electricity supply—and the overall budget for your project.
Plan for ample electric supply and outlets. Consider using dedicated circuits for the outdoor kitchen with GFI breakers in the electrical panel rather than at each outlet.
Hot and cold water? Or just cold? You can save on the cost of utilities by running a single, cold water line to the outdoor kitchen. Consider adding filtration and an on-demand water heater below the sink.
Make sure you have enough gas. Add up the total BTUs of the grill, cooktops, fire feature, pool heater and anything else that will be connected to the gas line, including your indoor appliances. The total BTUs, together with the length of the pipe, will determine the diameter of pipe that is needed. It is not uncommon for outdoor kitchens to require a 1-inch or greater gas pipe diameter.


FUNCTIONAL ZONES OF THE OUTDOOR KITCHEN

Hot Zones
Grills, cooktops, pizza ovens and the like, plus the surrounding work space.
Dry Zones
Counterspace used for food prep, ideal for cabinetry and storage space dedicated to supporting any of the other three functional zones.
Wet Zones
The sink, surrounding counter top and any storage primarily used for sink-related activities.
Cold Zones
Refrigerators, freezers and other cold storage spaces, plus the adjacent counter top areas.
Plan enough space for all four functional zones, including enough countertop space to support each one. Pay attention to each functional zone and think about how they will work together for prep, cooking, serving and cleanup activities. Together, these are the keys to designing an outdoor kitchen that really works for the home entertainer.


LANDING AREAS
Each station in the outdoor kitchen needs clear counter top space to support it. We call this space a landing area. This concept works hand-in-hand with the concept of functional zones, and it is a key part of planning your outdoor kitchen. Kalamazoo Outdoor Gourmet has developed specific landing area recommendations for different parts of the kitchen.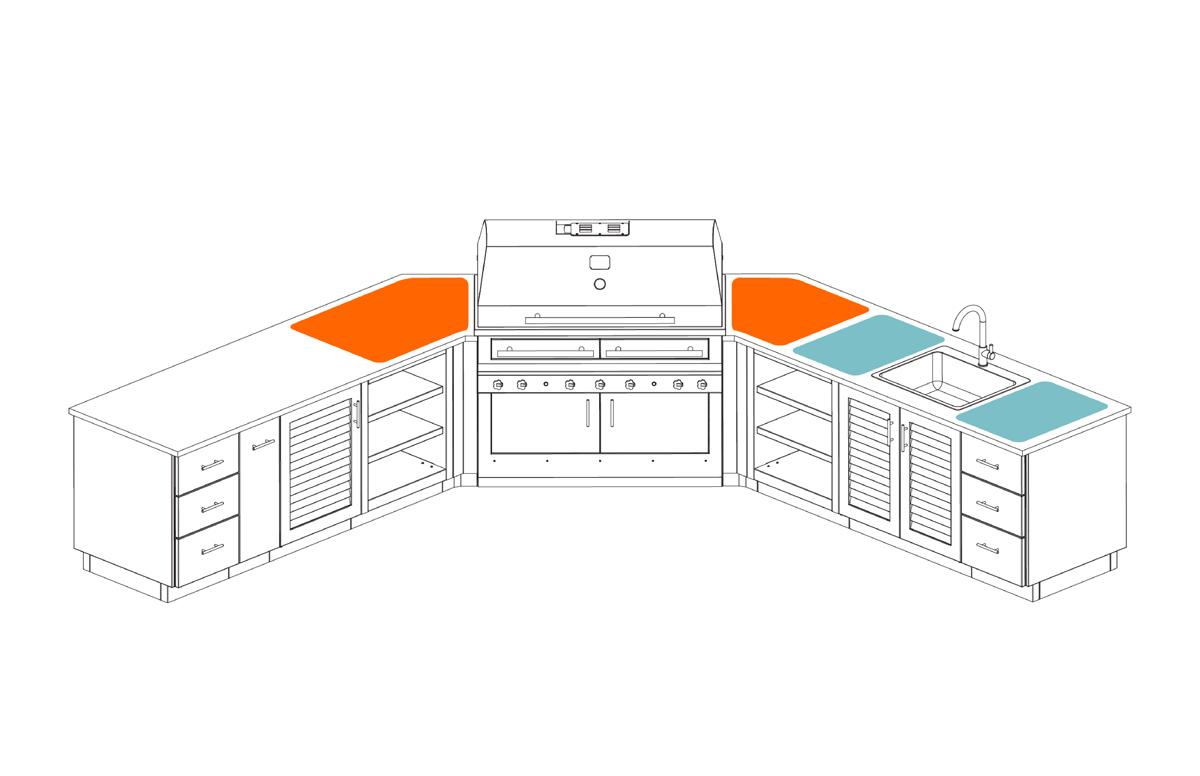 Tip: Use open shelves to increase usable counter space in small outdoor kitchens.
GRILL
24 inches to one side and 12 inches to the other for a total of 36 inches of clear counter top space adjacent to the grill
SINK
REFRIGERATORS
15 inches next to or above each appliance
COOK TOP
PIZZA OVEN
24 inches to one side and 12 inches to the other


EQUIPMENT SELECTION
Think about what kind of outdoor cooking you enjoy now, then consider your aspirations. What would you like to cook in your new outdoor kitchen? Every convenience and appliance is available, including options you might not have imagined until now. These are a few highlights of what's possible.


Gas grills offer convenience. Charcoal grills offer more flavor and an engaging live-fire cooking experience. Hybrid Fire Grills offer the best of both worlds, combining the world's highest-performance gas grill with wood and charcoal cooking—all on the same grill. Argentinian-style grills feature grill grates that raise and lower above a wood fire to control the intensity of the heat, creating amazing flavors and a primal, sensory experience. Kamado-style grills offer versatility—with three levels of fire, you have the choice of long, slow cooking, oven-like roasting, or a quick sear.
Gas-fired ovens offer modern convenience and faster temperature changes than wood-fired ovens. Choose between built-in ovens surrounded by masonry, countertop ovens, or pizza ovens on rolling carts.
Choose from over 25 refrigeration options including refrigerators and refrigerated drawers, freezers and freezer drawers, wine reserves, keg tappers, beverage centers and ice machines.
Tip: You can tell a lot about the quality of an outdoor refrigeration unit by looking at the manufacturer's recommendations for summer heat and winter storage. If it is suggested the unit should be turned off when temperatures exceed 90°F, it might not be the best choice for your kitchen. Some units are designed to withstand extreme summer heat and still perform at a high level. Similarly, if the unit is designed to be left outside all winter long and simply switched off for the colder months, it is likely built better than a unit that needs to be brought indoors for the winter. Kalamazoo Outdoor Gourmet refrigerators are able to keep wine chilled and ice cream frozen even in 110°F heat.
For the barbecue enthusiast—the pitmaster who takes pride in "low and slow" traditional American barbecue—a dedicated smoker is a must. Smokers come in many shapes and sizes, and use different technologies, including: offset "stick burners," vertical "water smokers", kamado-style vertical smokers, gravity-fed charcoal smokers, electric pellet smokers and more.
Outdoor cooktops have come a long way from the old notion of a "side burner" attached to a grill. Single, double and quadruple cooktops are available to rival the best indoor ranges. Powerful wok burners and lobster boilers are also available.
Specialty Equipment
Truly specialized equipment can be enjoyed in the outdoor kitchen too. Tandoors, wet bar inserts, recessed blender stations, teppanyaki and a host of other options are available for use outdoors.
Kitchen Seating
It's important to account for more than just the width of each seat. Knee space requirements vary with the height of the seat, and the proper amount of clearance behind each seat should also be considered.
Seating Widths
Normal seating width is 24" wide per person.
Accessible seating width is 36" wide per person.
Knee Space
Bar height seating (counters set at 42" high) needs a 12" counter overhang for comfortable knee space.
Counter height seating (counters set at 36" high) should have a 15" overhang.
Table height seating (counters or table 30" high) should have at least an 18" overhang for knee space.
Accessible seating (counters or table 30" high) requires a 19" minimum overhang.
Traffic Clearance
If there is no traffic that needs to pass, leave at least 32" between the counter/table/bar edge and the nearest obstruction to make room for comfortable seating.
To allow people to edge past behind seats, leave at least 36".
For unobstructed traffic, leave at least 48".
Outdoor Kitchen Safety
Safety is a vital part of outdoor kitchen design. Keep the following factors in mind:
Make sure the patio material offers good traction. Slip resistance in an outdoor kitchen is as important as it is around a pool.

Keep a buffer zone between hot grills, ovens or cooktops and any people. A minimum of 9" of countertop extension is recommended behind and to the sides of all hot appliances.

Never install a grill below an overhead combustible surface. Follow all manufacturer guidelines for safe clearances for combustible surfaces to the sides and back of appliances.
Make sure the gas shutoff valve is in an easily accessible location at least a few feet from any gas-burning appliance.

Store a fire extinguisher nearby.

Clip or round all outside corners of the countertop.

Provide ample lighting throughout the kitchen and on all walkways and steps leading to the kitchen.