About Us
The Kalamazoo Outdoor Gourmet story
From design and construction to customer service, we set the bar for industry excellence. Our goal is to create the best experience. We never rest. We continue to innovate—the Hybrid Fire is considered the world's best gas grill, but we still look for ways to improve it. That's the Kalamazoo Outdoor Gourmet way. It's what sets us apart.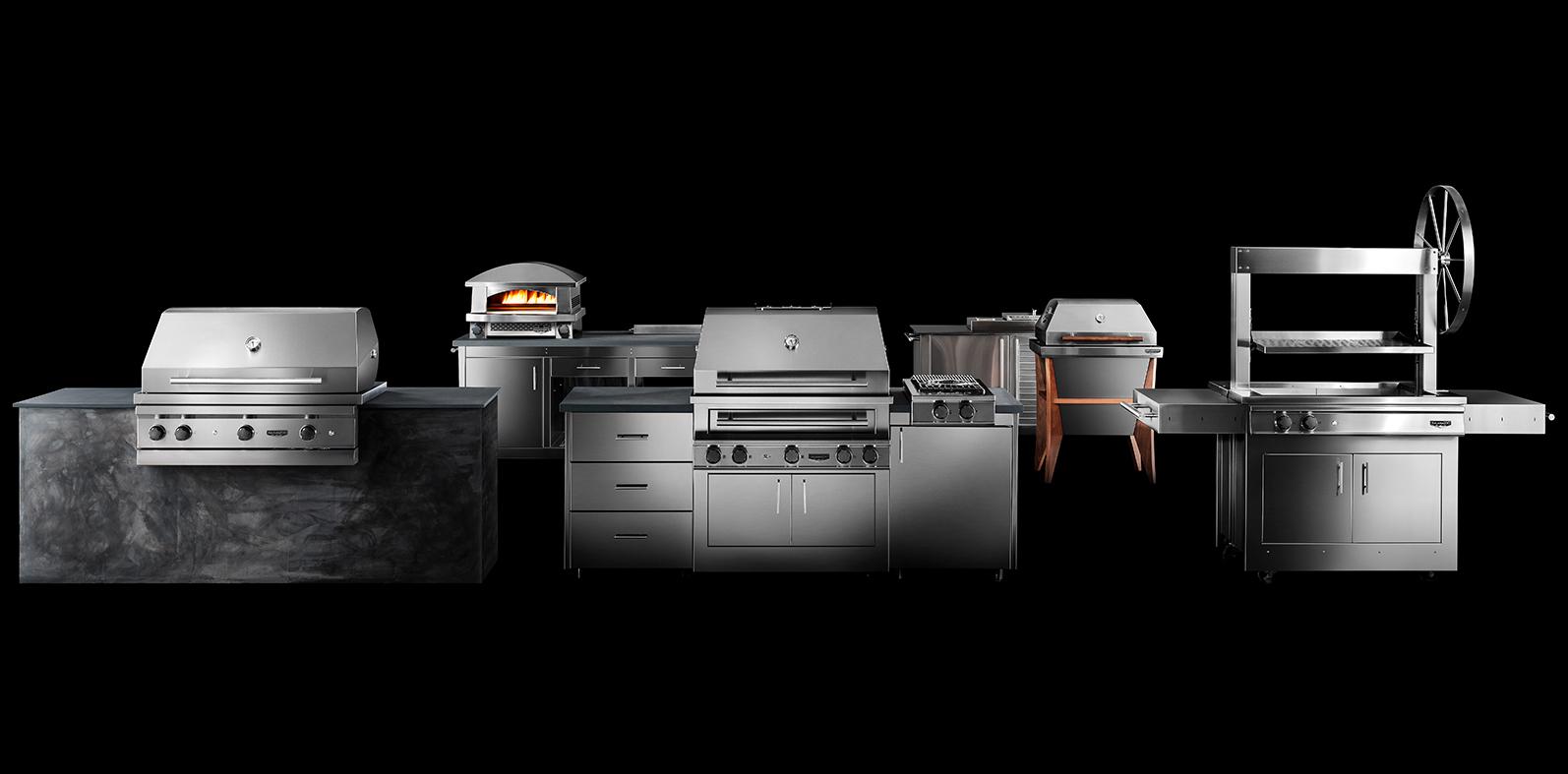 sheet metal tradition since 1906
Kalamazoo Sheet Metal was founded in 1906 as a custom sheet metal fabrication shop in Kalamazoo, Michigan. Driven by a gifted founder with a number of tool and product patents to his name, they focused on specialty metal products that were challenging for the average shop to fabricate. The company served a variety of industries in western Michigan, including the production of dairy processing equipment, and ultimately perfected the flawless "dairy standard" of stainless steel welding.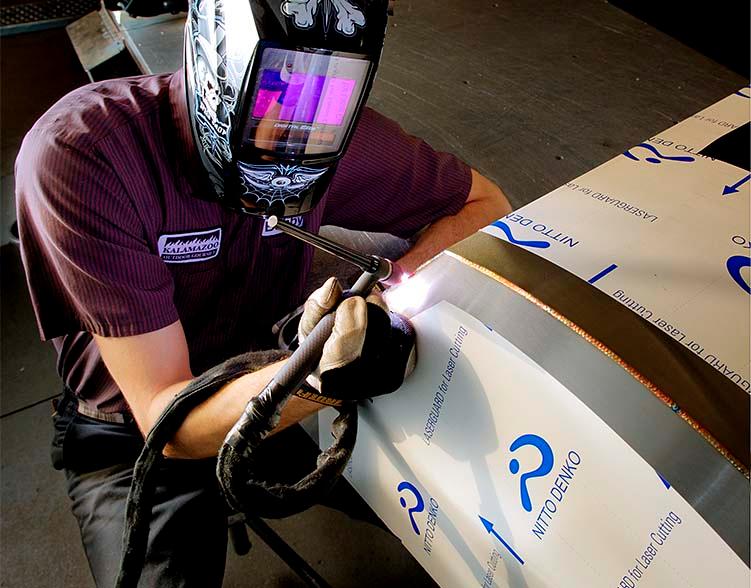 BIRTH OF THE WORLD'S BEST GRILL
In 1996, the company introduced a stainless-steel line of grills under The Kalamazoo Grill brand, culminating in the 1998 invention of the highest performance gas grill on the market. The Kalamazoo Dual-Fuel Grill not only featured unparalleled quality, but also the integrated ability to cook with charcoal and wood. This revolutionary product set a new standard for outdoor cooking possibilities. During this process, the company won a design patent that became a signature of its products in the years to come.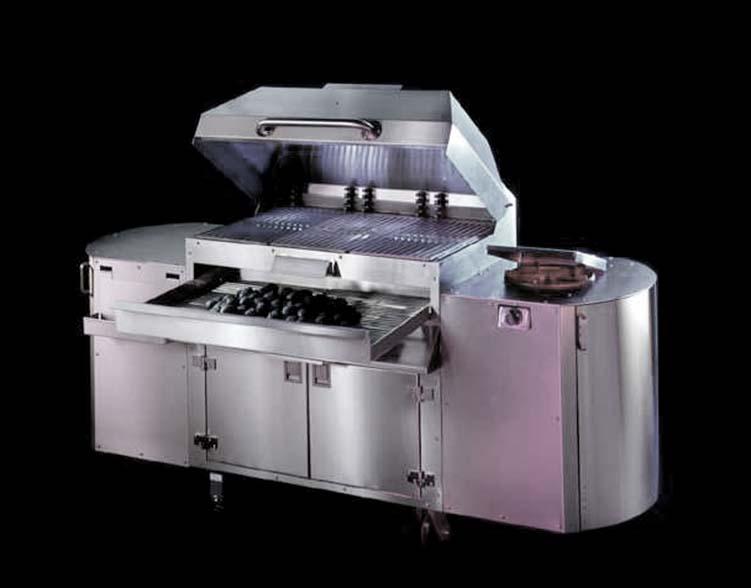 EVOLUTION OF HYBRID FIRE
The Original Kalamazoo Dual Fuel Grill evolved over the years and, in its current incarnation, has been perfected to outperform any gas grill on the market. Now known as the Hybrid Fire Grill, it boasts a unique set of design choices that delivers the ultimate outdoor cooking experience — excelling at grilling, searing, baking, roasting, smoking and rotisserie cooking — better than any other gas grill ever produced.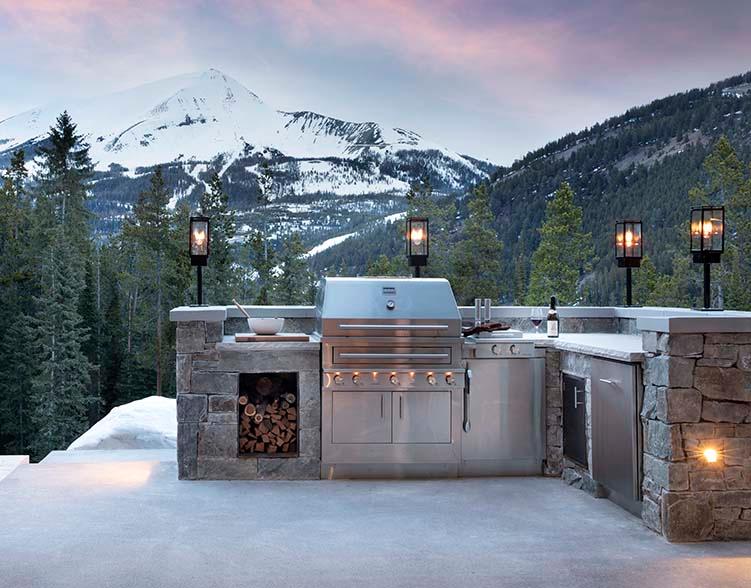 EXPANDING THE COLLECTION
In 2005, the company rebooted under new ownership to become what it is today — Kalamazoo Outdoor Gourmet. The new name signified the embrace of outdoor cooking and entertaining beyond the grill. This vision, rooted in performance and quality, drove the company to create a complete, modular outdoor kitchen system. Today, the offering includes grills, pizza ovens, smokers, refrigeration, cabinetry, ventilation and more.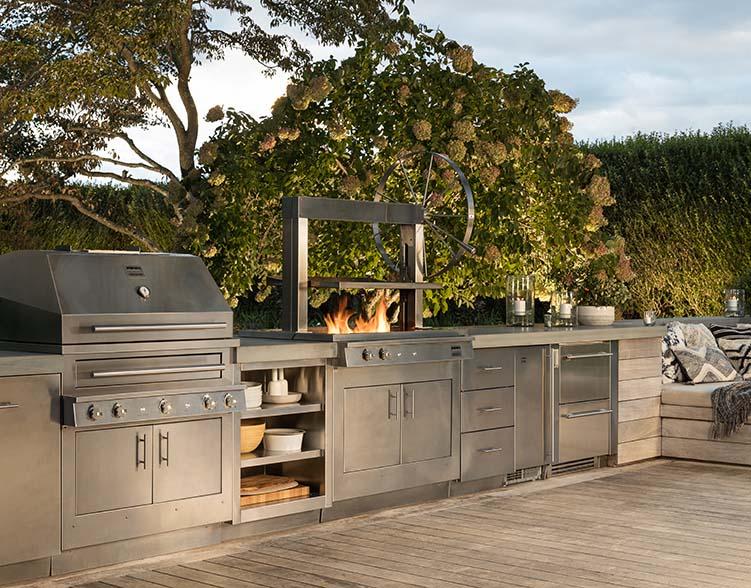 Like the Hybrid Fire Grill, everything we make is designed to elevate your outdoor cooking experience. The Wood-Fired Gaucho Grill brings Argentinian-style grilling to your backyard in modern style. And the Shokunin charcoal grill embraces the essence of kamado-style cooking while delivering unrivaled heat consistency and impressive efficiency. From quick-heating gas pizza ovens to weather-tight cabinetry, we can outfit your entire outdoor kitchen.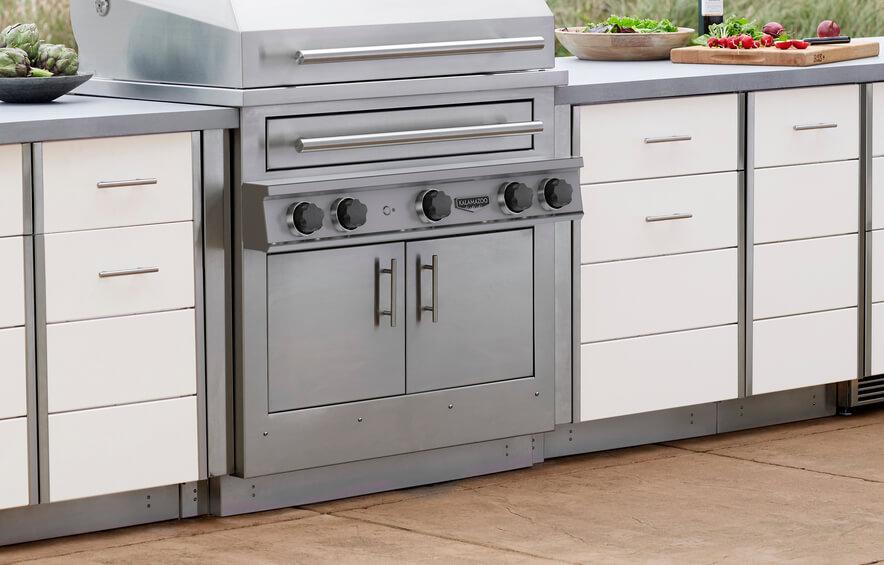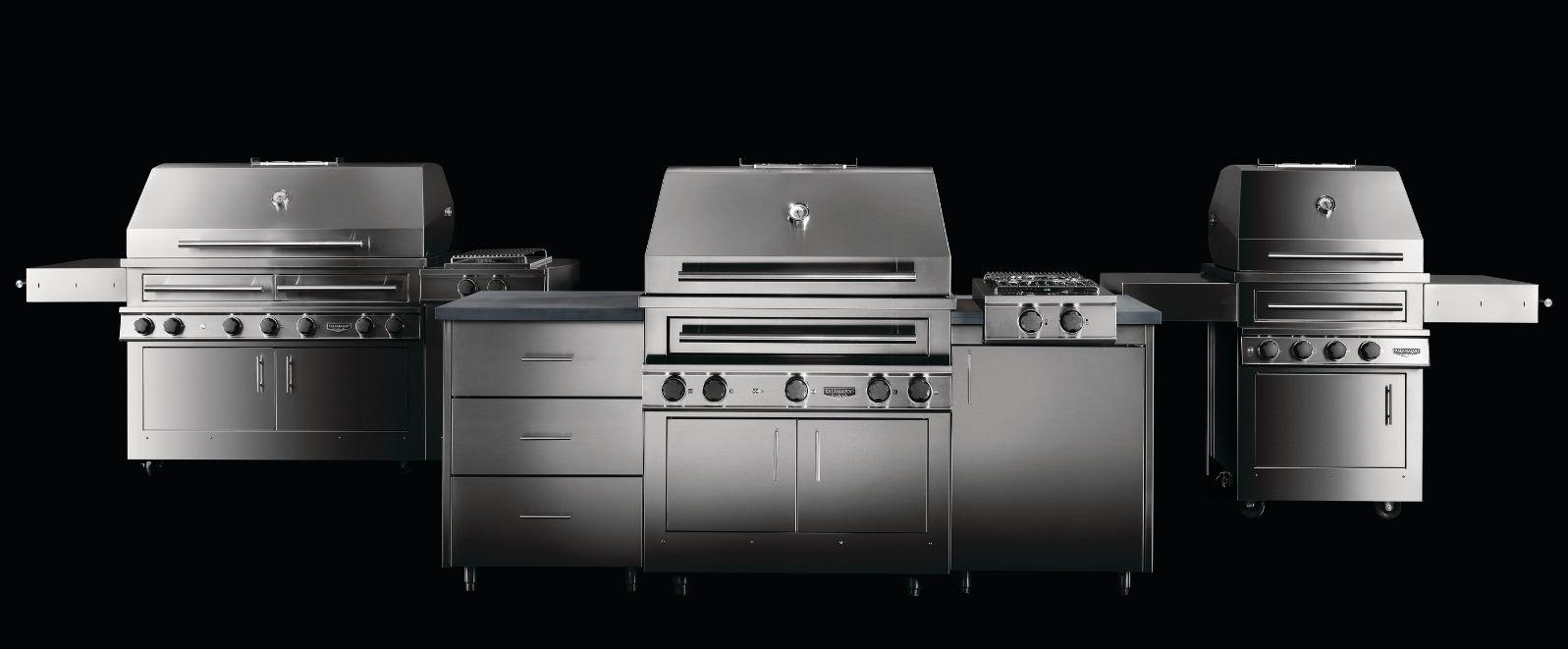 The best gets even better
In 2022, Kalamazoo debuted the most expanded and advanced product launch in the company's history. This next-generation cooking collection, including our first drop-in style gas grill, featured fine-tuned performance enhancements, updated aesthetics and industry-leading safety features. Kalamazoo became the first manufacturer to incorporate safety valves with every gas burner in their outdoor cooking products.
The flagship Hybrid Fire Grill continued in its evolution to remain the highest-performance grill on earth and provide the best user experience possible with updates to its Dragon Burners™, barbecue burners and electronic bezels with LED lighting.
Legacy of innovation
Our reputation is built on innovation. Kalamazoo introduced the world to the first grill able to cook with gas, wood and charcoal more than 20 years ago. Four product generations later, we are proud to say the Kalamazoo Hybrid Fire Grill is the best and most versatile gas grill on the planet. Its cooking prowess is unrivaled. The same spirit of innovation that brought the Hybrid Fire Grill to life has driven a long list of unprecedented achievements. It still drives us forward today, seeking new innovations and new ways to delight our clients.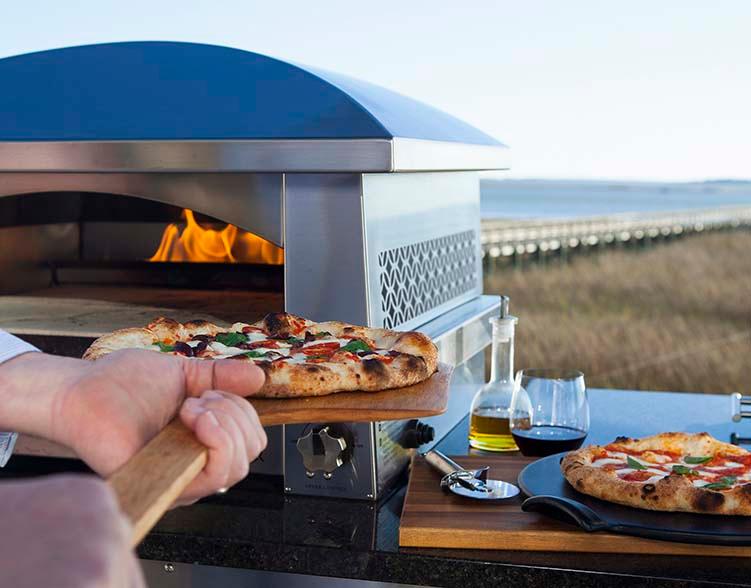 World's first gas, wood and charcoal hybrid grill
World's first weather-tight outdoor kitchen cabinetry
World's first countertop outdoor pizza oven
World's first Argentinian-style grill with gas starters and integrated rotisserie
World's first under-counter charcoal smoker cabinet
World's first complete outdoor kitchen collection available in marine-grade stainless steel
World's first rectangular kamado grill with cross-flow ventilation and adjustable fire grates
First manufacturer in North America to introduce safety valves across its entire product line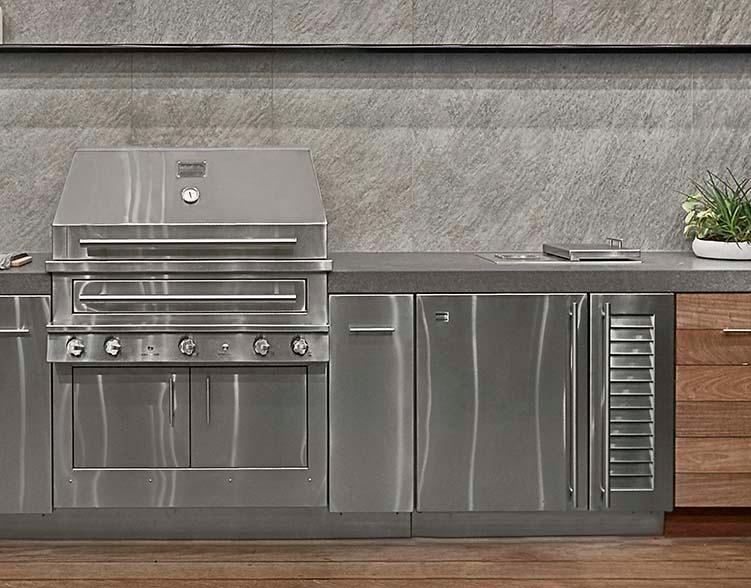 Expert DESIGN SUPPORT
Our in-house outdoor kitchen design experts have created hundreds of outdoor kitchens, and they place the highest priority on meeting the unique needs of each client. This is more than a philosophy. The breadth and depth of the Kalamazoo Outdoor Kitchen Collection gives our team significantly more options to work with than any other manufacturer. With more than 150 models and 1,500 SKUs at our disposal, a kitchen can be truly tailored to a client's needs and aspirations. Not just special occasions. Not just now and then. Our goal is for every outdoor kitchen to become the primary kitchen in the home — easy to live with and a joy to use.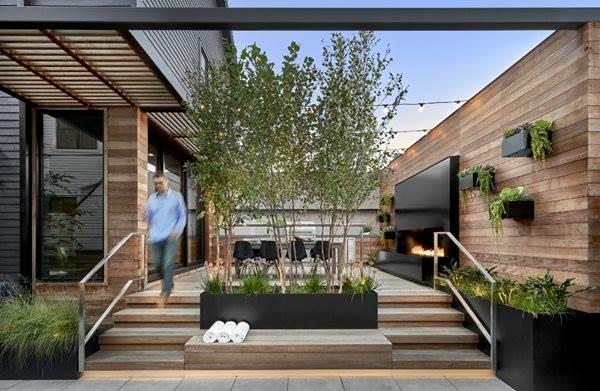 Making Headlines
Check out the latest media stories that highlight our product news, expert reviews, and outdoor kitchen trends and design tips.