Outdoor Kitchen Components
How We Make Design and Installation Easier For Any Layout
We're here to eliminate challenges. We designed the Kalamazoo kitchen system to be very straightforward, comprehensive and easy-to-use—we've included all imaginable outdoor kitchen components, then engineered it all to be modular. It all fits.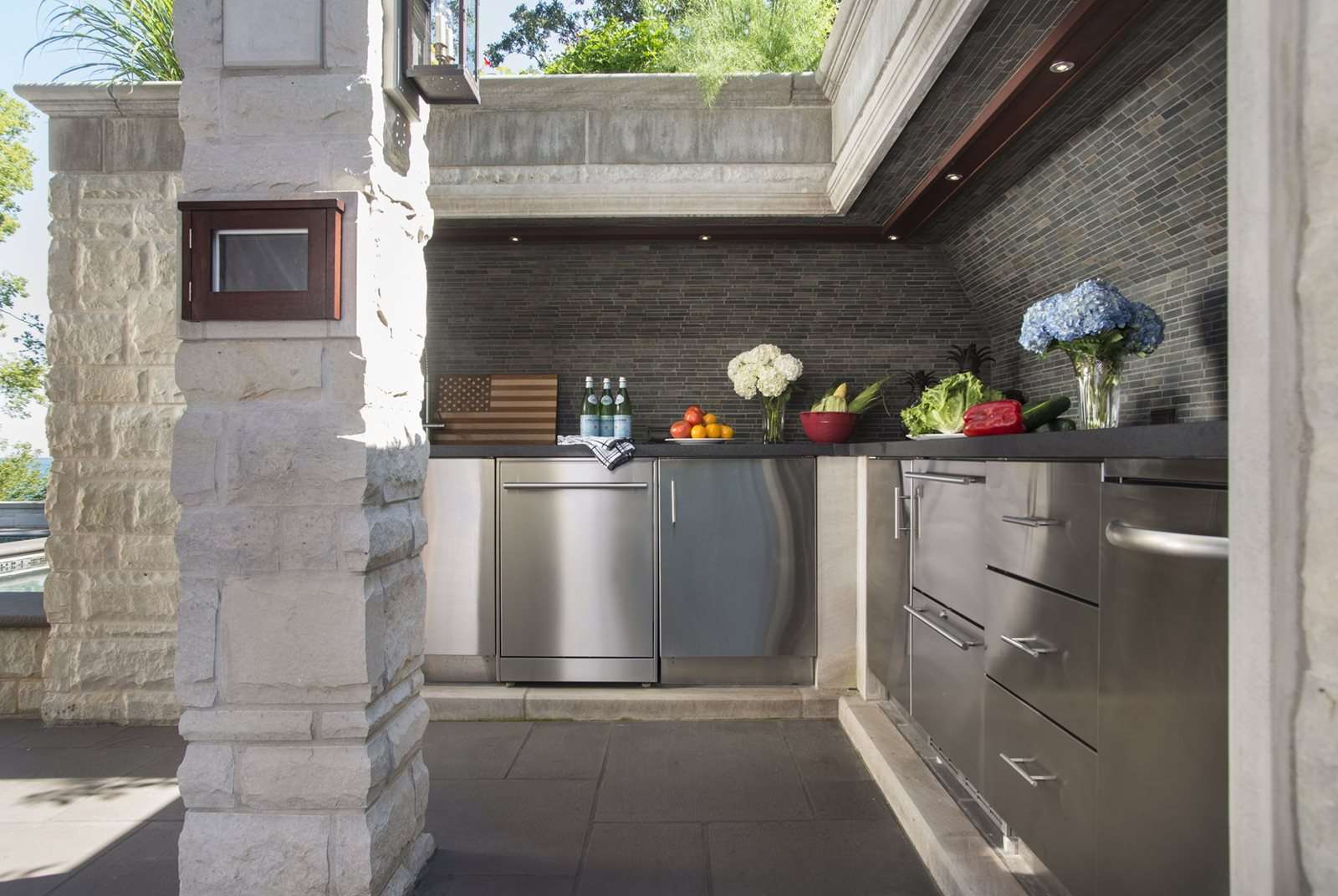 Our outdoor kitchen appliances are fully finished on all sides in hand rubbed stainless steel and our outdoor cabinets are complete units with closed fronts and backs. Stainless steel side panels are also available to cover exposed ends of any kitchen run.
The system is also fully compatible with masonry, stucco or other surrounds while reducing the labor required from masonry and carpentry trades.
Uniform Depth
All outdoor kitchen cabinets are 30" deep, including base cabinets, sink bases, appliance cabinets and accessories like the end cap shelves, 45-degree inserts and umbrella inserts. This depth allows the cabinets to clear the depth of the largest Kalamazoo grills. All back filler panels are designed to support the counter top behind outdoor kitchen components that are less than 30" deep such as the grills and under-counter appliances. With a 1" overhang on all sides, the standard Kalamazoo counter depth is 32".
Adjustable Height
All cabinets and grills stand on stainless steel leveling legs. These legs compensate for uneven surfaces and allow a range of finished counter heights. The system is optimized for 1.25"-thick solid surface counters with a counter height of 36". Cabinets have a range of adjustment of plus or minus 0.75". Grills can adjust plus or minus 1.25" to allow for higher or thicker counter tops.
Grill Options
Kalamazoo grills are available in three sizes, and you can get them as freestanding patio grills or built-in grills in conjunction with a Kalamazoo outdoor kitchen. All Kalamazoo built-in grills reach all the way to the ground and stand on their own stainless steel leveling legs. Kalamazoo does not build a "drop-in grill" or "grill head" because our advanced design utilizes a deeper cook box for superior performance.


Outdoor Refrigeration Options
Kalamazoo offers a full range of outdoor refrigerators for under-counter installations in three widths: 15", 24" and 48". The line includes wine chillers, keg tappers and beverage centers plus the only outdoor-rated freezers available, and the only refrigerators suitable for food storage.


Outdoor Appliance Cabinets
All appliance cabinets include an electrical box inside inside to supply power to the appliances. Outlets must be hard-wired according to local codes. All appliance cabinets measure 8" wider than the appliance size (the appliance surround for 48" appliances is 56" wide). Appliance cabinets create an insulating air gap for appliances to be installed next to a grill.


Appliance Back Filler Panels
All appliance back filler panels include electrical boxes to supply power to the appliances. Outlets must be hard-wired according to local codes. A back panel can only be used between a pair of cabinets. The panel mounts to these two cabinets to finish the back behind appliances sitting between the cabinets.
Any two Kalamazoo cabinets can be used to flank the back panel, including base cabinets, sink bases, appliance cabinets or corner units. Because a back panel is supported by the cabinets to either side, two back panels may not be used adjacent to each other. Back panels may not be used adjacent to a grill.


Counter-height Seating
Counter overhang brackets are available to support a 14" counter overhang from the backs of Kalamazoo cabinets.
Corner Options
Kalamazoo corner options include blind corners to create a 90-degree bend with appropriate clearances in a minimum footprint; and 45-degree inserts that create a 45-degree angle between two legs of a kitchen. The 45-degree inserts also may be used to flank a grill or other equipment, highlighting that equipment as an angled corner.
Toe Kicks
Optional stainless steel toe kicks are available for any or all four sides of the outdoor kitchen, including grills, base cabinets, sink bases and appliance cabinets. Toe kicks snap onto cabinet legs for easy installation.