Product Care
OUTDOOR CABINETRY and REFRIGERATION CARE AND CLEANING
Kalamazoo's collection of outdoor refrigerators, freezers and cabinetry are made from high quality stainless steel, these units are built to last a lifetime.
To keep your collection in perfect running order, follow these care and cleaning tips: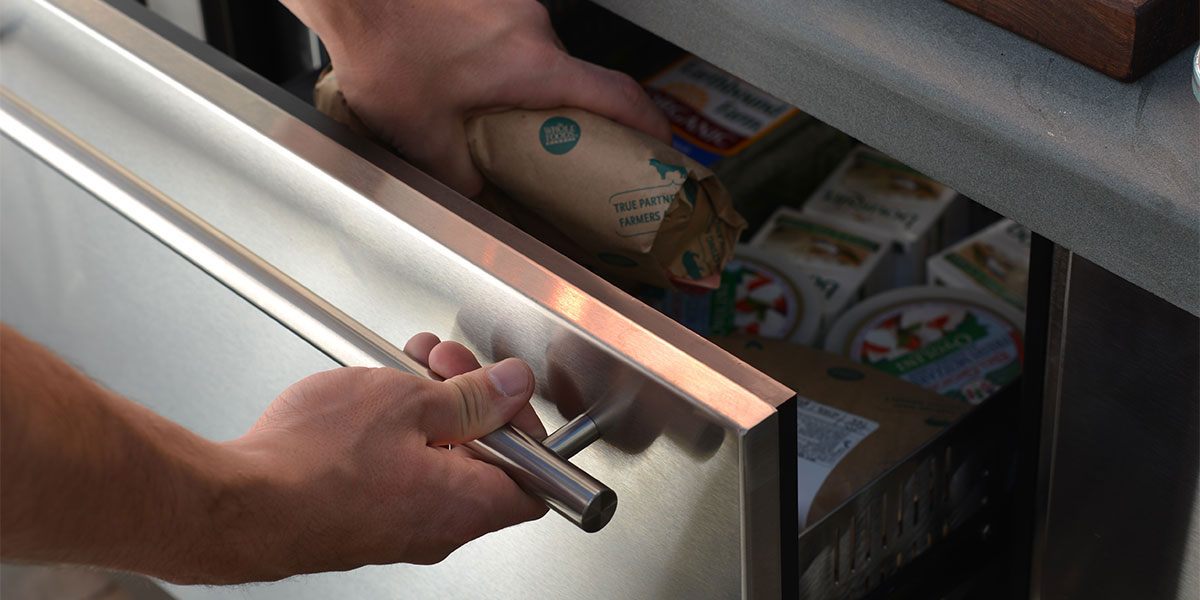 CLEANING THE EXTERIOR OR INTERIOR SURFACES
Use a soft, non-abrasive cloth and stainless steel cleaner to wipe them down. We have seen good results using Signature Polish. Glass door panels can be cleaned using any standard glass cleaner.
To clean interior and exterior non-metallic surfaces and removable parts, just wash with a mixture of soap and lukewarm water with a little baking soda. Rinse and dry thoroughly. Avoid getting water on lights, controllers and fan motors.
Do not use abrasive cleaners or cloths on any of the surfaces or removable parts.
CLEANING THE REFRIGERATOR CONDENSER
Follow these tips for cleaning the fridge or freezer condenser:
Shut off the electricity before you start to clean.
Remove the louvered toe plate as the condenser is located behind it.
Use a soft bristle brush and vacuum to remove dust and debris. Take care when cleaning to avoid damaging or crushing the condenser fins or tubing.
Failure to clean the condenser every three months could result in temperature loss or mechanical failure or damages.
To check the refrigerator's temperature, refer to the owner's manual.
CARING FOR NATURAL IPE WOOD CABINETRY
The ipe wood used on Arcadia cabinetry is pre-treated with Penofin® oil. To maintain the rich, dark color, periodic treatment with more Penofin oil will be necessary. In most environments, treating the wood once or twice each year is all that is necessary to maintain the factory appearance. Your installation may require more frequent oiling. Oiling the ipe wood is purely an aesthetic decision. If you prefer a natural, gray, weathered appearance, then you can simply let this occur naturally.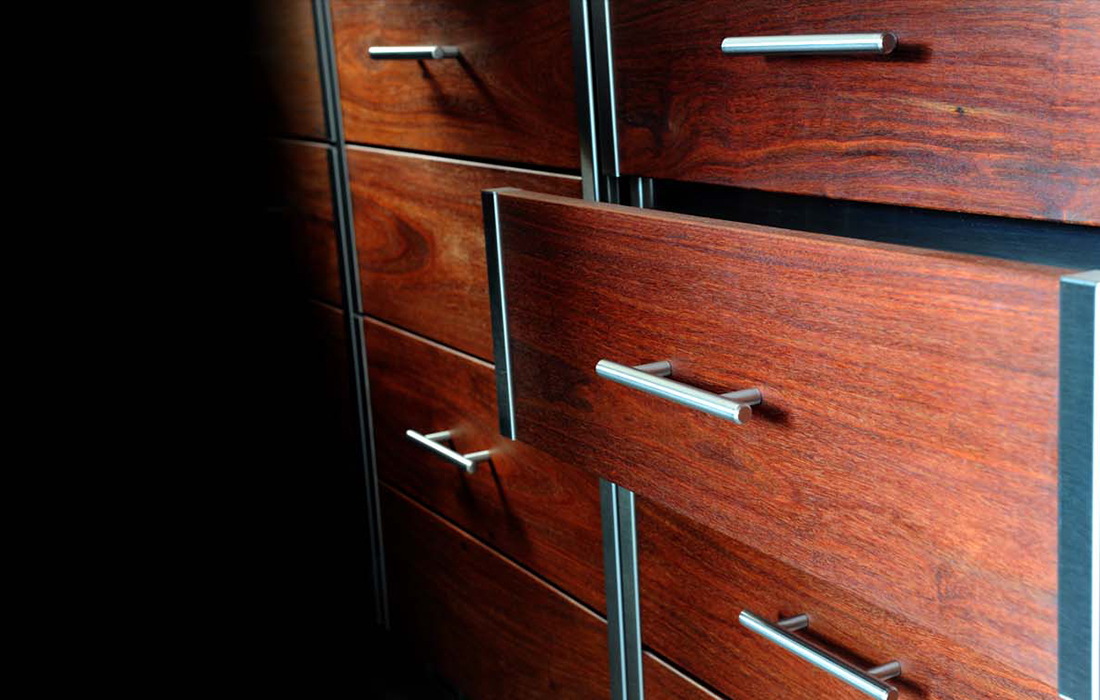 CARING FOR POWDER COATED CABINETRY
The durable powder coated panels on Arcadia cabinetry is polyester-based for the best durability and fade resistance available. To clean the coating, Kalamazoo recommends a mild soapy solution. Rinse well, then clean the stainless steel portions of your cabinetry with a nontoxic stainless steel polish. (Do not use a pressure washer to clean cabinetry.)


CARING FOR STAINLESS STEEL
Stainless steel is best polished using a clean microfiber towel and a nontoxic stainless steel polish. Kalamazoo recommends spraying the polish directly on the towel, then wiping the stainless steel. Always try to polish with a motion in the same direction of the stainless steel grain. Spraying directly onto the towel minimizes the amount of polish that may get on the wood or powder coated panels. Polishing with the grain minimizes scratches.


WINTERIZATION & SEASONAL CARE for REFRIGERATION
Kalamazoo outdoor refrigeration has been engineered to withstand the elements and does not need to be brought indoors. However, it is important to take action once the daily low temperature is at or below the following guidance:
Freezer models: 32°F (0°C)
Refrigerator models: 38°F (3.3°C)
Beverage Center models: 42°F (5.6°C)
Wine Reserve models: 45°F (7.2°C)
Beer Dispenser models: 38°F (3.3°C)
Dual-Zone models: Refer to the warmest temperature compartment above
WINTERIZATION STEPS
Empty out all units and thoroughly clean the inside walls and drawers with stainless steel cleaner and polish.
Switch off the power by removing the toe kicks and hard-powering them off individually. If you can access the plug, unplug the unit. If it can't be reached, simply shut off the power at the breaker.
Clean the exterior surfaces with stainless steel cleaner, and give the units a nice coat of stainless steel polish.
Remove the front grill (toe plate) and clean behind it with a vacuum cleaner to remove any loose dirt or debris. Reinstall.
Leave units uncovered as accumulated moisture underneath can cause damage.
SIGNATURE SERIES CABINETRY
While the Signature Series weather-tight design enables clean and dry storage no matter the weather, we recommend the following steps for winterization:
Remove any liquids stored inside the cabinets before the first freeze.
Clean out the cabinets and remove anything that doesn't season well.
Finish by applying a fresh coat of stainless steel polish before winter.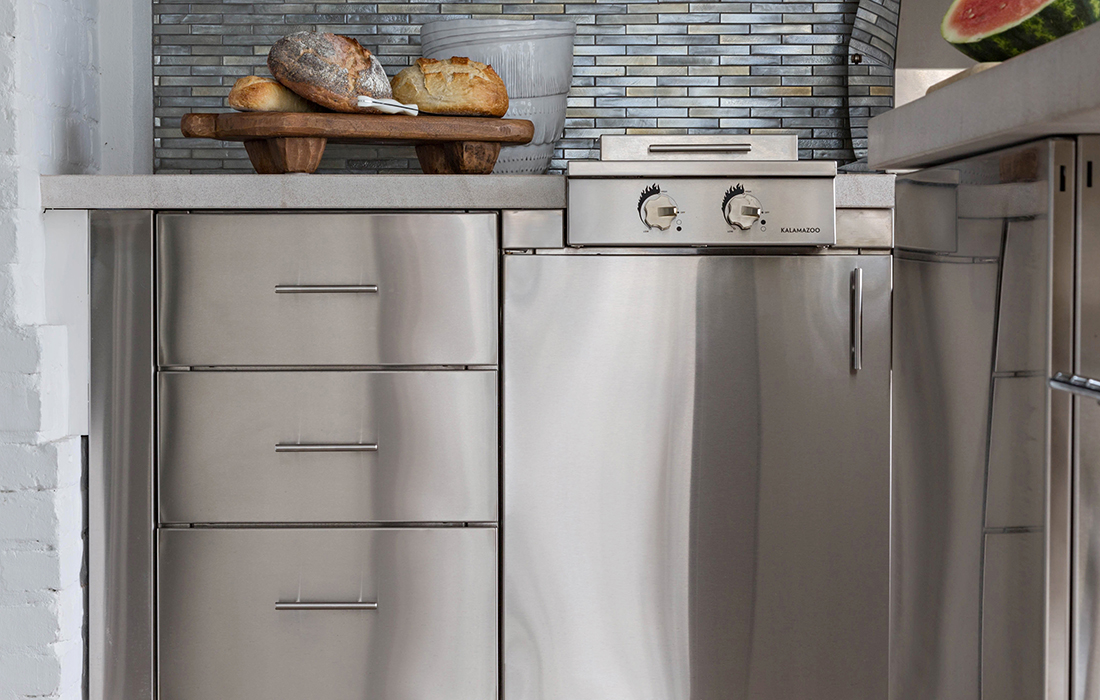 ARCADIA SERIES CABINETRY
We recommend taking the following steps before the first freeze:
Remove any liquids or other goods stored inside that may not keep well before the first freeze.
Clean out the cabinets and remove anything that doesn't season well.
Apply a fresh coat of stainless steel polish to any stainless steel portions of cabinetry before winter.
To learn more about winterizing your full outdoor kitchen, visit our complete guide here.