Design Checklist
From Conception to Installation—a Checklist Created by Outdoor Kitchen Design Experts
Our outdoor kitchen design experts put together this checklist to ensure you've thought through every detail when designing and installing an outdoor kitchen.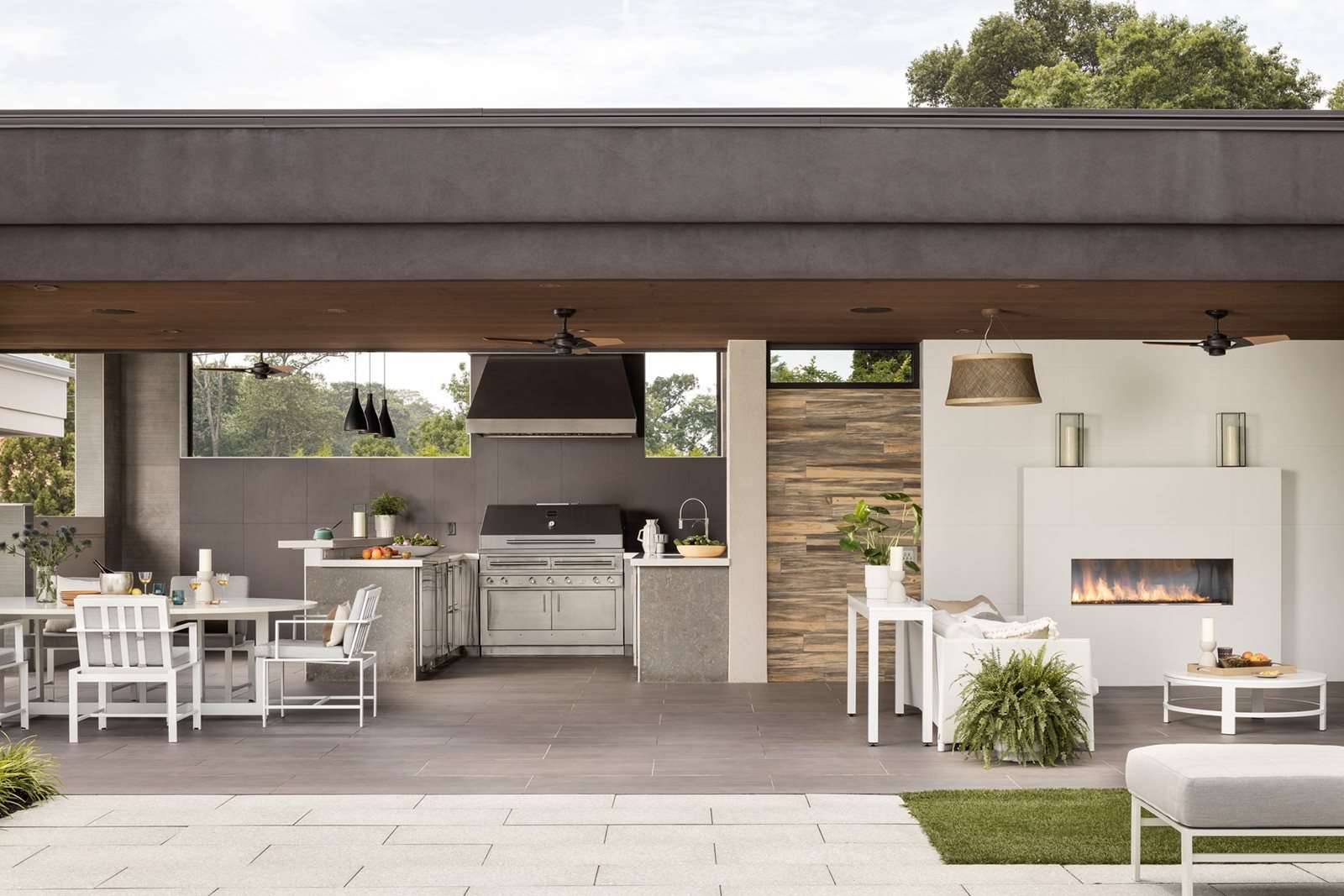 From your initial ideas to that first evening of relaxing: this checklist covers the key design aspects that apply to most outdoor projects. Our aim is to help you through the process —including offering full design support, working with one of our design experts directly.
Outdoor Kitchen Design and Installation Checklist
Site Assessment
How conveniently located will the outdoor kitchen be to the indoor kitchen? Is the path between clear of obstacles that may make it difficult to transport food, dishes and other items back and forth?
What is the relationship between the outdoor kitchen and other outdoor living spaces?
How will you connect to the home's utilities? Will the kitchen be against the house? If way from the house, what obstacles will interfere with any utility trenches you may need to dig?
Does the site need to be leveled?
What is the existing drainage pattern and how will it be affected by your plans? Does it need to be changed?
What is the prevailing wind pattern, and will you need to provide some shelter from the wind?
What is the sun exposure, and how will you ensure adequate shade?
Are you going to provide shelter from rain? Will the structure be an extension of the house? If so, how will you be affecting the home's rain management system?


Local Codes and Permits
Do codes govern the placement, size or design of the outdoor kitchen?

Are permits needed for the outdoor kitchen or any pavilions or other structures you plan?

Are permits required for gas, water or electric work you are doing? Are the professionals involved fully familiar with the local codes?

How much time is typically required to obtain the necessary permits?


Utilities
Has the gas pressure been confirmed? Natural gas should be 7" water column. Bulk propane should be regulated to 11" water column. Has the plumber or gas technician planned for the total BTU capacity of all equipment?

Will the kitchen be plumbed for water supply?
Hot and cold, or just cold? Is an inline water heater installed below the sink less expensive than running hot water lines?

How will the plumbing be winterized? Have you provided a shutoff valve and a drain valve in the basement? Is the kitchen plumbing connected to the sprinkler system?

How are you handling waste water? Bucket under the sink? Dry well or French drain? Connected to home's waste water lines? Recycling for watering the garden?
Have enough electric (GCFI) outlets been planned throughout the kitchen and above the counter?
Is ample task, ambient and safety lighting included in the electrical plan?
Kitchen Usability
Have you considered the relationships among the four functional zones (hot, cold, wet and dry) and how the workflows will co-exist for cooking, serving and cleanup activities?

Have you planned enough space for multiple cooks working in the kitchen, if appropriate?

Will the bulk of the prep work be done inside or out, and have you designed your functional zones accordingly?

Have you provided enough counter space overall? Have you followed the Kalamazoo recommendations for minimum landing areas around each work center?

Have you provided enough storage for the planned uses of the outdoor kitchen?

Have you ensured no major traffic patterns intersect the primary work triangle (grill-sink-refrigerator)?

Have you planned adequate task lighting for each work center and at least one prep area?

Have you planned adequate ambient lighting so that when not cooking, the task lighting may be switched off?

Where will the cook keep paper towels, and is it sheltered from wind?

Is accessibility an important consideration?


Equipment
Have you selected equipment that matches the homeowner's desires for types of outdoor cooking and entertaining?
Gourmet meals, including appetizers and sides

Basic grilling fare, like burgers and steaks

Traditional American barbecue (low-and-slow smoking)

Wok cooking

Pizza making

Lobster or crab boils

Frying

Wine storage or beer dispensing
Do you need ventilation to manage smoke, soot and food particles (airborne grease) from the grill?
This is recommended if the grill is under any sort of structure or located against a wall.

This is required if the grill is located below a combustible structure.

Does the ventilation system have enough power and capture area to overcome crosswinds? Will the fan be too loud for conversation or relaxation? Consider a remote fan rather than one located in the hood.
Have you followed the manufacturer's recommendations regarding the use of the grill in proximity to combustible surfaces such as wood cabinets?
Does the refrigeration specified meet the demands of the climate (can it maintain set temperatures in high ambient heat)?
Have you included the ice maker in your winterizing plans? Does other refrigeration need to be switched off, unplugged or stored indoors?
Is the refrigeration suitable for food storage (i.e. raw chicken) or only for beverages?


Comfort
If the counter will be exposed to direct sunlight, have you tested the material to be certain it does not get too hot?

Have you provided shelter from sun?

Have you provided shelter from rain?

Will there be an issue with smoke blowing into the dining area or around the kitchen, or have you planned a vent hood or wind baffles?

Is there adequate heating through gas heaters, fireplaces or fire pits?

Have you planned cooling with fans or a misting system?

Do you need to manage insects through screens or insect control systems?

Is there enough ambient lighting, and have you avoided glare in lounge and dining areas?


Safety
Is the patio in the kitchen area slip resistant when wet or greasy?

Is there a gas safety shutoff valve in a convenient location that is not behind or too close to the grill?

Have you included a safety buffer of at least a minimum of 6 inches to the sides and back of hot cooking equipment?

Where will a fire extinguisher be stored?

Have you clipped or rounded counter corners?

Is there adequate safety lighting for walkways and steps?
Materials and Finishes
Are the counters, patio materials and veneers suitably freeze/thaw resistant? What about planters and other accent pieces?

Can you place a hot pot directly on the counter?

Are the counters and patio materials highly grease and stain resistant?

Are you and the homeowners familiar with the supplier recommendations regarding sealing of the chosen counter and patio materials?

Have you specified a solid brass faucet using ceramic valves and a PVD (physical vapor deposition) finish?

Is the chosen sink 304 stainless steel, solid copper or solid bronze? If not, are you certain it is suitable for outdoor use?
Dining
Where will dirty dishes be placed when the table is cleared?

Does counter seating or bar seating have enough knee room (15" for counter-height and 12" for bar-height)?

Have you allowed at least 24"-wide spaces for each seat?

Have you allowed enough space behind each seat?

If there are more than four counter or bar seats, have you curved the counter to aid conversation (or placed seats around a corner)?

Where will temporary or folding tables and chairs be stored (if applicable)?

Where will cushions and pillows be stored (if applicable)?

Will the cook feel like part of the party? Is there seating in the kitchen?
---
Download the Outdoor Kitchen Design and Installation Checklist PDF to use as a design resource.
---