Grillmaster
Meet Russ Faulk, Kalamazoo Outdoor Gourmet's Grillmaster
Russ Faulk is our resident grillmaster, BBQ cookbook author and chief designer of the finest grills in the world. Russ's interest in design extends to outdoor kitchens, too. When he's not grilling or designing our products, Russ develops and teaches programs on outdoor kitchen design accredited by the NKBA, ASID, ASLA and APLD, and helps our customers with their own kitchen designs.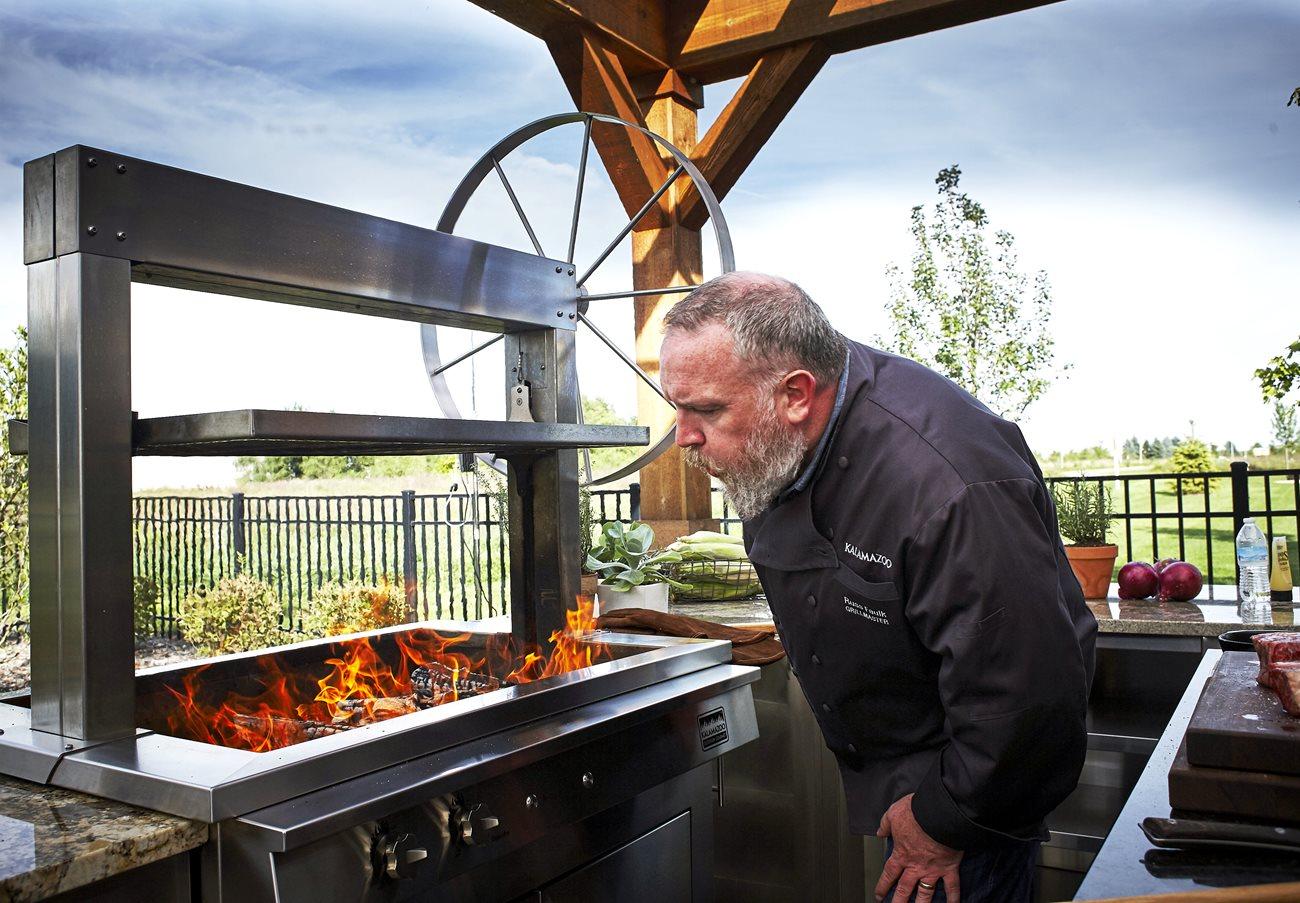 What is Your Favorite Thing to Grill?
I love to cook elevated versions of casual American food, like our Kalamazoo Sliders or Grilled Croissant S'mores. The most important thing to me is using quality ingredients. Whether I am cooking something simple or something elaborate, I start with high quality, fresh ingredients and make everything from scratch.
What is Your Favorite Way to Grill?
I love to grill over a live wood fire. Apple and cherry woods are my favorites. Sometimes I get trimmings from the orchards in Michigan. I definitely prefer limbs or splits to chunks. Also, I live by three simple tips.
"I believe the best secret to great grilling is combining direct, intense heat for quick browning with gentle, indirect heat to finish cooking food through."
WHAT IS THE MOST UNDERRATED GRILLING TECHNIQUE, IN YOUR OPINION?
Indirect cooking. The real magic happens on a grill when you combine direct and indirect heat. You need a grill that has good heat circulation inside. I often want an air temperature of 500°F to 600°F in the indirect grilling zone. It requires some real firepower and good heat dynamics for a grill to hold those temperatures in an area of the grill where the burners below are not even turned on.
WHERE DO YOU GET YOUR DESIGN INSPIRATION?
I worked in print and interactive design for many years, but I have always loved designing things that were tangible. I used to build furniture and throw pottery as hobbies, and I still enjoy designing kites when I can find the time. The design and architecture of the American Craftsman style from the late 1800s and early 1900s has a significant influence on my design aesthetic, as do Japanese crafts and architecture. You can clearly see the architectural influences in the design of our grills and our pizza ovens.
Doing what I do here at Kalamazoo is an amazing opportunity. When it comes to our grills, our mission is a straightforward one, but not an easy one. We are here to build the best grill in the world. Not the coolest grill – not the grill with the most features – not even a luxury grill. We just strive to make the best grill you can buy. That is our goal within each product category – to make every product the best of its kind. I am truly lucky to be able to combine my passion for cooking with my passion for design, and to do it for the true industry leader.