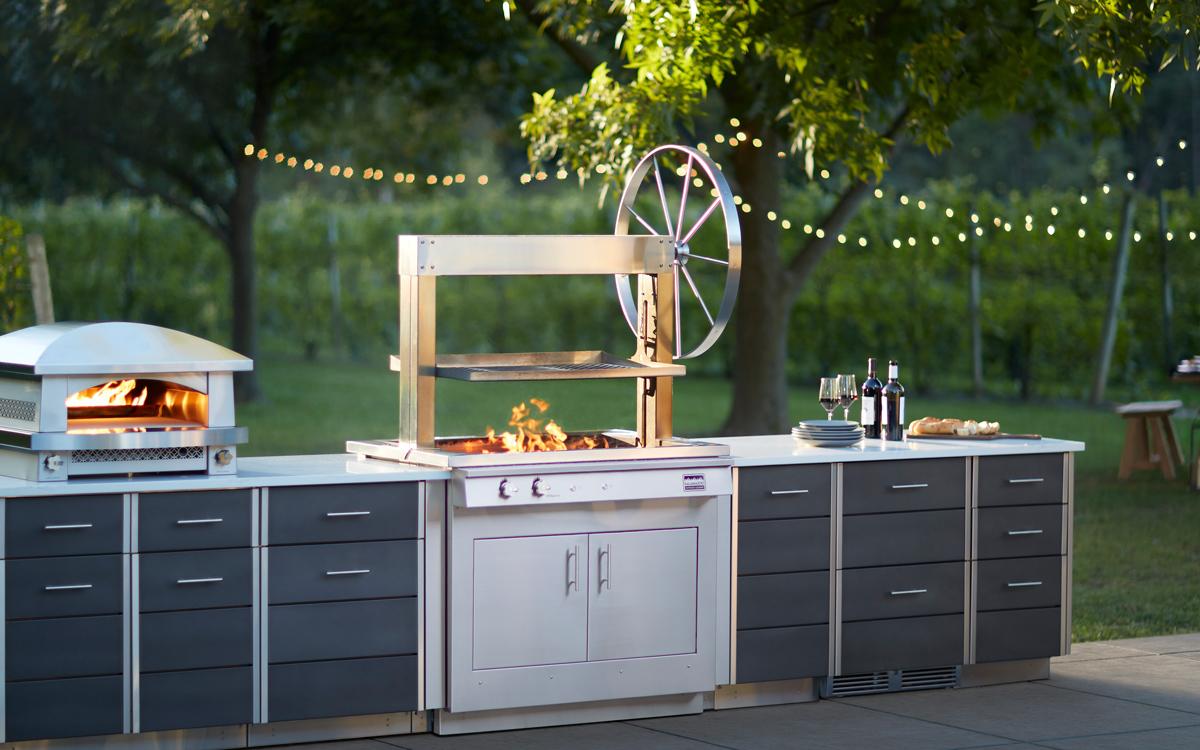 May 16, 2019
Atlantic Broadband
In a recent article on Atlantic Broadband, Dan DiClerico identified five luxury home design trends that emerged from the March 2019 Architectural Digest Design Show. One of them is a trend that all of us at Kalamazoo have been championing for a long time: outdoor kitchens designed with all of the functionality and aesthetic appeal of indoor kitchens. Calling it "a show favorite", DiClerico notes that our Shokunin Kamado Grill exemplifies the trend with it's "furniture look" and well-rounded cooking abilities.
In April, the Retail Observer published a thorough review of the Shokunin, praising its "unique design" and "impeccable execution" and noting that this latest grill from Kalamazoo "is once again setting a new industry standard". KBB Online, the official publication of NKBA and KBIS, recently added the Shokunin to their Outdoor Living section and described it as "like no other kamado grill on the market."
While our new Shokunin Kamado Grill has been getting quite a bit of press attention, it's not the only Kalamazoo innovation that's been in the news. In April, Ocean Home Magazine published a round-up of high-end grills for well-designed outdoor living spaces - and our Hybrid Fire Grill was one of them. Ocean Home praised the Hybrid Fire Grill's fuel versatility, advanced heat dynamics, and custom grate options in the piece.
Traditional Home Magazine's April 2019 issue also explored outdoor living space design, with a particular focus on elements that can be personalized. In that article, our Arcadia Series outdoor cabinetry got a shoutout for its more than 200 available colors. The Arcadia Series's customizability leads the trend of treating outdoor cooking spaces with the same care and consideration as indoor spaces, a differentiator that earned this innovative cabinetry line a "Best of KBIS" award this year.
In a guide to optimizing outdoor spaces for entertaining, Terri Williams at Freshome interviews several professionals for their advice. One of the best ways to create an outstanding outdoor entertaining experience, several experts say, is to build a full outdoor kitchen with all of the capabilities you'd typically find indoors - and more. A grill is an obvious first step, but other appliances - like pizza ovens, smokers, cooktops, sinks, and refrigeration - are key to creating a space where guests can hang out all day. "You'll gain a lot of friends with this Artisan Fire Pizza Oven by Kalamazoo Outdoor Gourmet," Williams writes.