Recipes
Smoky Parmesan Green Bean Casserole
Green bean casserole doesn't need to be tucked away, only to be brought for Thanksgiving dinner. This elevated spin on what's normally a holiday side dish is great any night of the week and pairs perfectly with simple smoked meatloaf or an upscale horseradish encrusted filet. I highly recommend using a quality lump charcoal for this recipe to bring a fire-roasted element to the dish. Unlike other smoked recipes that add flavor from smoldering wood chunks, the smokiness in this casserole will come from the smoked paprika.
---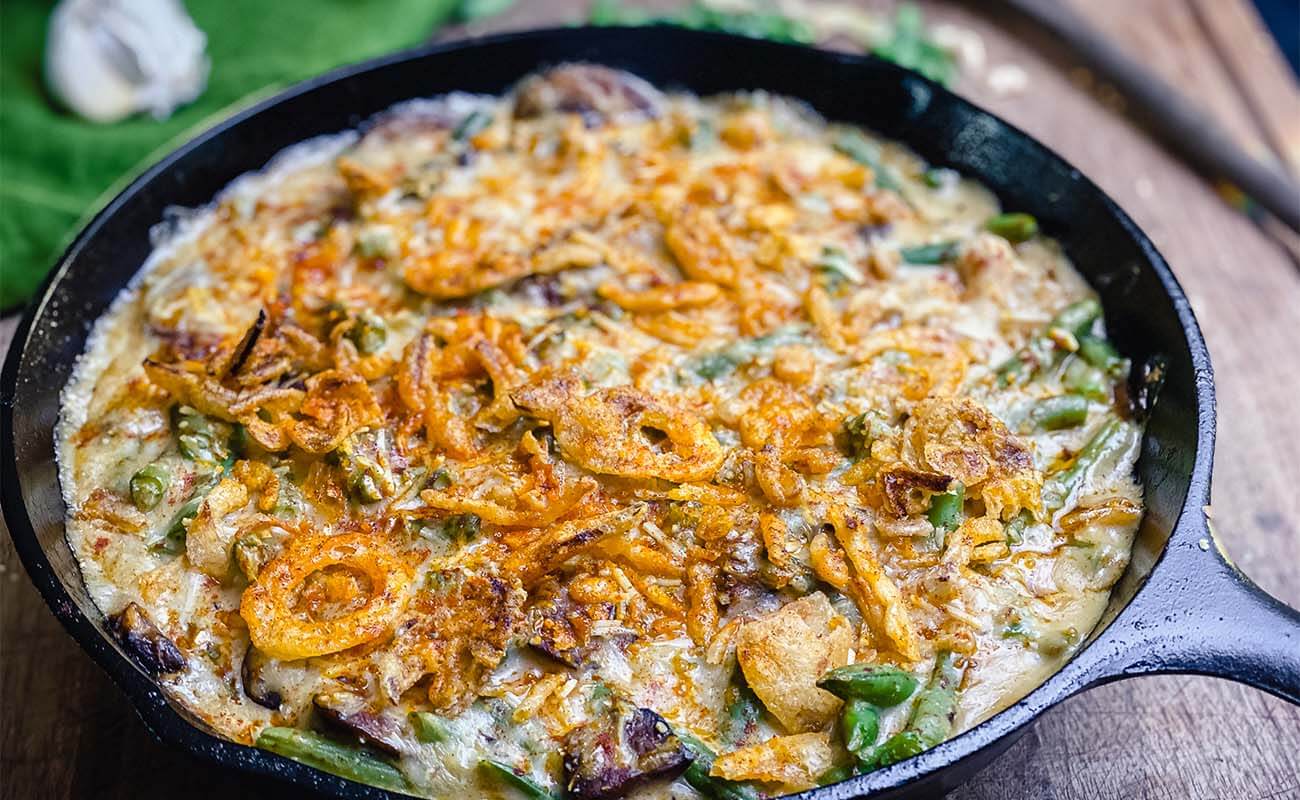 ---
Ingredients
2 lbs fresh green beans, ends trimmed and cut into two-inch lengths
3 tablespoons coarse sea salt, divided
2 tablespoons olive oil
8 ounces baby Bella mushrooms, sliced
1 tablespoon salted butter
2 cans cream of celery soup, 10 ¾ ounces each
1 teaspoon cayenne pepper (can be reduced for less heat)
½ teaspoon white pepper
3 cloves garlic, minced
¾ cup parmesan cheese, divided
1 ½ cups french fried onions
1 teaspoon smoked paprika
Directions
Start by lighting the Hybrid Fire Grill and establishing the temperature at 350°F. For the K500, light either the left or right burner. For the K750 or K1000, light both outermost burners. Open the charcoal drawer and fill one channel (over an active burner) with premium hardwood charcoal.

For the Shokunin Kamado, set up for envelop roasting, and establish temperature at 350°F.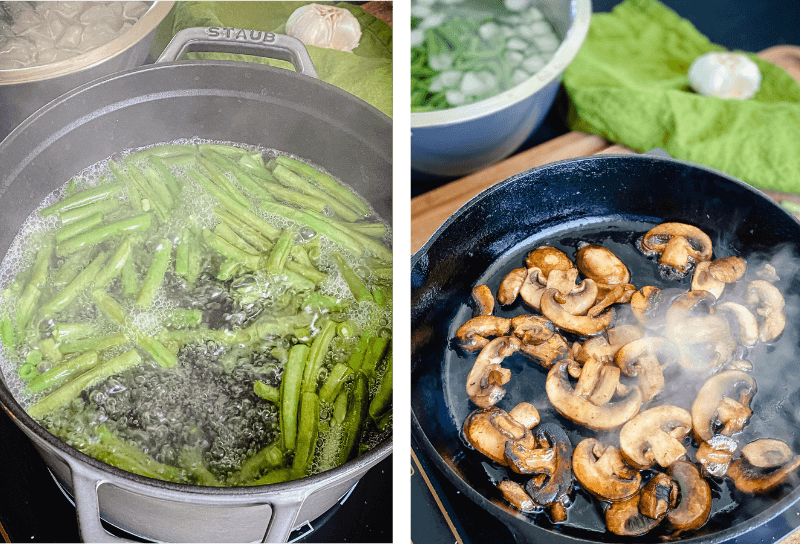 While the grill is preheating, add six cups of water to a large pot, and bring to a boil over high heat on the cooktop. Add two tablespoons of sea salt to the water, along with the trimmed green beans. Boil the beans for five minutes before removing them, and shock them in an ice-water bath to prevent them from cooking further.

While the beans cool, place a large saute pan over medium-high heat on the cooktop and add the olive oil. When the oil is hot, add the mushrooms and spread them out evenly. Don't over stir them, just let them get nice and browned on both sides and allow the water from the mushrooms to evaporate. After about five minutes, when the mushrooms are brown, add in the butter and let it to melt, mixing it in with the mushrooms to ensure even coating. Remove the mushrooms from the heat and set aside.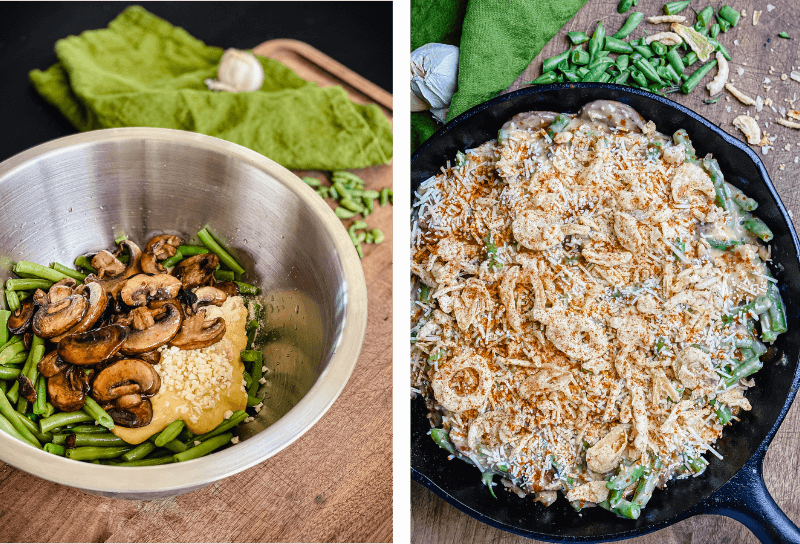 Remove the beans from the ice bath, and dry them with a paper towel. Place them in a large mixing bowl and add the soup, mushrooms, remaining salt, cayenne and white pepper, garlic, half of a cup of parmesan cheese and one of the fried onions. Gently fold those ingredients together and transfer to a cast-iron skillet or oven-safe vessel. Then, top with remaining cheese, fried onions and smoked paprika.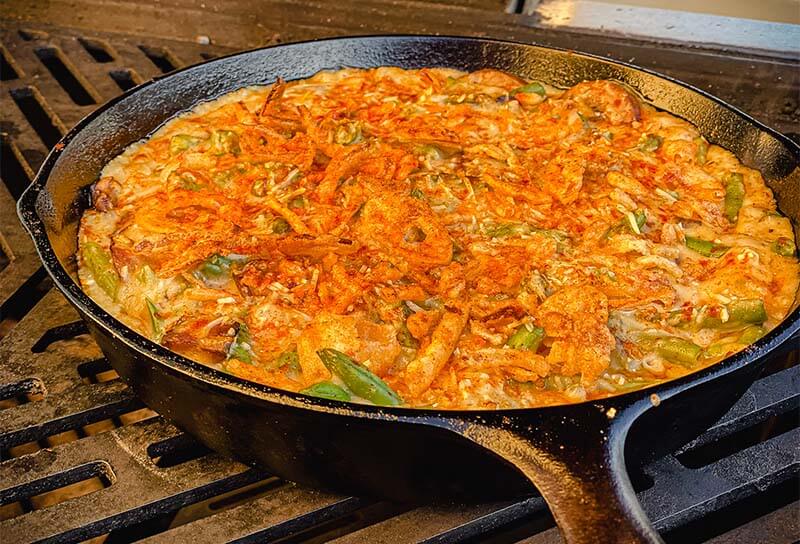 Place the casserole on the grill over indirect heat, and close the lid. Allow it to roast for 35 - 40 minutes.

Remove from the grill and serve hot.