Recipes
Grilled Lobster with Roasted Corn and Garlic Rosemary Potatoes
No need to go to a high end steakhouse for an amazing lobster dinner. Fire up the Gas Grill Head and create this entire decadent meal in about 45 minutes. Succulent grilled lobster, triple S corn on the cob and herb fondant potatoes come together to make this meal one to remember.
---
---
Ingredients
2 2.5 - 3 lb whole lobsters, split in half lengthwise, and thoroughly cleaned
5 ears fresh corn on the cob
3 large russet potatoes, peeled, and sliced into 1" thick circles
2 tablespoons grapeseed oil
2 sticks butter, divided
3 tablespoons fresh chives, finely chopped
4 cloves garlic, smashed
1 spring rosemary, cut in half
½ cup chicken stock
Kosher salt to taste
2 tablespoons Triple S Seasoning
Directions
Start by lighting all the burners on your gas grill and setting them to high. Position the corn on the cob on the warming rack, and place an oven-safe raised edge pan on one grill grate. Add the grapeseed oil to the pan, and close the lid. Allow the grill and pan to preheat to 400°F.

Add the potatoes to the hot oil in the pan and season them with kosher salt. Allow them to cook for 7-8 minutes, or until golden brown on one side. Then, flip the potatoes over, add ½ stick of butter, smashed garlic and rosemary. Mix the butter, garlic and rosemary to incorporate flavors, then add the chicken stock and close the lid. Allow the potatoes to roast at 400°F for 20 minutes.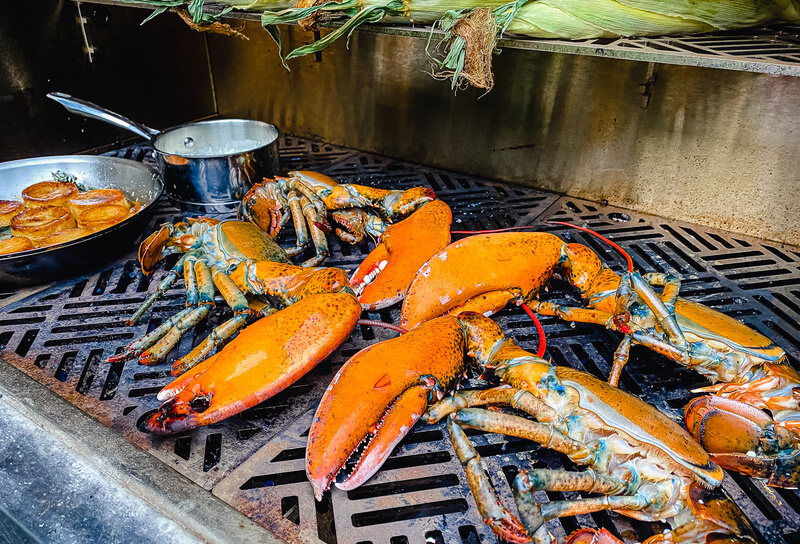 Open the lid and put the lobster on the grill, flesh side down, over direct heat. Place the remaining butter and chives into a small saucepan and place it on the grill. Close the lid and allow the lobster to grill for five minutes.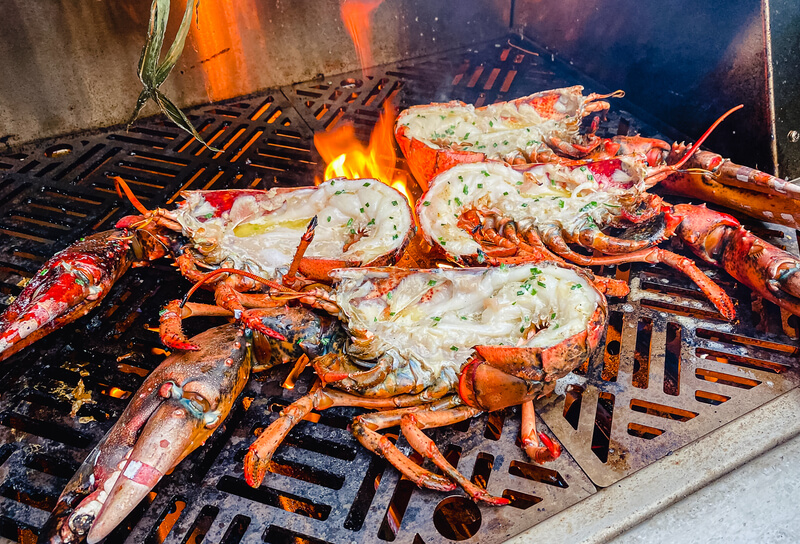 After five minutes, use a set of grill tongs and turn the lobsters over, basting the flesh generously with some of the melted chive butter. Remove the butter from the grill, set aside and keep it warm. Close the lid and allow the lobster to continue poaching in the butter until the meat reaches 135°F, about 15 minutes.

Remove the lobster, potatoes and corn from the grill. Carefully remove the husks from the corn, and baste with warm melted chive butter. Then season the corn with triple S seasoning. Serve the lobster dinner while hot.