Recipes
Beer-Braised Brats
It's hard to think about a game day gathering without thinking about beer brats. Even for those who aren't Green Bay Packers fans, beer brats top the list of tailgating foods. This recipe brings a slightly smoky, slightly sweet and fully delicious flavor to this traditional game day sandwich.
---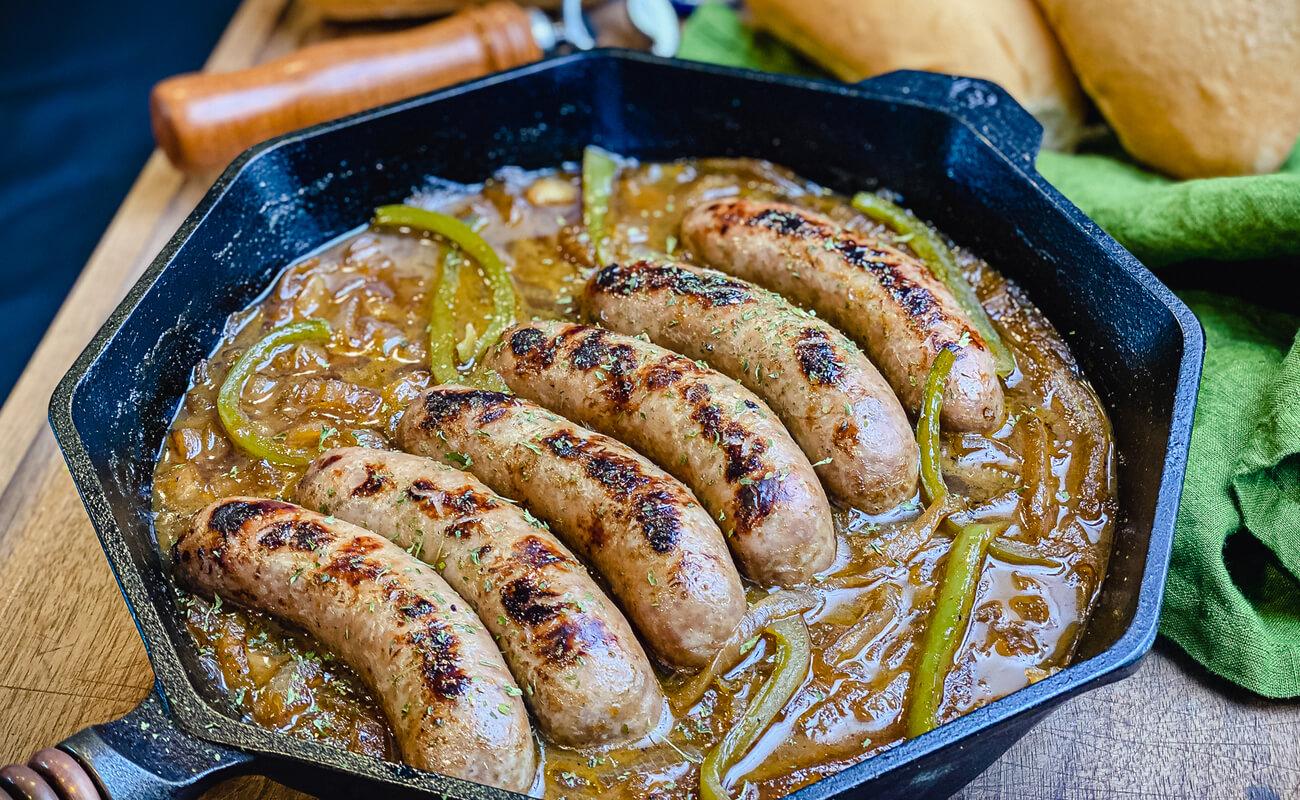 ---
Ingredients
3 tablespoons butter
3 large onions, sliced into half-moons
12 ounces lager beer
1 cup beef stock
1 tablespoon brown sugar
2 tablespoons basic barbecue rub
2 tablespoons Worcestershire sauce
6 pork bratwursts
1 large green bell pepper, sliced into
¼" strips
1 tablespoon parsley, chopped
Directions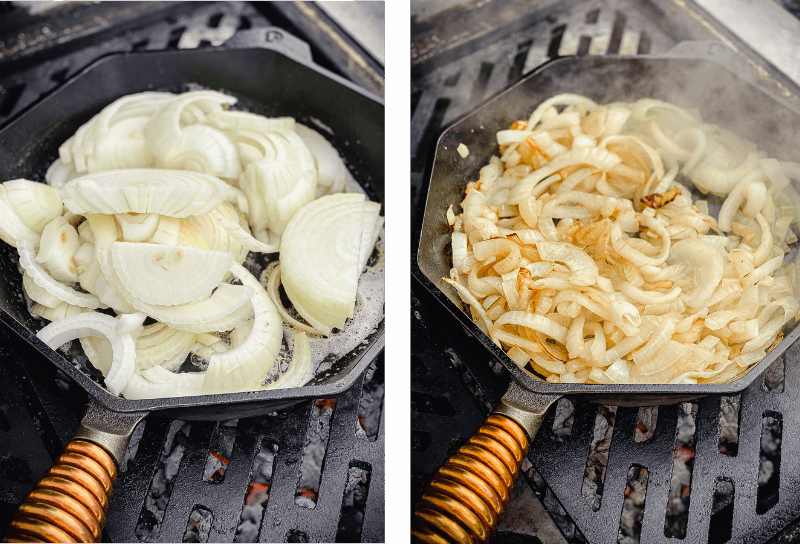 Light and set up your grill for medium-high direct heat. Place a 12" cast iron pan directly over the heat source and add the butter to the pan. When the butter melts, add the onions and allow them to cook down for three to five minutes, stirring often.

Add the beer, beef stock, brown sugar, barbecue rub, and Worcestershire sauce when the onions have cooked down. Then, stir well to combine and allow the mixture to come to a simmer over direct heat.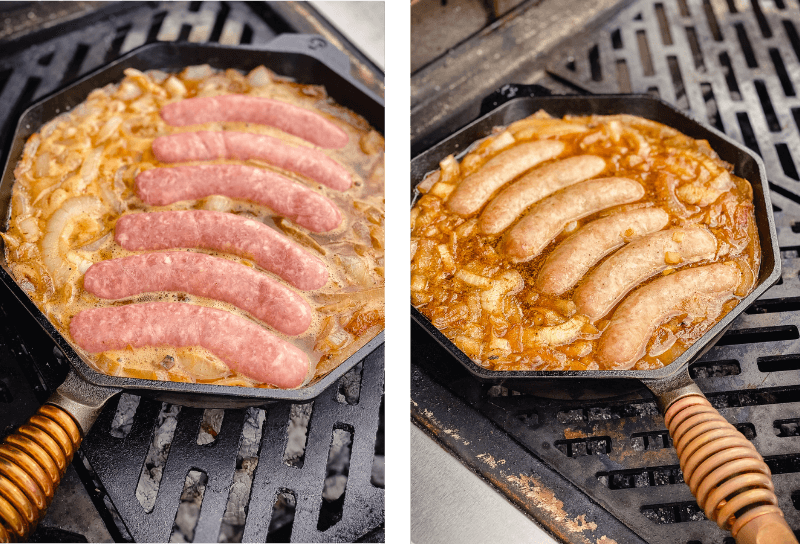 Once the liquid reaches a low boil, slide the pan over to indirect heat, add the brats and close the grill lid, adjusting the temperature to 275-300°F. Allow the brats to cook for 20 minutes.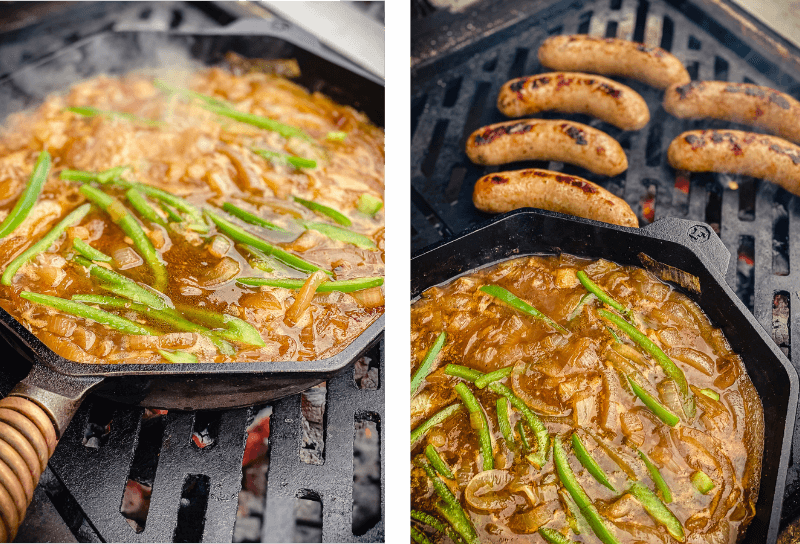 Then, remove the brats, slide the pan back over direct heat, and bring it back to a boil for 10 minutes. Then, add the bell peppers and cook for an additional 10 minutes for the liquid to reduce and for the bell peppers to cook slightly but maintain a slight crunch. Place the brats on the cooking grate over direct heat, just long enough to brown them up, about three minutes, turning often.

Tip: Browning the brats over a quality lump charcoal provides an added element of flavor, so adding charcoal for this recipe is recommended if you're using the Hybrid Fire Grill.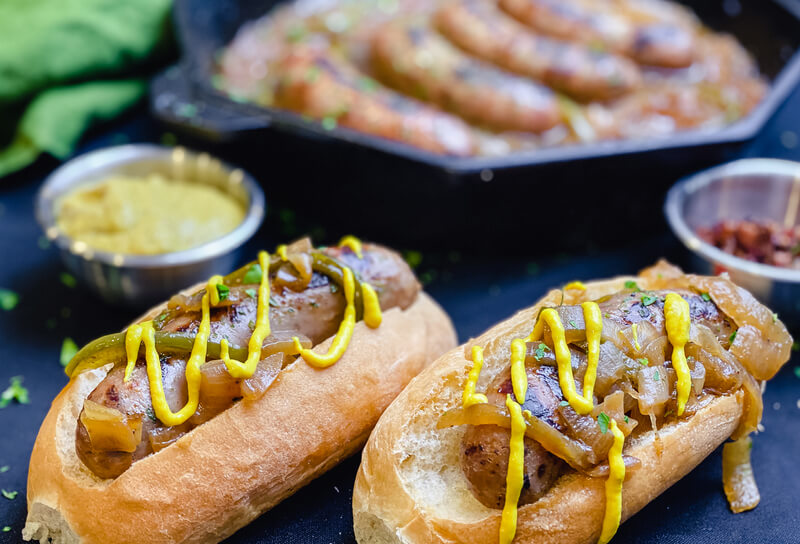 Garnish with parsley and serve either plain or in a bun topped with the onions and peppers.