Recipes
Apple Cinnamon Pork Tenderloin
Pork tenderloin is a fantastic cut of meat to experiment with. It takes flavor well allowing for cultural or seasonal influence to take center stage. This classic apple cinnamon style pork screams fall, but it's delicious any time of the year.
---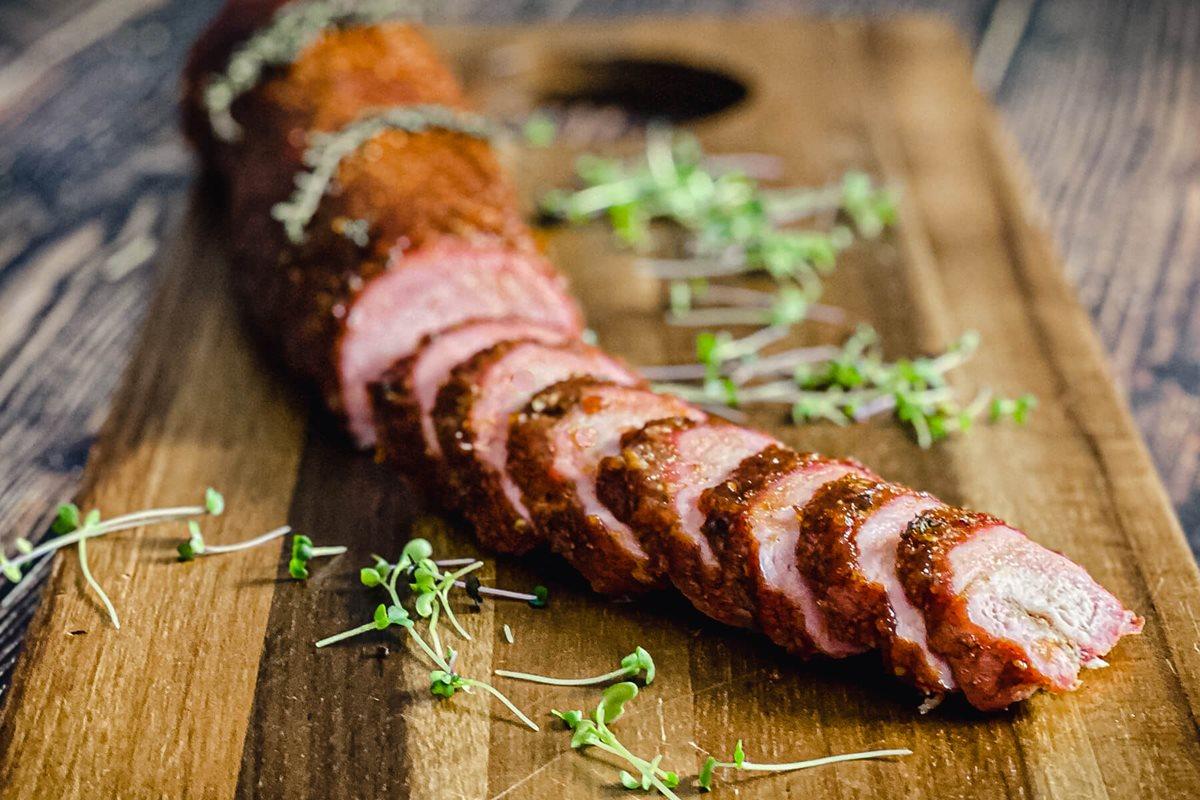 ---
Ingredients
1 or 2 1 pound pork tenderloins (they usually come in packages of two)
3 tablespoons apple cinnamon rub
1 tablespoon olive oil
½ cup barbeque sauce
¼ cup apple juice
Directions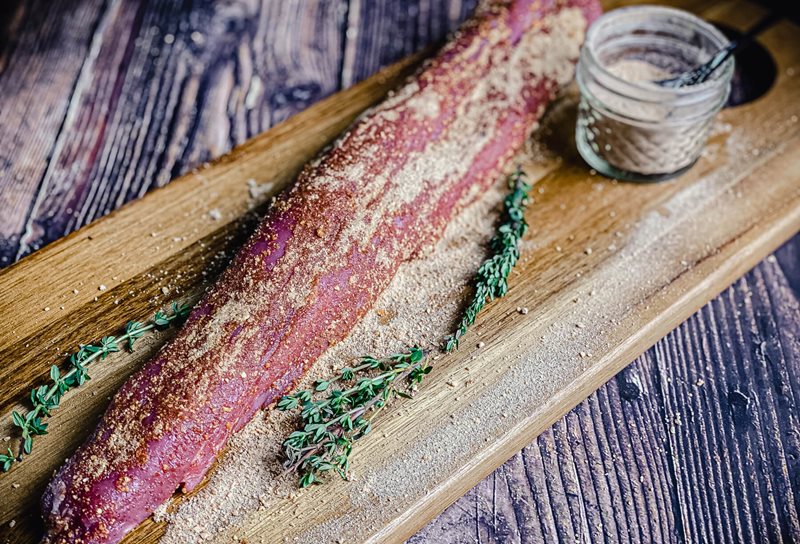 Start by rinsing off the pork tenderloins under cold water. Pat dry with a paper towel and using a sharp boning knife, trim off any excess sinew on the pork. Once trimmed, coat the tenderloin evenly with olive oil and season generously with apple cinnamon rub. For ease of transport, I like to place the pork on a cooling rack, that's optional. Set aside and allow the seasoning to sweat in. Next, thin your favorite BBQ sauce with apple juice and pour into a stove safe vessel.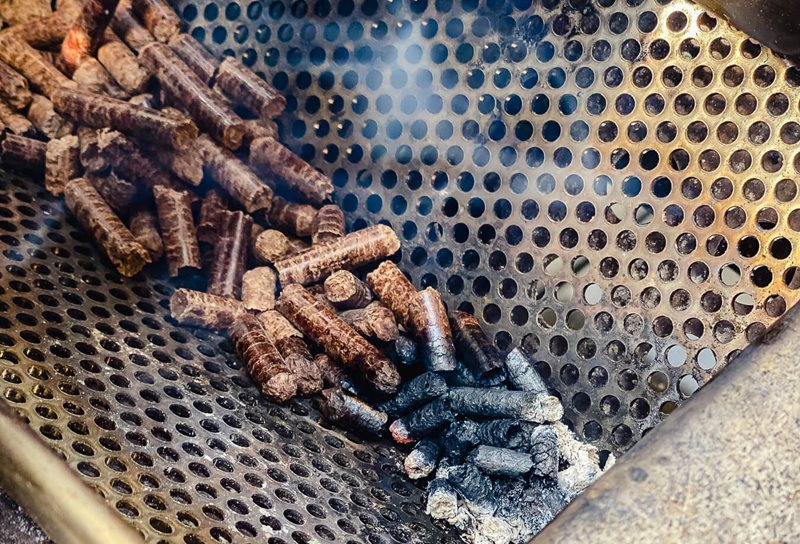 Next, prepare the grill by placing one or two pellet inserts into your Hybrid Fire Grill. For the K500 you'll only use one insert positioned in the far left grilling drawer channel. For the K750 or K1000 use two inserts and place one on both the far left and far right grilling drawer channels.

Tip: When using the K750 or K1000 leave at least 1 inch gap between pellets and the front of the tray. The grill's ignition burner will cause the pellets to burn as opposed to smoulder if they are filled too close to the front of the tray.

Fill each pellet tray with 1 cup of pellets, spread evening along the length of half of each tray. I like to use apple pellets, but cherry, oak and pecan are all nice as well. Ignite the front of the pellets using a butane torch and allow them to burn for 3-4 minutes. While they are burning, ignite the ignition burner on the grill and adjust it to high. Then, blow out the fire on the pellets and allow them to smoulder and smoke.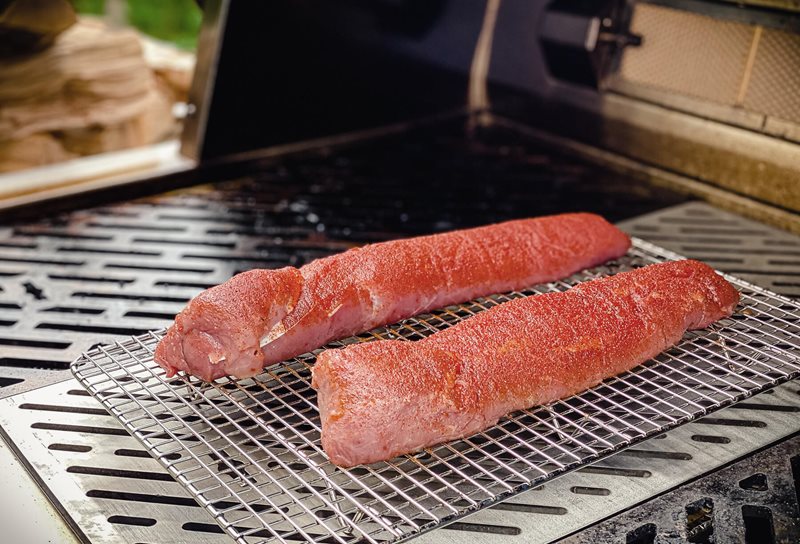 Place the pork on the grill either directly between the two pellet trays for the K750 or K1000, or on the opposite side of the pellet tray on the K500. Place the container of barbeque sauce near the pork to allow it to heat up. Close the grill's lid and adjust the top vent to 25% open. The ignition burner will maintain temperature of about 250*F for cooking the pork, while the pellets smoke and provide flavor.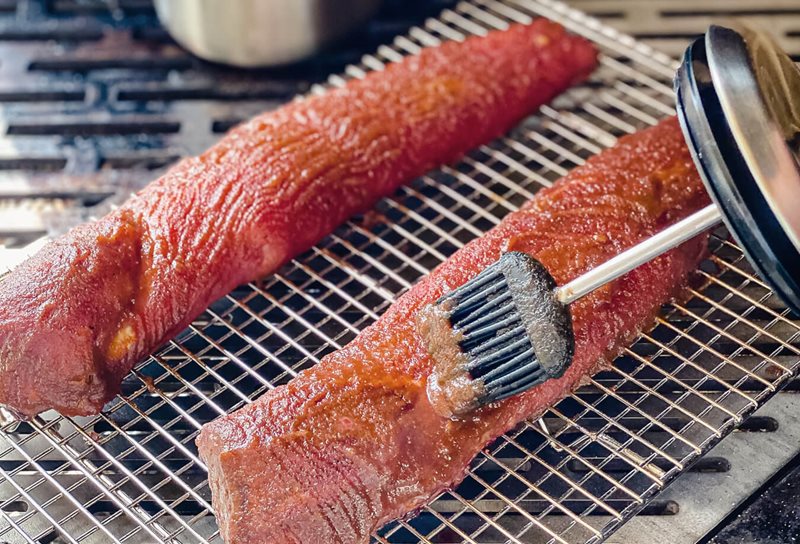 Allow the pork to cook until internal temperature reaches 125°F (about 35 minutes) then evenly coat the pork with barbeque sauce and allow pork to continue to cook until it reaches 145°F (about another 12 minutes). Remove the pork from the grill, and allow it to rest for 5 minutes before slicing and serving.