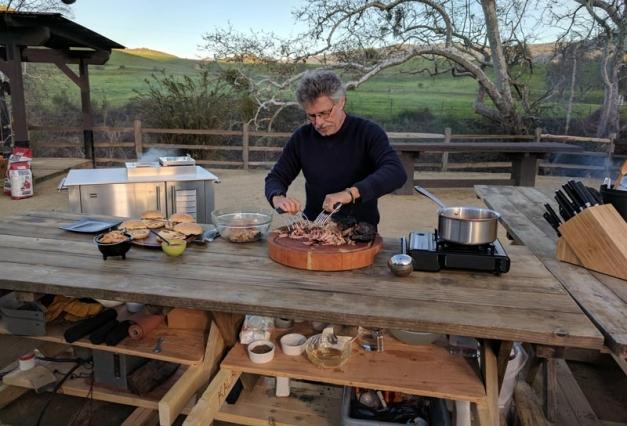 It came to the set via forklift and it sure didn't look like the other smokers on Project Smoke. It didn't look like any smoker I'd used before. Where was the chimney? Where were the wheels? Where was the offset firebox?
Instead, the crew installed a large stainless-steel box with louvered doors and a sleek white stone top. The low profile is deliberate: it's the Kalamazoo Charcoal Smoker Cabinet, and one of the first mandates for designer Russ Faulk (think Jony Ive of barbecue) was to create a smoker that would fit under the counter of a Kalamazoo outdoor kitchen. That led Russ to dispense with the traditional chimney and firebox. But unlike the electric smokers that have proliferated on the market, the Smoker Cabinet remains very much a wood burner.
To shrink and conceal the firebox, Russ turned to a technology called gravity smoking. In most smokers, the wood goes on top of the charcoal (or other heat source). In the cabinet smoker, the charcoal goes in a chute on top, and hot embers drop onto the wood pan beneath it, generating smoke. (In another stroke of genius, Russ made the charcoal chute double as a chimney.) The smoke passes into a surprisingly capacious cook chamber (it's large enough to smoke 15 racks of ribs). A digital thermostat and airflow controller regulate the heat.
So how does it smoke? Thanks to the gravity feed ignition system, you basically set it and forget it. Kalamazoo guarantees a 16-hour burn on a single load of charcoal. In fact, when you're smoking low and slow, you could get as many as 21 hours of smoking before you need to refuel. (You will need to add wood chunks for smoke flavor every hour or so.)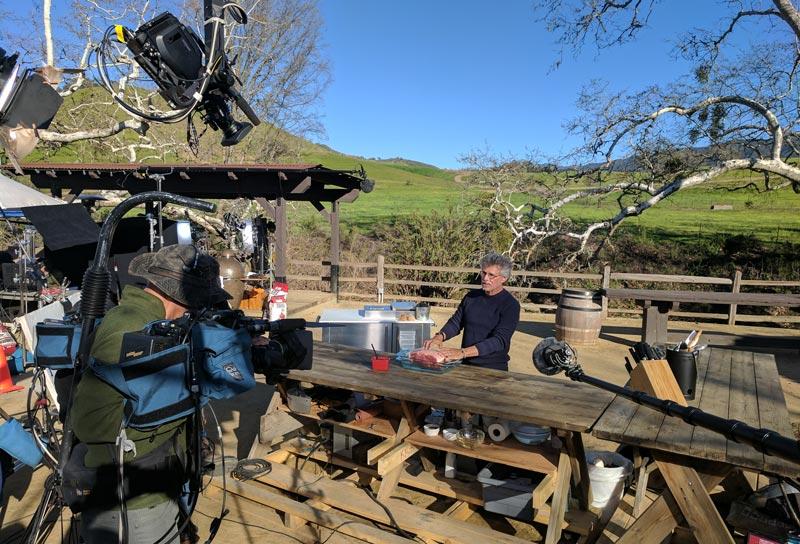 During the Project Smoke 3 TV shoot, I used the Kalamazoo Charcoal Cabinet Smoker to cook pastrami bacon in our "Perfect Hog" show and the Korean pulled pork in our "Barbecue's Holy Trinity" show. To make the bacon, I brined a pork belly in a garlic- and spice-scented pastrami brine, then crusted it with cracked peppercorns and coriander seed and smoked it with hickory for six hours. The result? Bacon with the incarnadine glow and garlicky, spicy tang of pastrami. (Or you could think of it as pastrami that has the crisp, luscious mouthfeel of bacon.) We sliced it, cooked it, and piled crisp strips on rye bread with lettuce, tomatoes, and smoky mayonnaise to make the world's most amazing BLT.
The pork shoulder went Korean, slathered with a spicy Korean pepper paste called gochugang prior to being smoked for eight hours with cherry wood. What emerged from the smoker had a dark spicy crust, pronounced smoke ring, supernatural succulence and flavor that combined the best of Korean barbecue with Carolina pulled pork. We served it slider style, topped with kimchi and Korean barbecue sauce. It was exactly the sort of fusion of Eastern and Western barbecue flavors that characterize live fire cooking in America today.
A few months later at the Kalamazoo Culinary Center in Chicago, I had the luxury to use the Smoker Cabinet again – this time to smoke Pac-Rib baby back ribs with Beijing BBQ Sauce. We rubbed the ribs with a sweet anise-scented Chinese five-spice powder rub, and smoked them for 3-1/2 hours. Again, we used cherry wood (I love the sweet assertive smoke flavor of cherry), and again, I was struck by how the smoker's smart thermodynamics and virtually airtight cook chamber delivered meat with an intense smoke flavor and that was incredibly tender and moist.
With prices starting at $10,995, this is obviously a luxury smoker (a Ferrari among barbecue Fords), but its high performance, engineering, and style speak for themselves. Me, I can't wait to fire it up again--this time to smoke brisket.
Steven Raichlen is the host of Project Smoke and Primal Grill on PBS, and the author of more than 30 books, including Project Smoke and The Barbecue Bible. His next book and show, Project Fire, launch in May, 2018. Visit him at his website: www.barbecuebible.com.
Watch Raichlen build sweet, salty, spicy, and fiery flavors with gojuchang, a Korean spice paste, and a Korean barbecue sauce to flavor the six-pound heritage pork shoulder. The result is perfectly smoked pulled pork that will melt in your mouth.