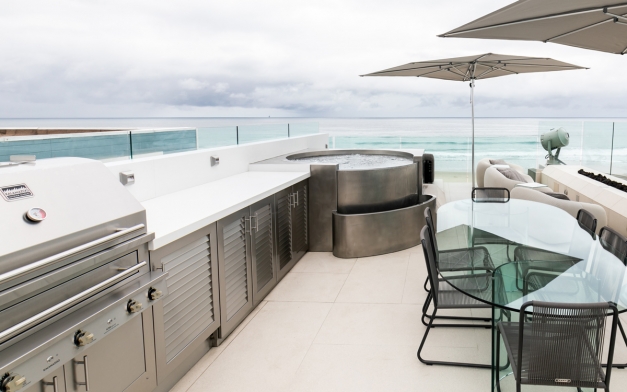 Alicia Calhoon is a licensed architect and interior designer based in La Jolla, California (and one of Kalamazoo's Featured Designers). Alicia completed an extensive full renovation of an oceanfront vacation home in San Diego that now has two beautiful Kalamazoo outdoor kitchens. Here's an excerpt from our interview with Alicia about the design process.
What was the catalyst for this San Diego project?
This home was a new purchase for the family. Originally, they were looking to personalize a few things in the home, and then the scope grew to include the outdoor spaces - both on the first floor and on the roof deck.
Outdoors, they wanted plenty of entertaining space, two hot tubs and cooking and dining areas. For the cooking areas, a smoker was a must - they love smoking meats. And they definitely wanted two grills - one downstairs off the indoor kitchen, and one three floors up that could be a standalone cooking and entertaining space. We spent a lot of time planning the outdoor spaces together, making sure we got the design right.
How would you describe the look and feel of the home?
When the home was purchased, the interior was really vibrant - lots of patterns and lots of color, including red, hot pink and orange. We decided that with the gorgeous ocean view visible from every room in the house, the color palette could be a lot more subdued to let that view really shine. And we're right on the beach, so it just felt natural to stick to a palette of gray, sand and white. The outdoor space is an extension of the interior design, with the addition of stainless steel, titanium and curved glass.
What were some of your biggest design challenges?
Durability was key for the new materials in these spaces. We wanted a lightweight, white countertop for both the upper and lower outdoor kitchen, but many materials will yellow in the sun or can't really hold up to the salt air. I did a lot of research; that led me to suggest Kalamazoo's marine-grade product line, as well as a porcelain tile slab for the countertops.
Another challenge was the upper level. We decided to cantilever the roof deck to make space for a fire pit and lounge seating without damaging the original structure. There's also a hot tub, a dining area and a full outdoor kitchen up there, so it required careful planning to make room for everything. Weight was a concern, so we had a custom stainless steel hot tub made - it's the lightest option. We also had custom cabinetry made to hide the hot tub equipment within the outdoor kitchen space.