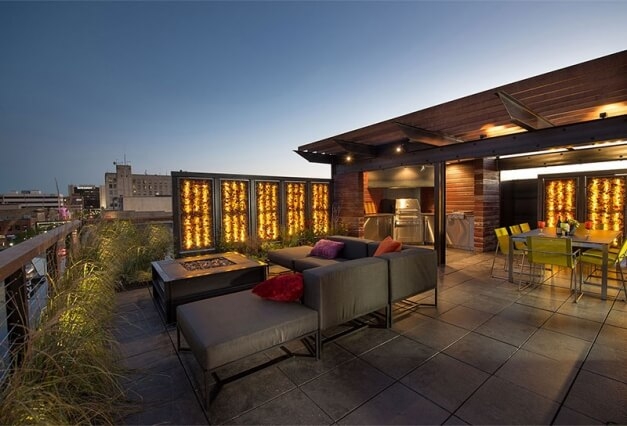 Outdoor rooftop living is not something that usually comes to mind when one thinks of Fargo, North Dakota. However the owners of this modern condo in downtown Fargo sought to create a functional outdoor living space from their previously unusable rooftop. To help them realize this dream, they brought in local Landscape Architecture firm Land Elements who specialize in unique, conceptual residential and commercial design. Project Manager Brian Reinarts was the lead designer on this endeavor.
As a result, 612 square feet of year round outdoor space was added to the condo in the form of a rooftop kitchen and entertainment area. The design accommodates up to twenty guests, and was built to mirror the interior design of the home, creating a cohesive extension of the existing living space.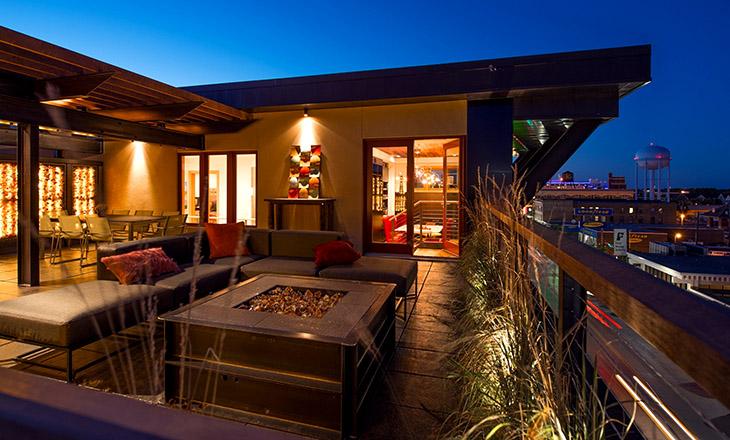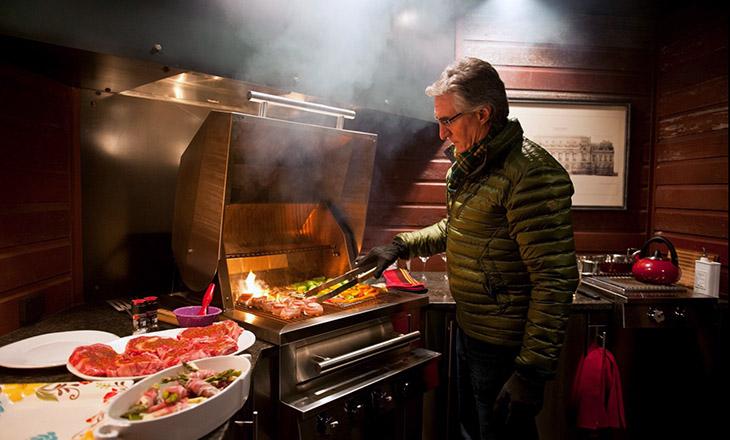 The Kalamazoo Outdoor Gourmet custom kitchen. Photo credit: Dan Koec
The entire unit is housed under a steel and ipe pergola which provides shelter for year round cooking. The pergola also helps define the adjacent dining area. Durable honed granite counter tops offset the reclaimed red barn wood backsplash. Subtle up lighting was mounted on the pergola for ambient purposes while task lighting was placed in key areas over the kitchen to make cooking possible after dark.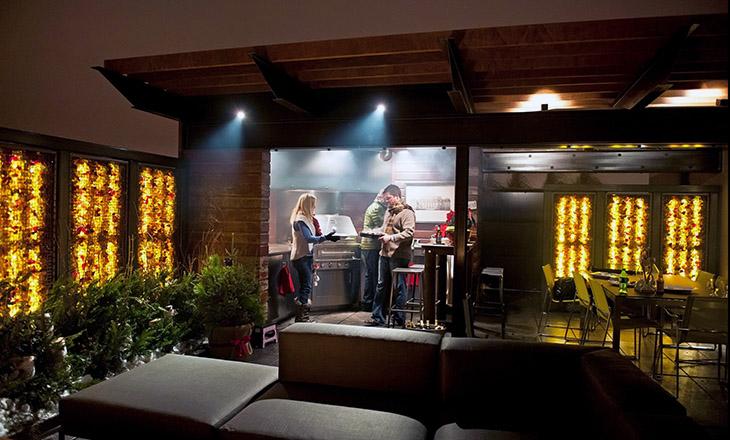 Guests gather and cook in the outdoor kitchen. Photo credit: Dan Koec
A 4 x 4 steel framed wall which showcases recycled brown and red glass, and illuminated with LED lights from within, creates a stunning focal point that anchors the modern design, and creates privacy for the owners from the street and possible future neighbors. It also creates a barrier from the harsh prairie winds, adding to the year round functionality of the space. A garden filled with native plants and herbs is situated against the wall somewhat softening the effect of the raw steel. A custom fire pit was incorporated for both practical and visual reasons. It serves as a place for guests to gather and warm up, but also creates a visually impressive feature. The total effect is a spectacular entertaining space that seamlessly extends from the families indoor living.
The stainless steel and recycled glass wall creates a focal point. Photo credit: Dan Koec