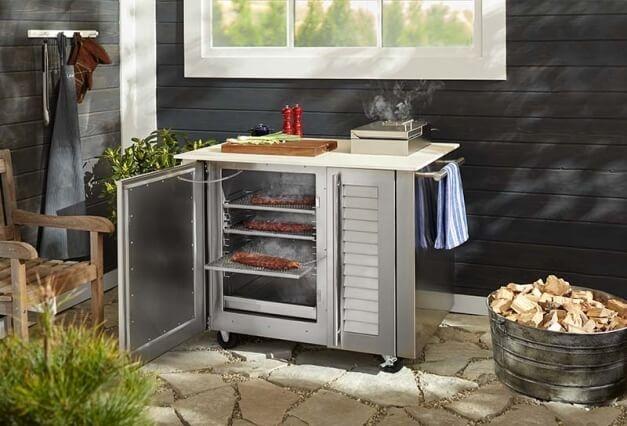 All of us here at Kalamazoo are excited to unveil our latest product: the Kalamazoo Smoker Cabinet! Our Smoker Cabinet brings charcoal smoking innovation into the outdoor kitchen so you can cook traditional, competition-level live-fire barbecue at home. From perfectly smoked ribs to impossibly tender brisket, you can easily infuse incredible wood smoke flavors into a variety of foods thanks to our ingenious gravity-fed design. The sealed charcoal system and heavy insulation simplify temperature control and provide efficient heat. A single seven-pound loud of charcoal in our Smoker Cabinet can maintain a 225° smoking temperature for up to 16 hours.
We've made it easy to incorporate the new Smoker Cabinet into your outdoor kitchen with two different versions: an undercounter cabinet designed to mirror the sleek lines of our cabinetry collection for a seamless fit and a rolling version on wheels that can be easily added to existing outdoor kitchens. Both versions make enough tantalizing barbecue for a large crowd!
Order now or read on for more information about our new Smoker Cabinet.
What is a gravity-fed charcoal smoker? How does it work?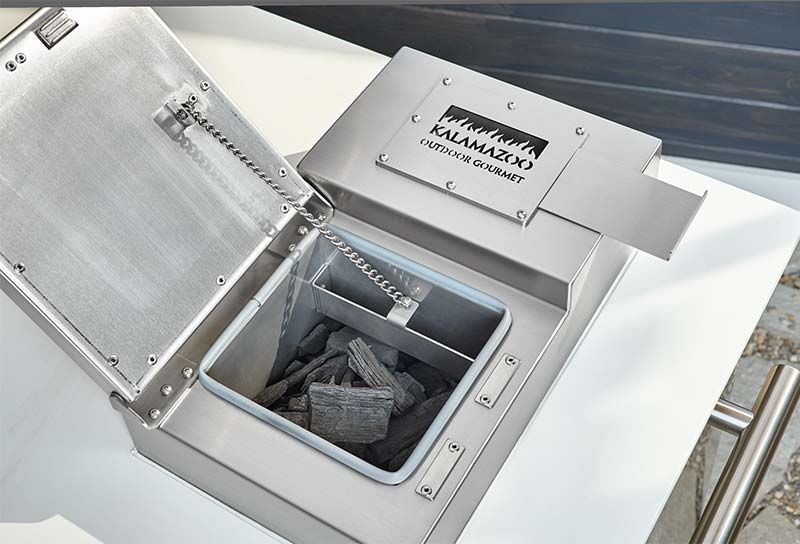 Gravity-fed smokers are relatively rare and are the most efficient live-fire smoking technology available. Here at Kalamazoo, we always prefer to cook with live fire!
Here's how it works: A charcoal fire generates the heat. Large chunks of wood are placed in an ash pan below the fire, and the embers falling from the fire cause the wood to smolder, generating smoke. Our sealed system has controlled airflow, so only the very bottom of the charcoal load can burn. Fresh charcoal travels down the column to replace the charcoal that burns away.
A computer-controlled blower system makes it easy to control the temperature. Simply set the desired temperature and the fire will be automatically stoked as much (or as little) as needed to reach and maintain that temperature. A probe will read the temperature of the meat in the pit. You can even choose a setting that will ramp down the pit temperature to meet the desired meat temperature and hold it there.
What makes the Kalamazoo Smoker Cabinet so special?
Our smoker is welded, assembled, and polished by hand, with the same quality and attention to detail we give to our signature grills and pizza ovens. This is the first charcoal smoker designed from the ground up to integrate beautifully into your outdoor kitchen, and it is the only undercounter, competitive grade charcoal smoker available.
What is the temperature range?
Smoking temperatures range from 200°F to 375°F. Lower temperatures are possible if you use a tray of ice to reduce the temperature in the pit. Higher temperatures are not recommended, nor are they needed for smoking; consider one of our Hybrid Fire Grills instead.
How much food will fit in the smoker?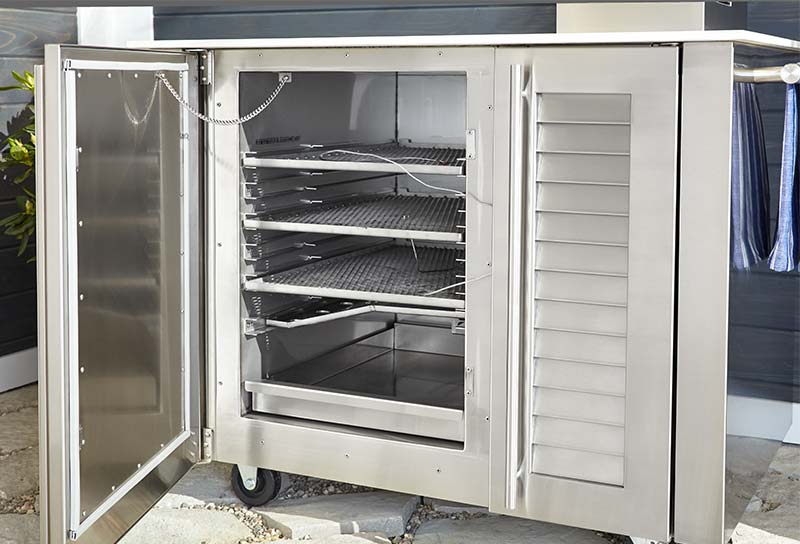 The Smoker Cabinet comes with three shelves for food. Each shelf measures 17in wide by 25in deep. The total volume available for food inside the pit is 3.86 cubic feet. That is more than enough room for three whole packer briskets, nine whole rib racks, or two large turkeys, all bathed in wood smoke – plenty for a large crowd of hungry barbecue enthusiasts!
Where can I install the smoker?
The Kalamazoo Smoker Cabinet is for outdoor use only. You'll need at least six inches of clearance between the sides and back of the smoker and any combustible surfaces. If you're currently designing an outdoor kitchen, you can include our built-in, 36" undercounter model for a seamless, integrated look. Already have an outdoor kitchen or want more location flexibility? Our 42" rolling smoker cabinet can be added to any existing outdoor space, so long as you have access to electricity. The freestanding smoker cabinet includes a hygienic work surface on top made of solid, porcelain-based material. You can also order the rolling smoker cabinet without a top so that you can add one in natural stone that matches the design of your existing space.