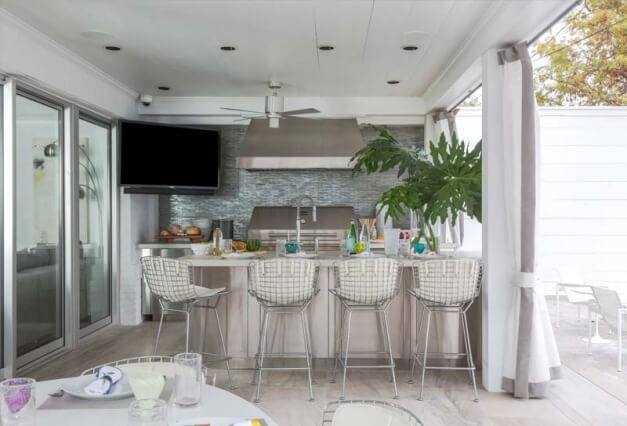 In New Orleans, outdoor kitchens are becoming more and more common, with good reason. The region's climate makes it possible to entertain outdoors nearly year-round - except during the hottest days of summer. Comfortable entertaining was one of the goals of this stunning outdoor kitchen project, which completes the total transformation of a classic New Orleans home. The new outdoor space connects seamlessly with renovated interior and provides flexible entertainment options for the large family who lives there.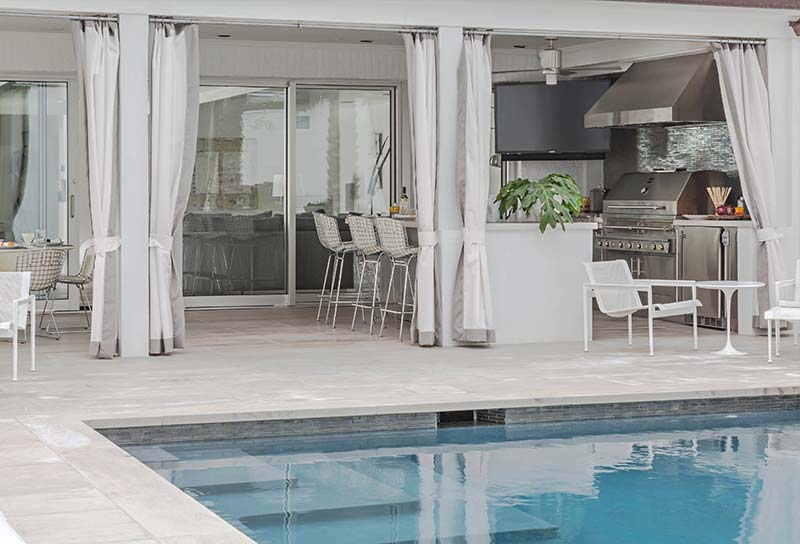 BEAUTIFULLY DESIGNED FOR ENTERTAINING
Following on the heels of a whole-house renovation, the new outdoor kitchen was styled with the same modern, white aesthetic. Smart design strategies for this client's outdoor kitchen make it a workhorse for all styles of entertaining, from winter football celebrations to summer pool parties.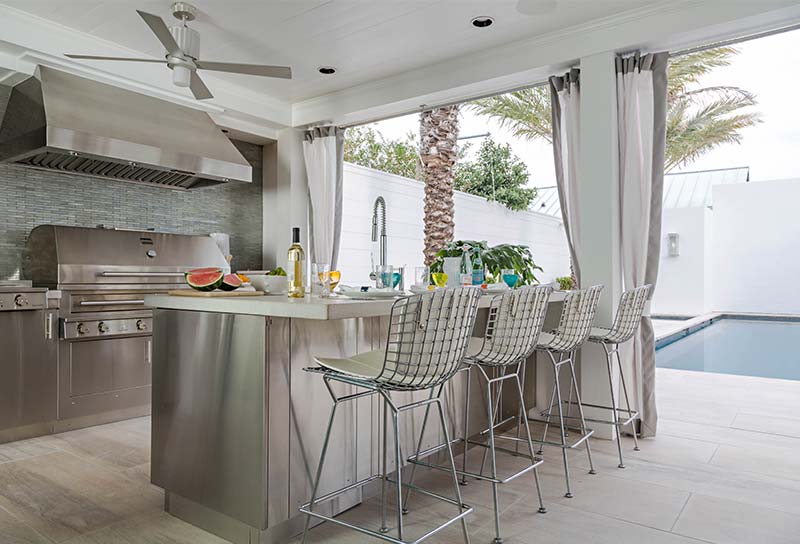 The floorplan features an island with covered seating that provides shelter on both warm and cool days. Floor-to-ceiling drapes can keep wind and rain out of the cooking and dining area or simply make the space feel more cozy and contained. The 65-inch TV is perfectly positioned for convenient viewing from the counter seating, dining table, and pool, making the space an outdoor haven for watching sports.
THOUGHTFULLY DESIGNED FOR FUNCTIONAL USE
The kitchen configuration packs a surprising number of storage, cooking, and refrigeration solutions in a small footprint, designed with smart pathways for typical uses of the space. Without overhead storage, an island was essential to providing enough weather-tight cabinetry to accommodate pull-out trash, dish and utensil storage, refrigerated drawers, and an icemaker.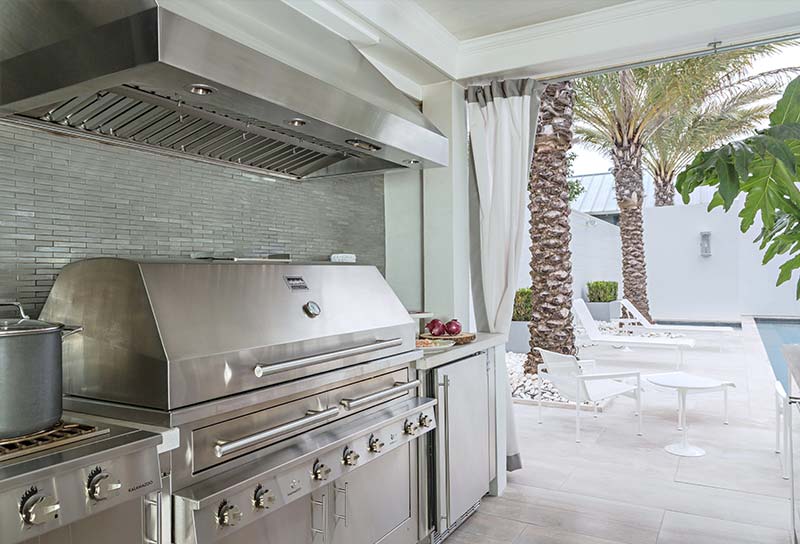 Flanking the cooking zone with refrigeration creates efficient workflows for both the chef and guests. A beverage refrigerator located to the right of the grill and near the pool and play area provides easy access to drinks, without requiring guests to cross into the cook's territory. To the left of the grill and adjacent to the entry to the home, refrigerated drawers are a convenient drop-off location for ingredients, sheet trays, and other supplies from the indoor kitchen. Between these two refrigerators, the chef can enjoy an uninterrupted, compact cooking & prep zone comprised of the Hybrid Fire Grill and double cooktop, prep counter, and sink.
THE OUTDOOR KITCHEN PRODUCTS
K1000 Built-in Hybrid Fire Grill
At 51 inches wide, Kalamazoo's largest, most powerful Hybrid Fire grill offers the ultimate in grilling flexibility. The huge primary grilling area makes it easy to cook for 50+ guests. Cook with gas, charcoal, wood, or a combination; this puts every outdoor cooking technique within reach, from "low and slow" American barbecue to intense searing heat in excess of 1,000 degrees.
A Wall-Mounted Ventilation Hood
Perfectly sized for capturing all smoke, a wall-mounted ventilation hood swiftly dispatches cooking smells for a better entertaining experience. Built-in lighting with two illumination levels provides plenty of task light for nighttime grilling or ambient lighting for mealtime.
The 24" Double Cooktop Cabinet with Power Wok Burner
With an additional two burners (including a 26,000 BTU power wok burner), this New Orleans kitchen can accommodate an incredible range of cooking styles and techniques. The double cooktop cabinet is ideal for those who enjoy high-temperature wok cooking, often make sauces and glazes to accompany grilled meals, or wish to have a completely self-sufficient kitchen outside of the home.
The 24" Refrigerated Drawers and 24" Outdoor Refrigerator
Two full-extension stainless steel refrigerators add easy-to-clean, easy-to-access refrigerated storage to this New Orleans kitchen. All of Kalamazoo's outdoor refrigerators maintain the set internal temperature even when it is as hot as 110 degrees outside, making them ideal for warm-weather climates.
Storage options abound in this well-designed, compact outdoor kitchen. Create your own self-sufficient outdoor kitchen with a range of storage options to fit every space. The seamless rain gutter around each cabinet door and drawer opening keeps cabinet contents clean and dry in all types of weather.
Smart design and powerful products combine to create a beautiful, functional, year-round Kalamazoo Outdoor Gourmet kitchen that will bring enjoyment for years to come. Thinking about building your own outdoor kitchen? Check out our Outdoor Kitchen Design Center for tips, inspiration, and design help, or contact us for one-on-one assistance. To see more images from this project visit our Outdoor Kitchen Photo Gallery.