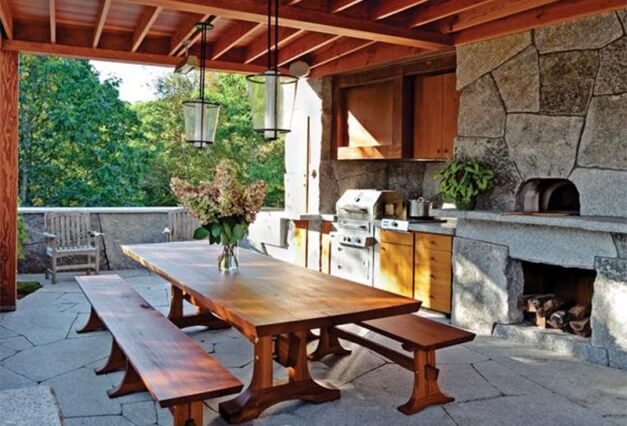 The owners of this exquisite backyard retreat in Camden, Maine, worked with Interior Designer Deborah Chatfield, owner of Chatfield Design, to create a charming, rustic outdoor kitchen and dining area. Chatfield Design is located in the village of Rockport, Maine and Deborah specializes in historic home renovations within the region, however she has designed interiors for private oceanfront residences in Florida, French-country-styled homes in southern Louisiana, and stylish, urban apartments in New York City.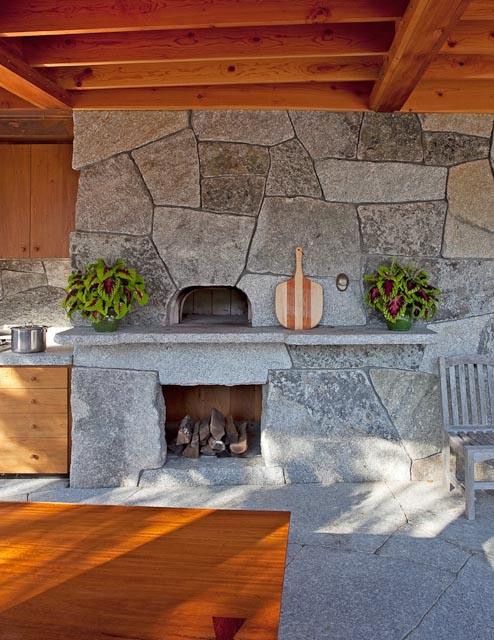 Locally quarried granite was used to create the pizza oven, flooring and countertops
The homeowners were inspired by a trip to the Italian countryside and sought to recreate that same bucolic, old-world charm in their outdoor kitchen. Their passion for good food and entertaining meant the kitchen and dining area needed to be not only aesthetically pleasing but highly functional. Deborah collaborated closely with the homeowners to create a gourmet outdoor kitchen to support the indoor kitchen, designed with a chef in mind. The kitchen features a powerful Kalamazoo Outdoor Gourmet Hybrid Fire Grill, built-in ventilation and cooktop. Cedar cabinetry allows for ample storage, and the same material was used to create a facade to hide the grill's vent hood. The traditional wood-burning pizza oven gives the space character and serves as a striking focal point. Locally quarried granite was used to create the countertops, pizza oven surround, flooring and a stunning, hand-carved outdoor sink. The stone contributes tremendously to the warm, rustic effect creating an ambience reminiscent of a sun-drenched Tuscan villa. The designer managed to incorporate the Italian influences in subtle ways that translate appropriately to the East Coast location. Her use of locally sourced materials, modern appliances and solid woods help balance the design.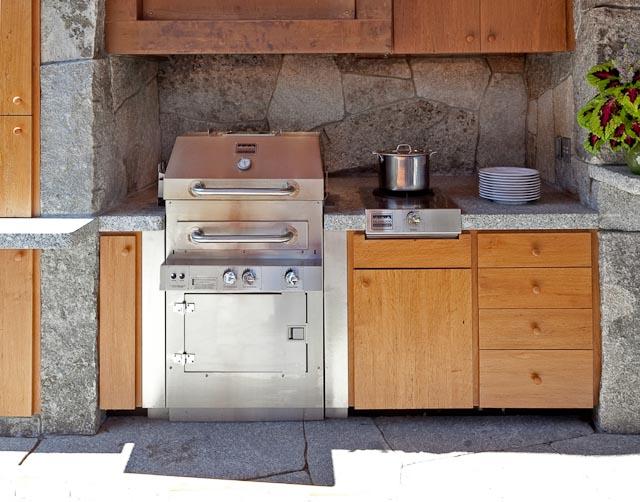 The Kalamazoo Outdoor Gourmet grill is surrounded by an insulating stainless steel cabinet to protect the cedar cabinetry
Another key focal point is the one-of-a-kind, custom-made farm-style dining table, made from solid cherry wood, built to accommodate up to 20 people. Matching picnic benches accompany the table to provide ample seating. Deborah incorporated lighting by Holly Hunt which adds to aesthetic and functionality of the overall design. Despite the rugged appearance, this outdoor kitchen accounts for every modern convenience. The space is fully wired with audio equipment and infrared heaters were integrated so that the space is comfortable and usable year-round.
Custom-built cherry wood dining table made to seat up to 20 people
The property is situated amongst the picturesque Maine Mountains and the outdoor kitchen was designed to take full advantage of these views. The addition has created a space for the homeowners to gather and enjoy their natural surrounds, seamlessly connecting their indoor and outdoor living.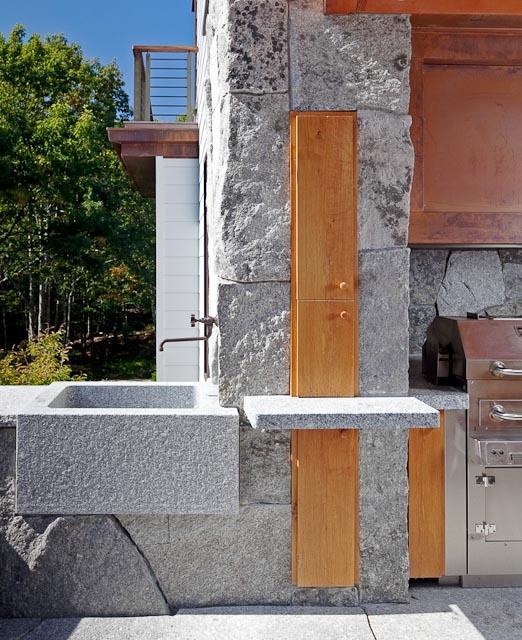 Outdoor sink hand carved from cedar loggia