MAXIMUM OUTDOOR PROTECTION WITH MARINE-GRADE STAINLESS STEEL (316L)
For customers who live near the ocean and require extra protection from the harsh salt-water environment, Kalamazoo is excited to offer the world's first complete outdoor kitchen collection available in marine-grade stainless steel.
Marine-grade stainless steel is available as an upgrade on nearly all Kalamazoo outdoor kitchen products, including grills, pizza ovens, cooktops and cabinetry and refrigeration. This upgraded steel offers greater resistance against corrosion, pitting and rust resulting from ocean-spray and saltwater elements over time.
Understanding the Types of Stainless Steel
There are more than 50 stainless steel alloys falling into three main series: 200, 300 and 400. The 300 series of alloys is used in most high-quality outdoor stainless steel cooking products. Our primary alloy is 304 stainless steel, also known as 18/8 because it contains 18% chromium and 8% nickel. It is incredibly versatile and durable, with excellent corrosion resistance, able to withstand outdoor environments ranging from deserts, to mountains to urban rooftops.
316 stainless steel, referred to as marine-grade, is even more resistant to corrosion than 304. It contains 16% chromium, 10% nickel and 2% molybdenum. The molybdenum is added to help resist corrosion caused by the chlorides found in sea water as well as de-icing salts.
For the ultimate protection, Kalamazoo goes even one step further than standard 316, using 316L for our marine-grade products. The 'L' denotes a low carbon content, meaning that the 316L alloy contains less carbon than 316. This imparts the maximum corrosion resistance possible out of all three alloys.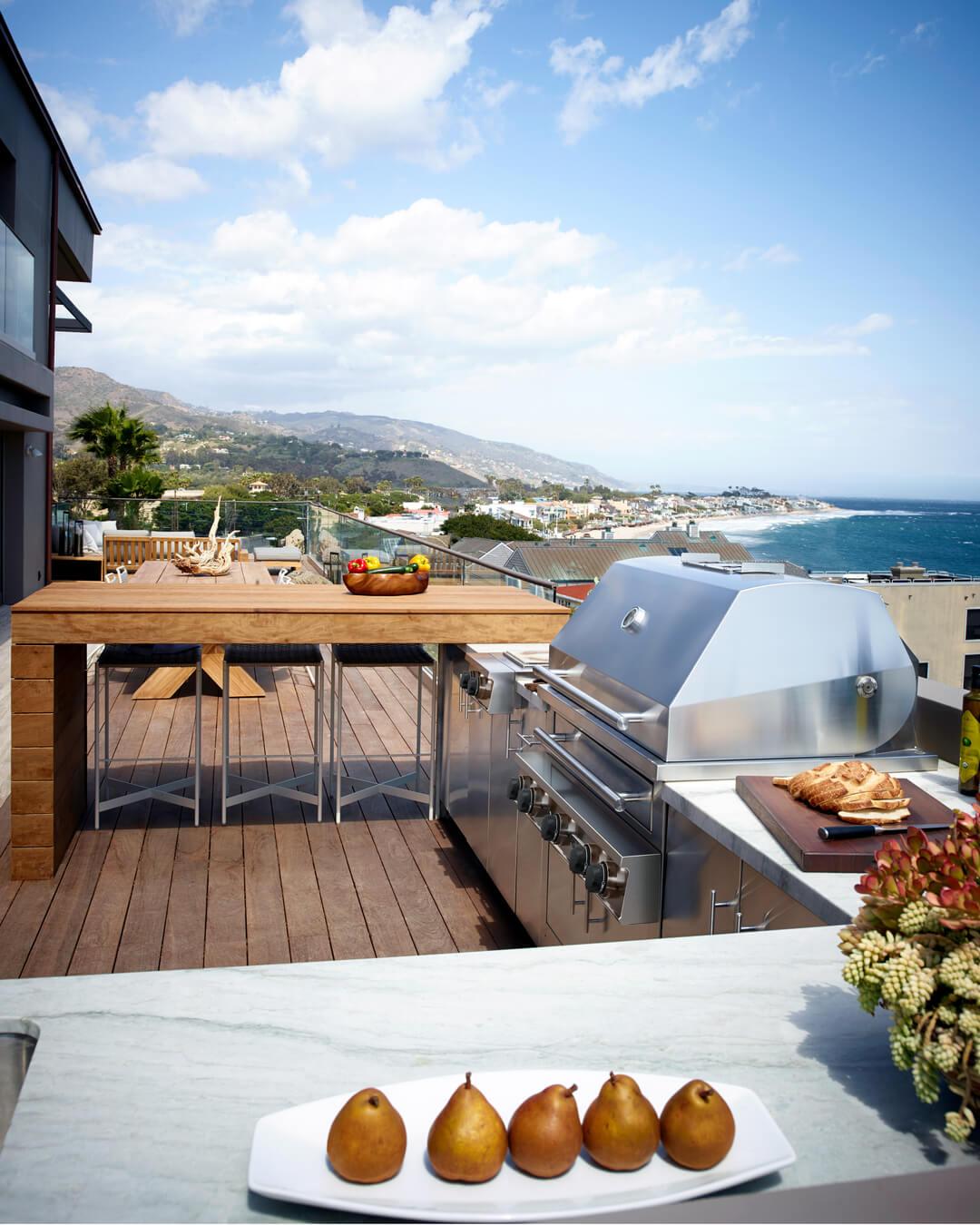 WHY CHOOSE MARINE-GRADE STAINLESS STEEL?
Marine-grade stainless steel (316L) is highly recommended for coastal areas, where strength, performance and durability are put to the test every day. It is widely accepted to be the material of choice for ships, yachts and marine structures where defense against saltwater damage is critical. It is even used in aerospace and pharmaceutical applications where cleanliness and purity requirements are stringently monitored.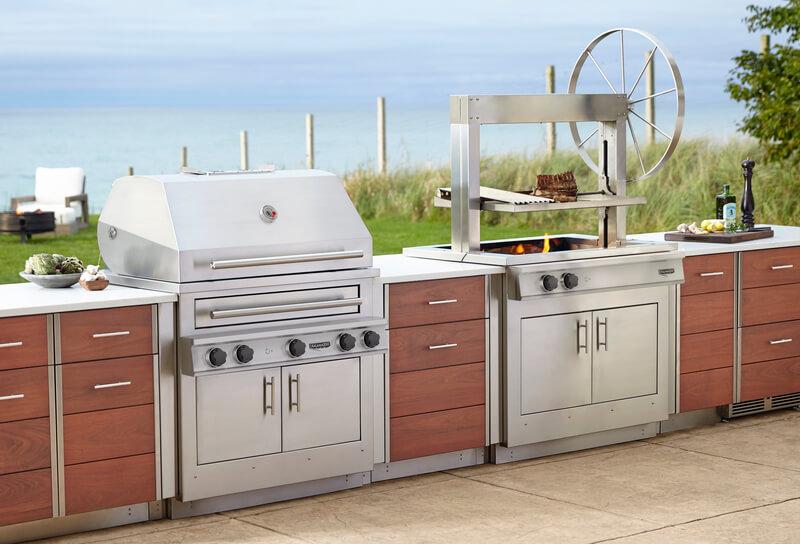 SEAMLESS DESIGN, MAXIMUM PROTECTION
Whether you choose our standard 304 or upgraded 316L stainless steel for your outdoor kitchen, you get the same sophisticated and cohesive aesthetic of the Kalamazoo collection. Create seamless designs, choosing from a full line of marine-grade products in a wide variety of models and configurations.
Engineered by Kalamazoo to withstand the test of time, seaside residents can now have added peace of mind by upgrading to marine-grade stainless steel. The only thing left is to sit back and enjoy a lifetime of stress-free outdoor entertaining.
*Vent hoods and ice machine excluded.
Let's Get Started
Our team is dedicated to supporting you at every stage of the design process. We can work with you to help select the best products for your climate, layout, and entertaining needs. We provide CAD drawings, provide installation guidance and share a wealth of resources. Whether it's working directly with a homeowner or collaborating with a designer, we look forward to partnering together.