Recipes
Zucchini Pizza with Roasted Garlic and Pine Nuts
A simple pizza lets its ingredients shine, and this recipe is a great example of that approach. Fresh zucchini ribbons cook quickly in the hot pizza oven, melding with just the right amount of cheese. The toasted pine nuts add a nice crunch, while the red pepper flakes add a touch of heat.
Serves 1 10-to-12-inch pizza
---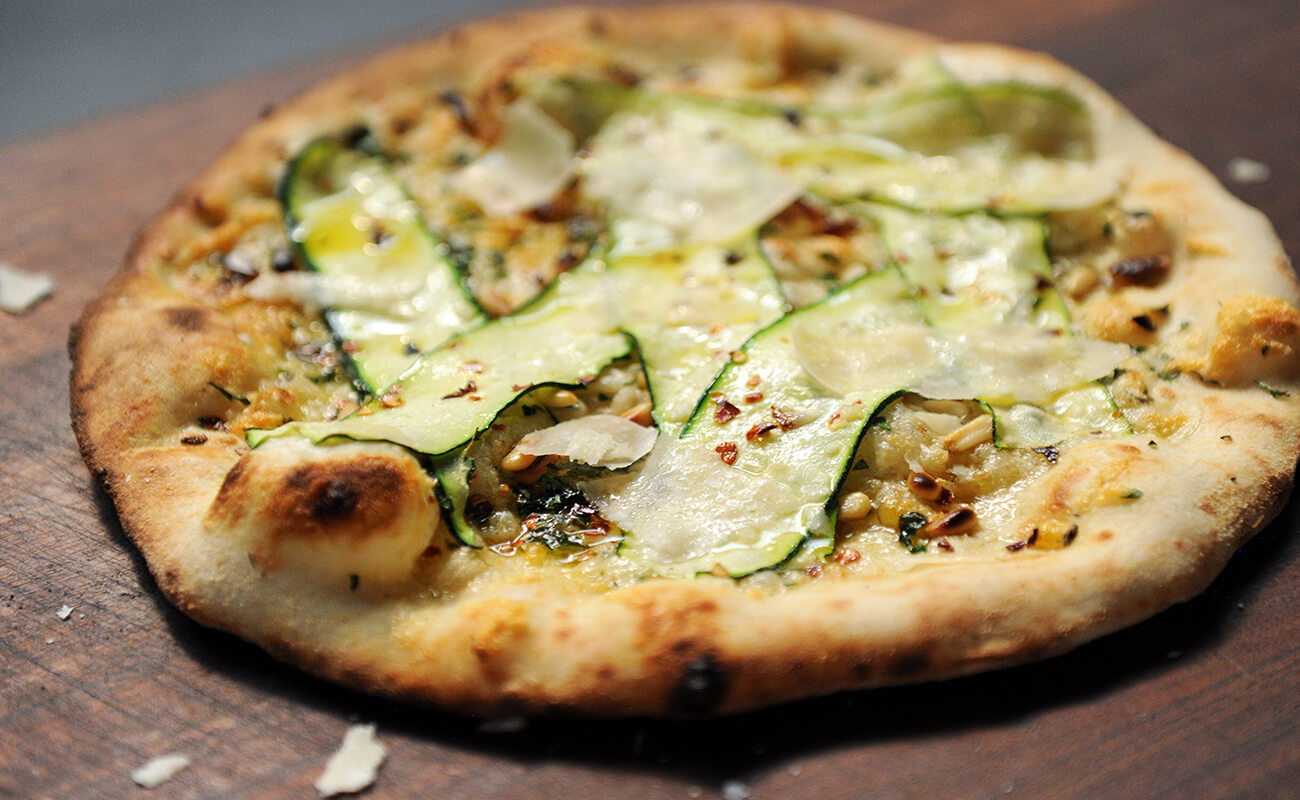 ---
Ingredients
1 10-ounce ball Artisan Fire Pizza Dough
1/2 head of roasted garlic (instructions for roasting garlic in the pizza oven can be found here)
1/3 cup shredded Campo de Montalban cheese (or a good Manchego)
1 tablespoon toasted pine nuts
1 tablespoon chopped fresh flat leaf parsley
6 thin, lengthwise slices of zucchini (use a mandolin)
Extra virgin olive oil
1/2 teaspoon red pepper flakes
Good quality flaky sea salt, such as Maldon
About 6 curls of shaved Parmigiano Reggiano
Directions
Prepare the outdoor pizza oven or grill for cooking pizza.
Working on a lightly-floured surface (we use Caputo '00 flour or semolina flour), gently form the dough with your hands into a 10-inch pizza.
Distribute dabs of roasted garlic evenly across the pizza. Spread the Campo de Montalban cheese on top. Sprinkle on the parsley and pine nuts, then lay the zucchini slices on the pizza in a crisscross pattern. Brush a little olive oil onto the zucchini, and add a quick drizzle around the pizza for good measure. Sprinkle on the red pepper flakes.
Place the pizza on a pizza peel and then transfer to the oven or grill. Cook until the cheese is melted and the crust is nicely browned.
Remove from the oven and add the shaved parmesan before serving.
Cooking in a hot pizza oven will take less than 3 minutes. Cooking in a conventional oven at 500⁰F or on a grill will require closer to 10 minutes.
Tips for cooking in the Artisan Fire Pizza Oven:
The toppings on this pizza are light, so it can be cooked with both the lower and upper burner set to HIGH. Cooking time should be about 2 minutes.