Recipes
Wood-fired Rotisserie Chicken Sandwiches on Grilled Naan
Fill soft, grilled naan with succulent barbecue-rubbed chicken and fresh farmer's cheese for a wonderful summer sandwich. Dressed greens, fresh avocado, paper-thin red onions and radishes with a touch of honey ensure every bite is perfect.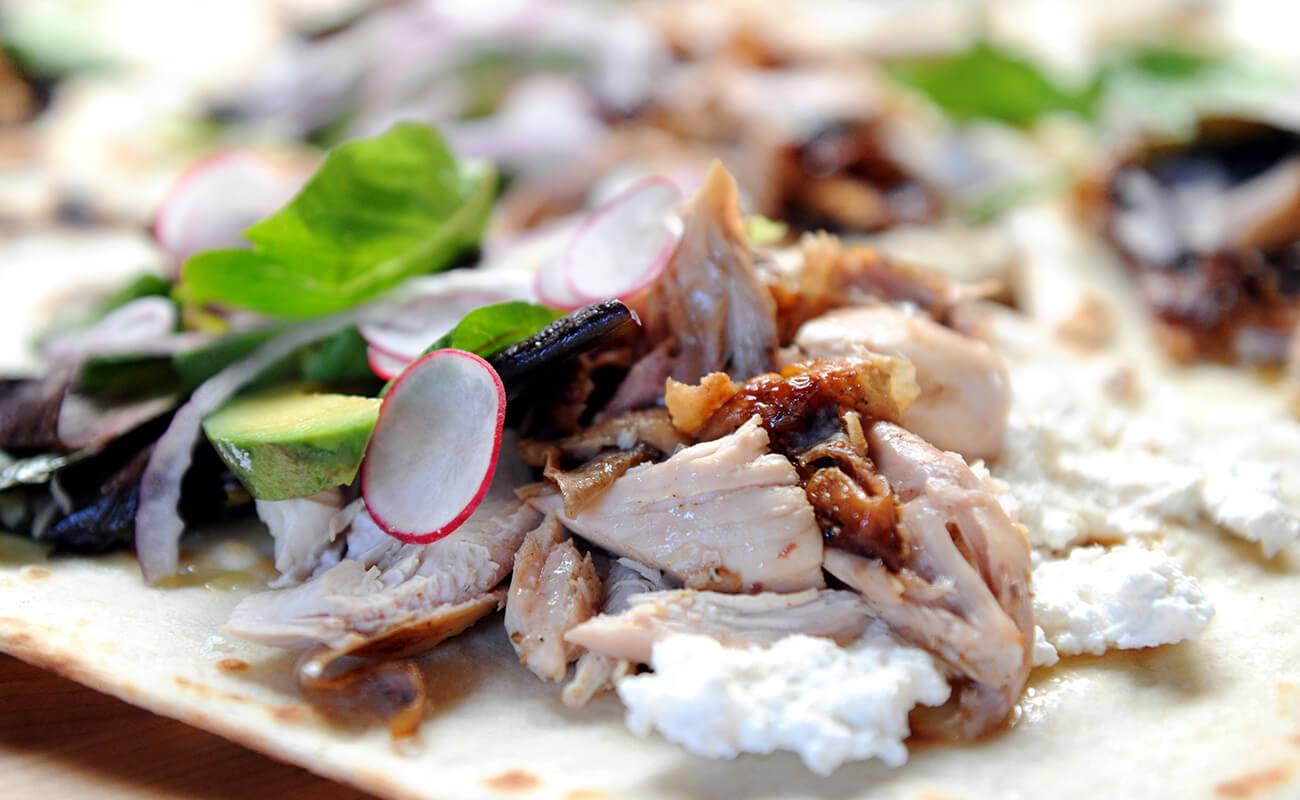 ---
Ingredients
1 batch Grilled Naan (8 naan)
2 Barbecue-rubbed Wood-Fired Rotisserie Chickens
2 teaspoons Blis 9 sherry vinegar
4 teaspoons extra virgin olive oil
2 teaspoons prepared mayonnaise
8 radishes
¼ red onion
1 avocado
Baby romaine lettuce, about 3 ounces
Honey
8 ounces farmer's cheese
Flaky sea salt, like Maldon
Directions
Prepare the naan in advance (see recipe).
Once the chickens (see recipe) come off the grill to rest, make the dressing for the greens. Combine the vinegar, olive oil and mayonnaise in a medium-size bowl and whisk vigorously to emulsify. Reserve.
Slice the radishes and onion very thinly on a mandolin. Reserve.
Slice the avocado and reserve.
Remove the chickens from the rotisserie spit and break down the meat. I slice the breasts with a knife and tear apart the dark meat with my fingers, cutting the browned skin into small pieces with a knife.
Drizzle the naan with honey. Top with a smear of farmer's cheese. Add some chicken on top of the cheese. Toss the romaine in the dressing and distribute onto the sandwiches. Finish off with avocado, onion, radish and a sprinkle of flaky salt. Serve warm.