Recipes
Sun-dried Tomato Hazelnut "Pesto" Grilled Cheese
Crunchy, toasted hazelnuts, and rich, sun-dried tomatoes turn this grilled cheese sandwich into something truly special. A little of this "pesto," plus some great melting Fontina Fontal cheese and peppery baby arugula come together inside toasted ciabatta.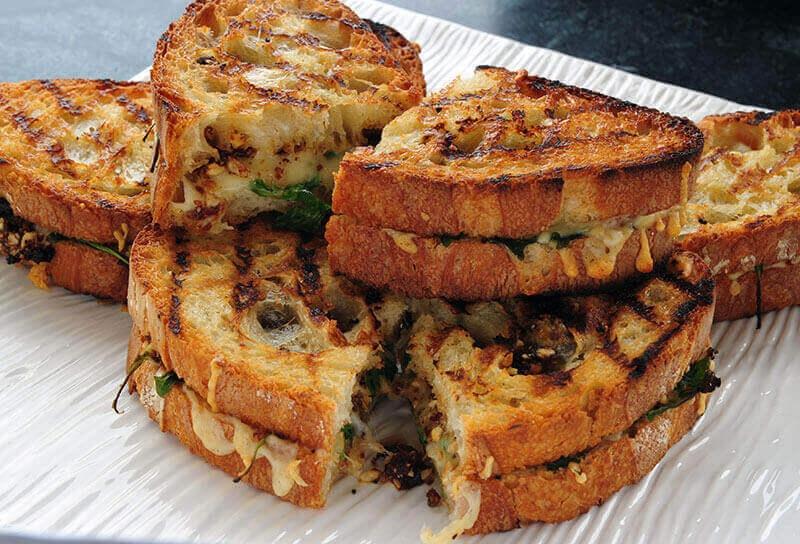 ---
Ingredients
About 3/4 cup Sun-dried Tomato Hazelnut "Pesto"
8 slices ciabatta bread, about 3/4" thick
About 2 tablespoons butter, softened
8 ounces Fontina Fontal (or other soft fontina) cheese, shredded
Baby arugula
Directions
Prepare the grill for direct grilling over a medium fire, about 400°F.
Lightly butter one side of each slice of bread (the outside of each sandwich). Spread some pesto into one side of each sandwich. Top the pesto with a layer of cheese, followed by a sparse layer of arugula and a final layer of cheese (placing the arugula between layers of cheese will help keep the sandwich together once the cheese is melted). Top off each sandwich with the other slice of ciabatta.
Place the sandwiches on the grill. Keep the hood closed as much as possible while grilling to help melt the cheese. Turn once after the first side is toasted and lightly marked by the grill grate, about 2 minutes. (Note: for cross-hatched grill marks, rotate the sandwich about 90 degrees halfway through grilling each side.)
After turning the sandwiches over, grill the second side until toasted, about 2 more minutes. If the cheese is not thoroughly melted by the time the bread is toasted to your liking, lay out a sheet of heavy-duty aluminum foil on the grill grate (preferably in the coolest zone of the grill) and transfer the sandwiches on top of the foil. Close the hood and continue cooking until the cheese is melted through (up to 6 minutes more).
Paired with Two Brothers Domaine Dupage French Country Ale at our Grilled Cheese and beer event September 29.