Recipes
Stuffed Beef Burgers with Homemade Horseradish Pimento Cheese
Pimento cheese seems to be having a bit of a moment, which inspired me to make my own. I was surprised by how easy it is to make and how much better it tasted than pre-packaged cheese. I highly recommend trying it even if you don't use it as a filling for stuffed burgers.
In this recipe, horseradish and a pinch of cayenne add a little kick to this ooey-gooey hamburger filling.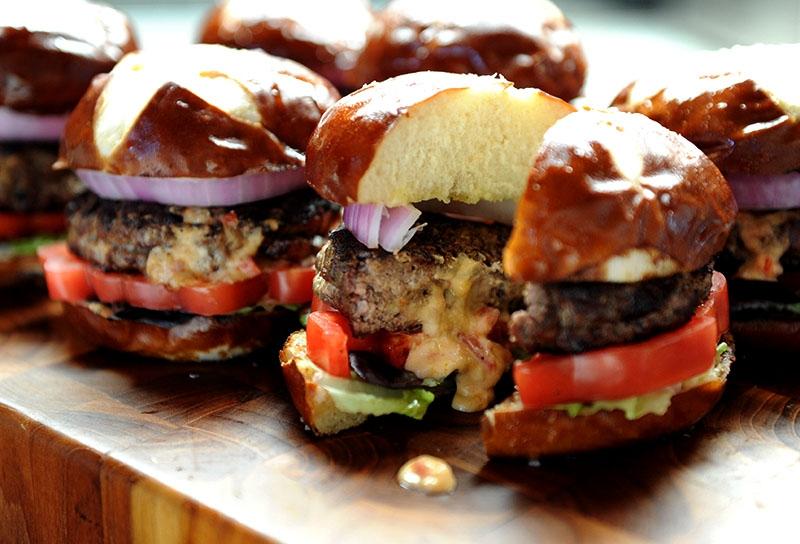 ---
Ingredients
1½ cups shredded sharp cheddar cheese (I use Prairie Breeze)
½ cup softened cream cheese
2 tablespoons prepared horseradish
1 whole pimento (from a jar), finely chopped, about 6 tablespoons
¼ teaspoon granulated garlic
1/8 teaspoon ground cayenne
3 pounds 85% lean ground beef
Extra virgin olive oil
Fine gray sea salt
6 pretzel hamburger buns
Prepared mayonnaise
18 leaves baby butter lettuce leaves
2 heirloom tomatoes, sliced
1 red onion, sliced and separated into rings
Directions
To prepare the Homemade Horseradish Pimento Cheese filling, combine the first 6 ingredients in a medium-size mixing bowl. Thoroughly work together with a silicone spatula. Reserve.
Preheat the grill for direct grilling over a hot fire, about 500°F.
Divide the ground beef into 12 equal parts weighing ¼ pound each. Form into balls, but try not to over-work the beef. (This is important to achieving a desirable burger texture.) Working on a non-stick sheet pan, form the balls into thin patties that are 1 inch larger in diameter than the rolls. Place 2 tablespoons of pimento cheese filling in the center of each of 6 patties. Spread to within ½ inch of the edge of each of these 6 patties (not any closer to the edge). Take a plain patty and place it on top of one of the patties with filling. Seal it well around the perimeter by pressing with your fingers, then reshape the edge to a more square profile all around (maintaining a finished patty diameter that is 1 inch larger than the rolls). Repeat for the remaining 5 burgers. Brush the burgers on both sides with olive oil and season liberally with fine gray sea salt. Reserve.
Spread a thin layer of mayonnaise on the inside of the pretzel buns and season with fine gray sea salt. Toast lightly on the grill. Remove from the grill, brush a very small amount of olive oil on the outside top of each bun and sprinkle on a little flaky sea salt. Reserve.
Grill the burgers over the hot fire. Patience is key as you wait for the first side to cook, about 5 minutes (see notes that follow). Flip the burgers and continue cooking to an internal temperature of 160°F.
Assemble each burger by placing 3 lettuce leaves on the bottom bun, add a slice of tomato, top with a stuffed burger patty, followed by a couple rings of onion and the top bun.