Recipes
Stage Three Guacamole from Chef Rick Bayless
In his cookbook, Mexican Everyday, Rick Bayless offers three stages of guacamole suitable for every occasion. We have adapted the stage three version here for our Super Bowl party menu. The brightness of cilantro and white onions combines with the zip of Serrano chiles in the mild coolness of avocados. It's a perfect mixture of flavors and textures that will have your guests craving more. You may also enjoy Chef Bayless' tips for quick-grilling ten great foods.
Serves 1 1/2 cups (you'll want to make at least 2 batches to serve 6)
---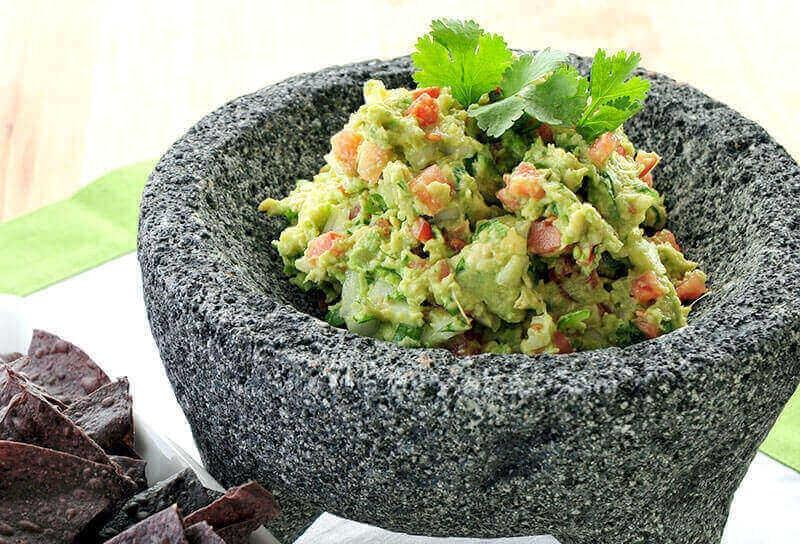 ---
Ingredients
1 tablespoon freshly-squeezed lime juice
1 clove garlic
2 ripe avocados (see the tip below for selecting ripe avocados)
2 tablespoons chopped cilantro leaves
Fine sea salt to taste
1 Serrano chile, stemmed, halved and thinly sliced
1/4 white onion, finely chopped, rinsed under cold water and drained
1 plum tomato, chopped to 1/4-inch dice
Tortilla chips for serving
Directions
Put the lime juice in a medium-sized mixing bowl. Crush the garlic into the lime juice using a garlic press. Cut the avocados in half, remove the pit and scoop the flesh into the lime juice mixture. Toss immediately so the acid in the lime juice can get to work protecting the avocado from turning brown. Add the cilantro and coarsely mash everything together, leaving some texture to the guacamole. Season to taste with salt. Fold in the chile, onion (rinsing the onion reduces the intensity of its "onionness") and tomato. Serve with tortilla chips.
Selecting ripe avocados: An avocado that isn't ripe is too firm and lacks flavor. One that is over-ripe lacks texture and is likely to have brown spots. To choose a Haas avocado that is ripe and ready for use, look for one with dark green skin and press your thumb against the base of the fruit. If it yields to gentle pressure, it should be a good choice.
Note: If not serving immediately, cover with plastic wrap. Press the wrap into the surface of the guacamole to eliminate any air. Refrigerate.