Recipes
Spicy Sweet Onion "Jam"
This "jam" is a delicious condiment. Loaded with sweet red onion, cooked down and spiked with allspice and dried chiles. Use it in our Spicy Sweet Onion Jam and Cheddar Grilled Cheese Sandwich, or try it on grilled pork. We also like it with roasted Brussels sprouts and bacon, and you can use it in place of barbecue sauce as a final glaze on country-style ribs.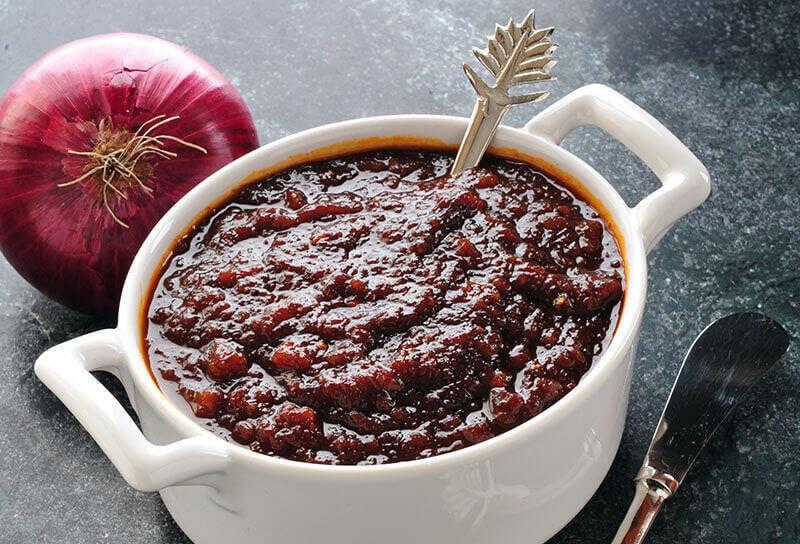 ---
Ingredients
6 tablespoons butter
3 large red onions, diced
1/2 cup plus 1 tablespoon apple cider vinegar
3 tablespoons unsulfured molasses
1 1/2 cups light brown sugar
1/2 teaspoon ground allspice
2 dried chipotle chilles, ground (seeds and all)
1 dried pasilla chile, stemmed, seeded and ground
1 teaspoon fine sea salt
Directions
Preheat a large pan over medium-high heat on the cooktop. Melt the butter and then add the onions. Sweat the onions without browning, until translucent – stirring frequently for about 8 minutes. Remove and reserve 1/3 of the onions (these will be added back in as the very last step).
Reduce the heat to medium and continue cooking until the onions are caramelized, about 12 minutes more.
Transfer the caramelized onions to a food processor and add the vinegar. Process until smooth and return to the pan. Stir in all of the remaining ingredients except for the reserved onions. Simmer for 10 minutes. Remove from heat and stir in the reserved onions.
Refrigerate in an air-tight container. The jam will keep for more than a week.