Recipes
Spiced Sweet Potato Fries
Roasted sweet potato wedges are healthier and much more flavorful than your average fry. Ours are crispy on the outside and kicked up with a little Asian five spice, cayenne and sugar. The spiced ketchup is perfect for dipping.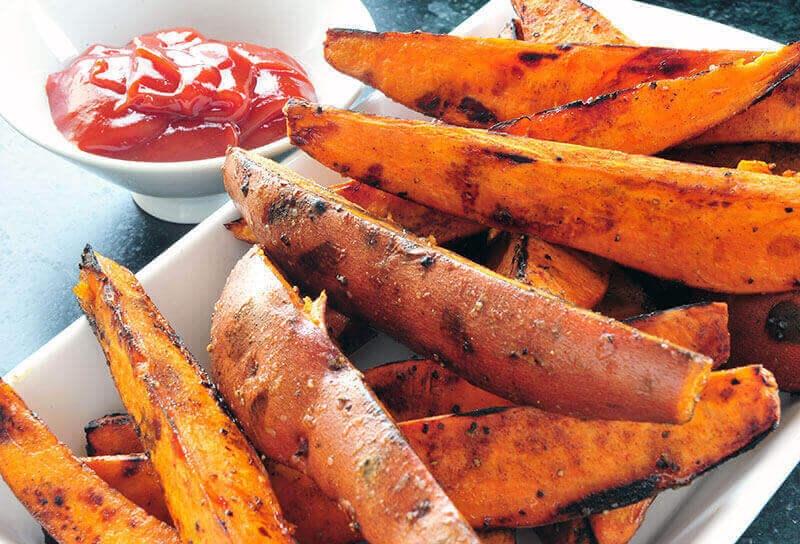 ---
Ingredients
4 large garnet yams
1/2 cup ketchup
1 teaspoon Sriracha (Thai chili hot sauce)
2 tablespoons light brown sugar
1/4 teaspoon ground cayenne pepper
1/2 teaspoon Asian Five Spice blend
1/2 teaspoon kosher salt
1/4 teaspoon coarsely-ground black pepper
Extra virgin olive oil
Directions
Place the yams in a large pot with enough salted cold water to cover them. Put the pot over high heat and bring to a boil. Cook until the yams are tender enough all the way through that they pierce easily with a fork. Total time from cold to cooked should be about 45 minutes, but this will vary based on your pot and your burner. Drain the hot water and refill the pot with cold water to halt the cooking. Reserve the potatoes until time to grill.
Prepare the grill for direct grilling over a medium-hot fire.
Stir together the ketchup and Sriracha. Reserve.
Combine the sugar, cayenne, five spice, salt and pepper in a small bowl. Slice the yams lengthwise into 6 wedges each. Lay out on a baking sheet and toss them with olive oil. Sprinkle the spice blend all over and then toss again for an even coating.
Place the seasoned wedges in the direct grilling zone. Cook each side until nicely marked, slightly caramelized and the wedges are heated through, about 8 minutes total.