Recipes
Smoky Chipotle Cashews
This recipe from Chef Rick Bayless would make the perfect game day snack for NFL kickoff weekend. The flame from the grill infuses the cashews with an incredible smokiness, while the honey, agave and spices create a delicious blend of salty and sweet flavors. So who's ready for some football?!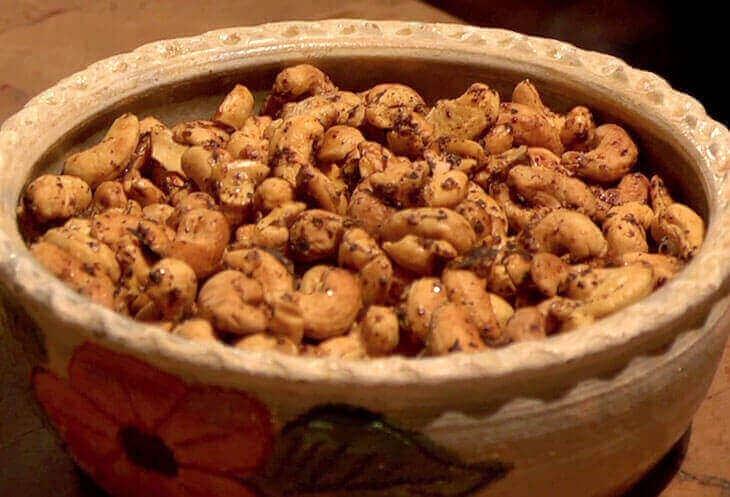 ---
Ingredients
2 tablespoons of olive oil
2 tablespoons agave syrup or honey
1 to 2 teaspoons powdered chipotle chile
1 teaspoon salt
½ teaspoon ground black pepper, preferably freshly ground
½ teaspoon ground allspice, preferably freshly ground
3 cups (about 1 pound) raw cashews
Directions
Prepare a charcoal fire with Kalamazoo Quebracho Charcoal, letting the coals burn until they are covered with a gray ash and are medium-hot. Bank the coals to one side.

In a small bowl, combine the oil, agave syrup or honey, chile, salt and spices. Measure the cashews into a large bowl, pour the seasoning syrup over the nuts and mix well to distribute the spices evenly.

Position a medium sized rimmed baking sheet or perforated grill pan over the cooler side of the grill. If you're using a perforated grill pan, make sure to line it with a silcone baking mat or parchment paper. Spread the cashews in a single layer on the baking sheet, cover the grill and cook, stirring regularly to ensure even toasting, for 10 to 20 minutes, depending on the heat of your fire. Remove the nuts from the fire and continue to stir occasionally so they don't stick together as they cool. Scoop into a serving bowl and they are ready for your guests to enjoy.