Recipes
Smoky Bourbon Peach Cobbler
One of my father's signature dishes when I was growing up was peach cobbler. This was appropriate since he grew up in Georgia. I remember he never used a recipe, he simply threw it together. It was one of my favorite summertime treats. So, when we were discussing recipes for summer cookout classics, peach cobbler became a must.
This recipe is super easy to make – especially on a Kalamazoo grill because the even flow of heat lends itself very well to baking. The flavor has been ratcheted up with a little bourbon, a hint of maple syrup, and a whole lot of pecan wood smoke. I used the Smoker Pellet Grill Inserts for the Hybrid Fire Grill and Premium Wood Pellets to make this dish. If you have a Hybrid Fire Grill, I highly recommend you check out our new grill accessory!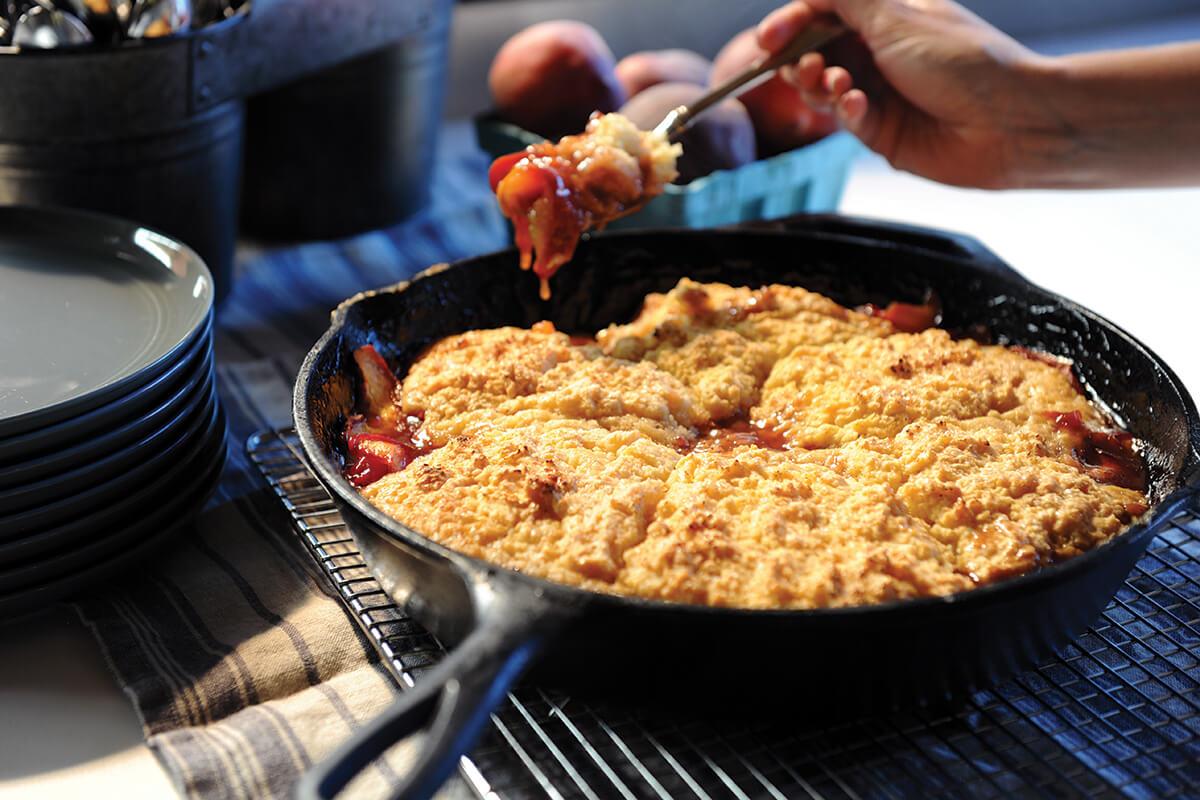 ---
Ingredients
For the Crust
2 cups all-purpose flour
2 teaspoons baking powder
1 teaspoon baking soda
1/4 cup granulated sugar
1/2 teaspoon fine gray sea salt
8 tablespoons (1 stick) unsalted butter, cold
1 1/3 cup buttermilk
For the filling
1 1/4 cup packed light brown sugar
1/4 cup bourbon
2 tablespoons rich, dark maple syrup
1/4 teaspoon vanilla extract
2 tablespoons all-purpose flour
1 teaspoon ground cinnamon
1 tablespoon freshly-squeezed lemon juice
6 cups yellow peaches, sliced
For serving:
Directions
Prepare the grill for indirect grilling at 350°F with wood smoke. If you are using a Kalamazoo Hybrid Fire Grill, I recommend using our Smoker Pellet Grill Inserts with Pecan Wood Smoker Pellets.
To make the topping, combine the dry ingredients in a mixing bowl. Cut the butter into 12 to 16 pieces and cut into the mixture with a pastry cutter. Cut until the texture is relatively fine, but don't completely break down the butter. Stir the buttermilk in with a wooden spoon to finish the dough. Reserve.
To make the filling, whisk together all of the ingredients except the peaches. Gently fold in the peaches last.
Pour the peach filling into a greased 12-inch cast iron skillet. Drop spoonfuls of topping over the top. Transfer to the indirect zone of the grill with the smoke going and close the lid. Bake, rotating occasionally, until bubbly and golden brown, about 40 minutes.
Serve warm with ice cream.