Recipes
Smoky Bacon Mini Quiches
Quiche on a grill? Absolutely! One of the things we love about cooking on the Kalamazoo Hybrid Fire Grill is the even heat consistency for baking and roasting. You can bake quiches, custards and even cakes without difficulty – and you have the opportunity to add flavor with wood or charcoal. Shallow cast iron muffin pans are perfect for baking these quiches.
For this recipe, we've also fired up the Kalamazoo Smoker Cabinet to make twice-smoked bacon. You can skip this process for convenience and/or a less smoky flavor.
Serves 8 to 12 (yields twelve mini quiches)
---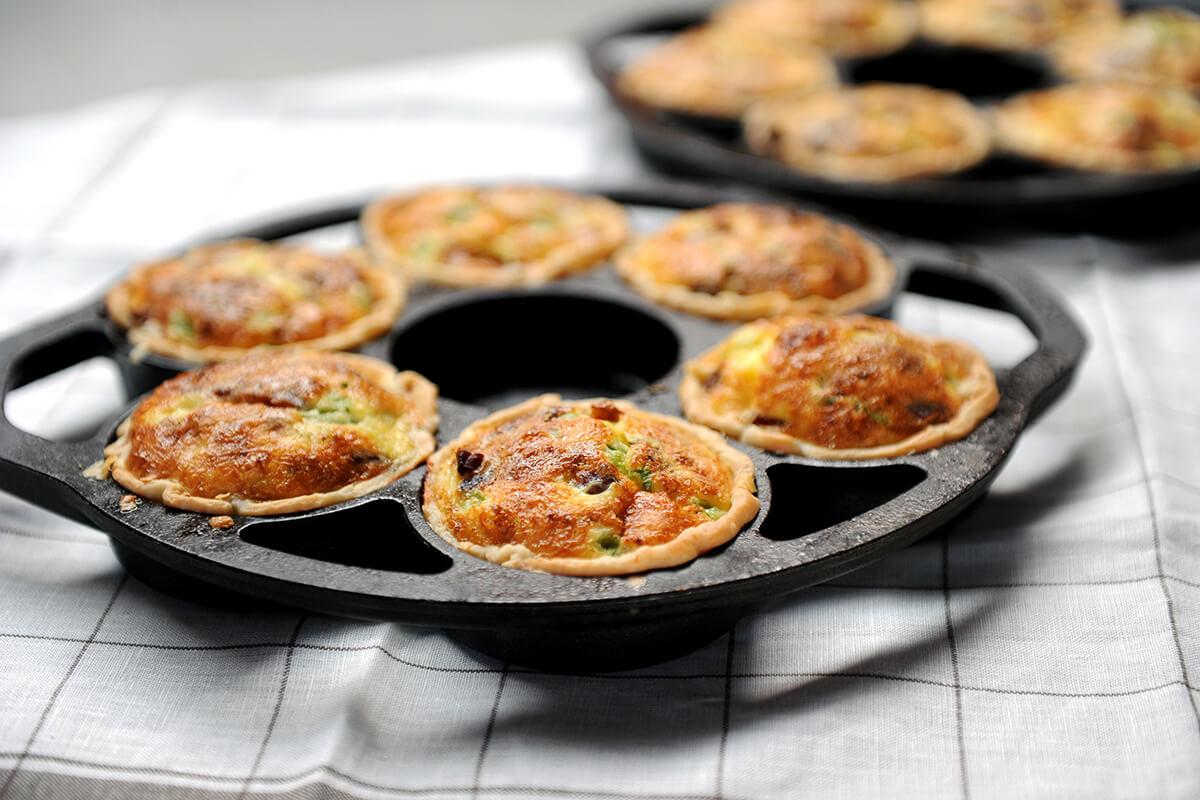 ---
Ingredients
8 slices smoked bacon
6 eggs
3/4 cup heavy cream
1/2 teaspoon salt
Butter for greasing the muffin pan
4 pie crusts for 9-inch pies (we bought pre-made Pillsbury crusts from the refrigerated section at the market)
2 green onions, green parts only, thinly sliced
1/2 pound white cheddar cheese, grated
1/4 cup finely grated Parmigiano Reggiano
Cast iron muffin pan for baking
Directions
For the twice-smoked bacon (optional), smoke the bacon at 300°F for 90 minutes. We did so using the Kalamazoo Smoker Cabinet. The end result should be fully-cooked and somewhat "stiffened" without being crispy. If not smoking the bacon, cook the bacon to similar doneness using whatever method desired. Chop the bacon and reserve.
Prepare the grill for baking with indirect heat with at 350°F. For the Kalamazoo K750 Hybrid Fire Grill, we set the left and right Dragon Burners on MEDIUM, while the center burner remains OFF for your indirect baking zone. Preheat the grill with the hood closed.
Beat together the eggs, cream and salt in a bowl.
Grease the inside of the cast iron muffin pans using the butter.
Cut the pie crust into smaller circles that are sized to fit the cups of your pans. Line the cups of the pans with the crusts, then place a little bacon, cheddar and green onion into each cup. Distribute the egg mixture evenly among all the crusts, then top with the grated parmesan.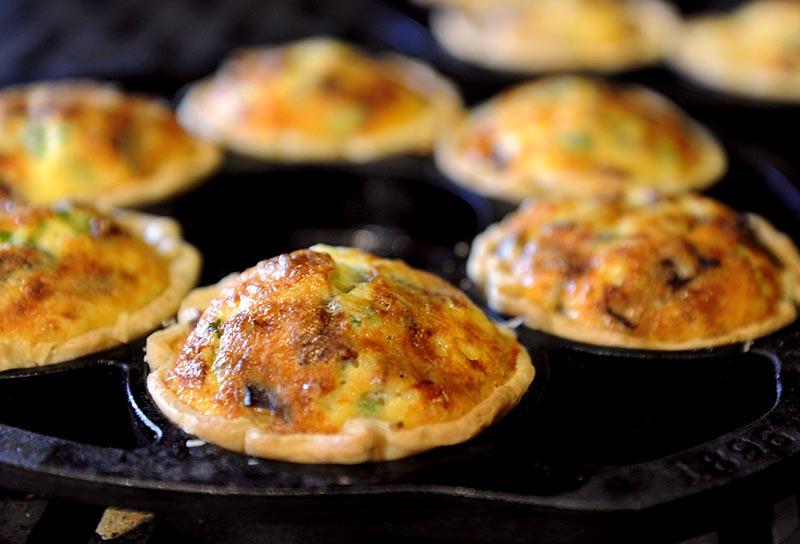 Place the pans in the indirect zone, close the grill hood, and bake until the internal temperature of each quiche reaches 165°F, about 40 minutes baking time. Rotate the pans halfway through cooking.