Recipes
Smoked Meatloaf
A lot of people think meatloaf is bland and boring, but it doesn't have to be. I think a flavorful and moist meatloaf is hard to beat, but I guarantee smoking it makes it even better. We blend two cuts of beef with spicy and sweet Andouille and Italian sausages. Portabello mushroom adds a touch of earthiness and smoke adds that distinctive outdoor flavor. An easily made perforated pan helps the smoke work its magic.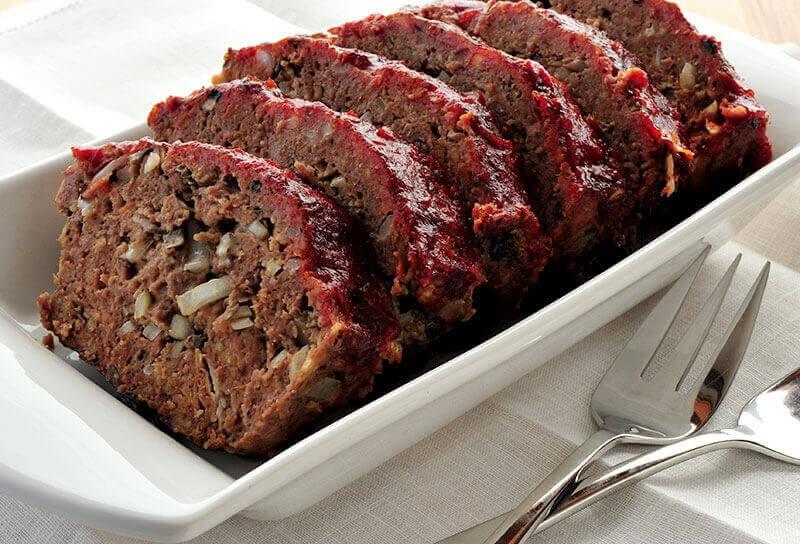 ---
Ingredients
For smoking
1 disposable aluminum loaf pan for a 5-pound loaf
5 cups apple wood chips, soaked
For the meatloaf
2 eggs
1/2 cup evaporated milk
2 teaspoons kosher salt
3/4 teaspoon black pepper
3 cloves garlic, crushed
1 pound ground beef from round
1 pound ground beef from sirloin
3/4 pound raw Andouille sausage
3/4 pound raw Italian sausage
1 1/2 cup chopped portabello mushroom cap
1 cup diced sweet onion
1 cup bread crumbs
For the barbecue sauce (optional)
3 tablespoons tomato paste
1 tablespoon apple cider vinegar
4 tablespoons honey
1 teaspoon adobo sauce from a can of chipotle chiles
Pinch of salt
Directions
Perforate the aluminum pan with holes between 1/4- and 5/8-inch in diameter. You can use a hobby knife, a punch or a drill. I used a drill with a 5/8-inch spade bit. The more holes you make, the more smoke you can let in, but make sure you leave enough pan to support the meatloaf.
Prepare the grill or smoker for indirect cooking between 250° and 300°F with wood smoke. If you are using a dedicated smoker or a Kalamazoo grill with an offset smoker box, you know what to do. For a gas grill, make several smoking envelopes to place above the burners on the hot side of the grill. Replace the spent smoking envelope with a fresh one every 20 to 30 minutes.
Combine the eggs, evaporated milk, salt, pepper and garlic in a large bowl. Whisk together. Add the remaining meatloaf ingredients. Work together with your hands to thoroughly combine. Transfer to the perforated loaf pan.
Smoke the meatloaf at 250&;deg; to 300°F for 2 1/2 to 3 hours, until an instant-read meat thermometer registers 160°F. Brush barbecue sauce on top for the last 30 minutes of this time. Use your favorite bottled variety or whip up your own by combining the listed ingredients in a small saucepan over medium heat. Stir until warmed through.