Recipes
Smoked Korean-Style Pulled Pork
Kalamazoo Outdoor Gourmet is a proud sponsor of Project Smoke with Steven Raichlen. Raichlen is an acclaimed authority on all things barbecue and smoking related. This recipe was created by Raichlen on Season 3 of his television show using the Kalamazoo Charcoal Smoker Cabinet. He builds the sweet, salty, spicy, and fiery flavors with gojuchang, a Korean spice paste, and a Korean barbecue sauce to flavor the six-pound heritage pork shoulder. The result is perfectly smoked pulled pork that will melt in your mouth.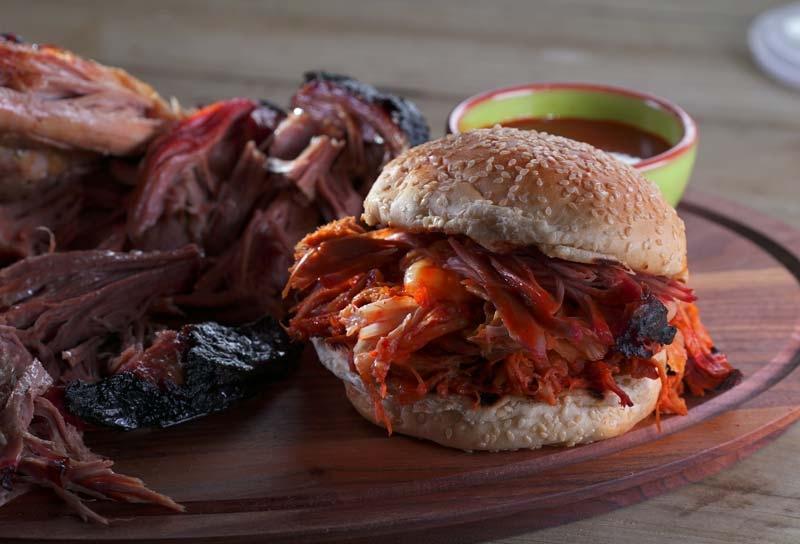 ---
Ingredients
For the barbecue sauce
1 1/2 cups cold water
1 cup Sprite, or other lime soda
3/4 cup granulated sugar
1/2 cup (packed) dark brown sugar
1/4 cup soy sauce
1 tablespoon Asian sesame oil
2 cups (about 1 pound) gochujang
1 tablespoon rice vinegar (optional), or to taste
For the marinade and pork
1 cup gochujang
1/4 cup soy sauce
1/4 cup rice vinegar
3 cloves garlic, minced
2 tablespoons minced fresh ginger
1 Boston butt (bone-in pork shoulder roast, preferably skin-on; 5 to 6 pounds)
For serving
Toasted sesame seed buns
Kimchi or shredded cabbage
*You'll also need insulated rubber gloves or meat claws for pulling and shredding the pork (optional)
Directions
Make the barbecue sauce: Place the water, Sprite, sugars, and soy sauce in a heavy saucepan and bring to a boil over medium-high heat. Boil until the sugars are dissolved, 3 minutes, whisking well. Remove the pan from the heat and let cool slightly, then whisk in the sesame oil and gochujang. Transfer the sauce to clean jars. Covered and refrigerated, the sauce will keep for several weeks.
Make the marinade: Combine the gochujang, soy sauce, rice vinegar, and ginger in a mixing bowl and whisk until smooth. Place the pork shoulder in a deep baking dish. Spread the marinade over the pork shoulder on all sides. Loosely cover with plastic wrap and marinate in the refrigerator for 24 hours, the longer, the richer the flavor.
Set up a Kalamazoo Charcoal Cabinet Smoker following the manufacturer's instructions and preheat to 250°F. Add charcoal and wood chunks. Smoke the pork shoulder until darkly browned and crusty on the outside and the meat reaches an internal temperature of 195°F, 5 to 6 hours. Replenish the charcoal and wood as needed.
When the pork is cooked, transfer it to a large cutting board or chopping block. Let rest for 15 minutes. Pull out and discard the blade bone. Pull the pork into shreds. Stir in enough barbecue sauce to make the meat moist, but not soupy. Serve on toasted buttered buns with kimchi or shredded cabbage and extra barbecue sauce.


Watch Raichlen demonstrate how easy it is to use the Kalamazoo Smoker Cabinet to cook a six-pound heritage pork shoulder.