Recipes
Smoke-roasted Golden Beet Salad
The distinctive, earthy flavor of beets pairs naturally with wood smoke. We add the sweetness of maple syrup, a hint of fresh ginger and a sprinkling of toasted pistachios to bring this salad to life. It can be served warm or cold, but should be assembled immediately before serving.
Note: The beets are roasted using the same technique and temperature as the squash in the Smoke-roasted Butternut Squash Casserole. You can prepare them together in advance to save time.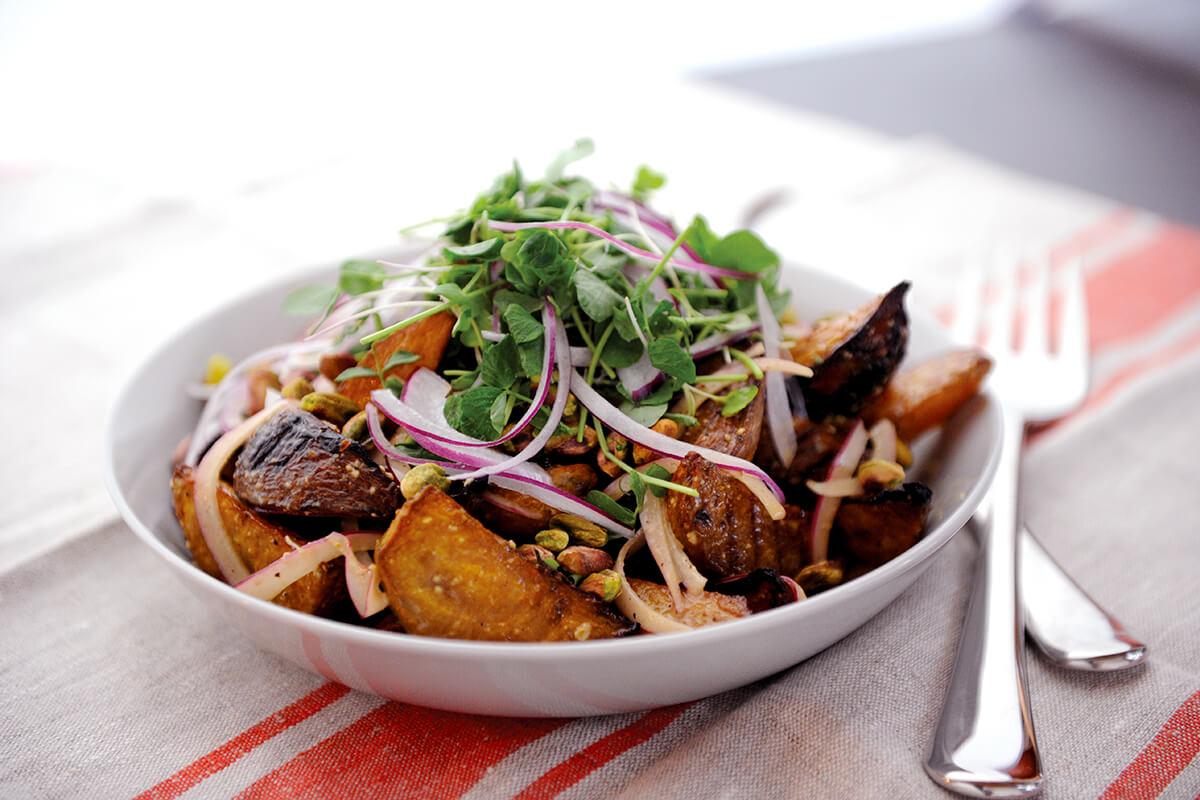 ---
Directions
Prepare the grill for indirect roasting at 350°F with strong wood smoke. If using a Kalamazoo Hybrid Fire Grill and smoker pellet insert, the technique is as follows:
Remove a grill grate from the center of the grill. Place a single pellet insert in the Hybrid Fire Grilling Drawer toward the center of the grill. Fill with the premium wood pellets of your choice. Pecan pellets work well for this recipe.
Preheat the grill with the ignition burner on LOW and a single main burner on MEDIUM. Make sure the active main burner is not below or adjacent to the pellet insert. Allow the grill to settle at 350°F for about 15 minutes, adjusting the burners as needed.
Light the front of the row of wood pellets using a torch or paraffin cube. Once thoroughly started, blow out the fire so that the pellets continue to smolder on their own, but do not maintain an open flame.
Replace the grill grate above the pellets. The beets will be roasted directly above the pellets for maximum smoke.
Toss the sliced beets in olive oil and place in a single layer on a wire cooling rack. Season liberally with salt and pepper. Place in the indirect zone of the grill, close the hood, and roast for 35 to 40 minutes, rotating the rack once halfway through the cooking time. Remove from the grill and reserve.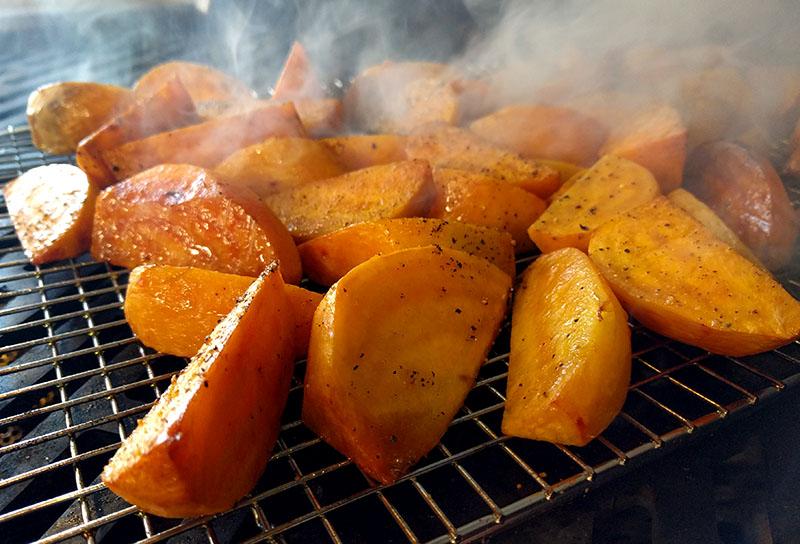 Toast the pistachios in a skillet over medium heat with a splash of olive oil and a pinch of salt until lightly browned, about 10 minutes. Reserve.
Whisk together the vinegar, mayonnaise, syrup and ginger to create the dressing.
Fold in the beets and onions. Transfer to a serving bowl and top with pistachios and microgreens.