Recipes
Santa Fe Wings
I love hot wings – all kinds of hot wings. For my Memorial Day Barbecue in 2006, I created Peach Bourbon Habanero Hot Wings. They were a huge hit, but a bit of a project. This year I wanted to do something easier. The result is Santa Fe Wings. These are only mildly spicy and have a complex, earthy flavor that comes from Ancho chiles and coriander. Start the wings marinating the night before.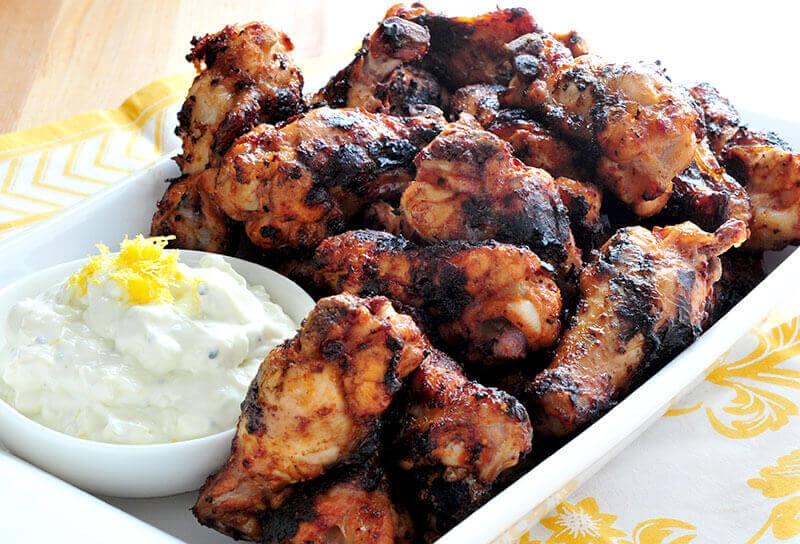 ---
Ingredients
For the marinade
10 ounces (2 bottles) Cholula hot sauce
1/4 cup canola oil
1 tablespoon soy sauce
1 teaspoon ground coriander
8 cloves garlic, crushed
3 pounds chicken wings
For the blue cheese dip
1/4 cup sour cream
3/4 cup mayonnaise
1/4 teaspoon Colman's mustard powder
1 teaspoon finely grated fresh lemon zest
1/4 teaspoon coarsely ground black pepper
5 ounces crumbled blue cheese
For the seasoning
1 Ancho (dried Poblano)chile
1/2 teaspoon ground coriander
Directions
To make the marinade, whisk together all ingredients in a medium bowl. Place the wings in a large, zip-top freezer bag and pour in the marinade. Squeeze out all the air, seal, and refrigerate for 12 to 18 hours.
To make the blue cheese dip, combine all ingredients. Cover and refrigerate for 1 to 6 hours before serving.
Before firing up the grill, remove the wings from the marinade and spread them out in a single layer on a baking sheet. Discard the marinade. Remove and discard the stem from the Ancho chile. Place the chile in a coffee grinder or blender along with the coriander and grind to a fine texture. Sprinkle the seasoning blend over the wings. Use it all, generously covering the wings on all sides. Let the wings rest at room temperature while you start the grill.
Prepare the grill with direct and indirect cooking zones. You will want a hot fire for the direct grilling zone and a temperature of 400º in the indirect zone. A charcoal fire is preferred; use Kalamazoo Quebracho Charcoal for best results.
Grill the wings over direct heat for 10 minutes, turning frequently until marked on all sides. Transfer to the indirect zone, close the hood and continue cooking until the wings are done, about 15 to 20 minutes more. Your goal is a crispy exterior with fully cooked meat that is still tender.
Remove from the grill and serve with blue cheese dip. Sliced green onions would be a nice garnish. These wings pair just as well with ranch dip as they do with blue cheese.