Recipes
S'mores Dessert Pizza
We've cooked S'mores pizza at parties and demonstrations all over the country, and it is always a masstive hit. For a hint of that graham-cracker taste, the whipped-cream base is spiced with nutmeg and cinnamon and sweetened with turbinado sugar. This pizza is a sticky, gooey, fun-loving, delicious mess, just like you would expect.
Serves Makes one 10-inch pizza
---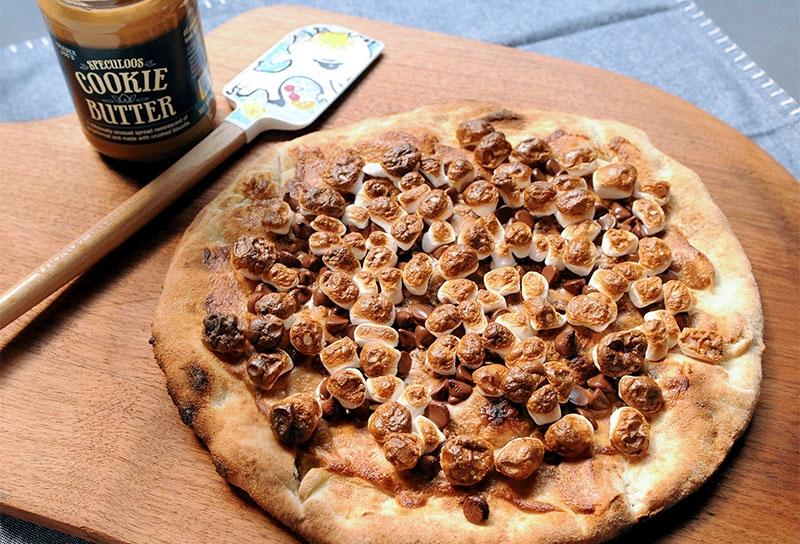 ---
Ingredients
10-ounce ball Artisan Fire Pizza Dough
1/3 cup heavy whipping cream
Pinch ground cinnamon
Pinch freshly ground nutmeg
1/2 teaspoon light-brown sugar
1 1/2 teaspoons turbinado suga
3 ounces of dark chocolate (88% cocoa) broken up
8 marshmallows, cut in half
Directions
Prepare the outdoor pizza oven or grill for cooking pizza.

Instructions for pizza on the grill
Instructions for using the Artisan Fire Pizza Oven

Whip the cream in a medium-size bowl until thick. Whisk in the cinnamon, nutmeg and sugars to combine. Reserve.

Working on a lightly-floured surface (I use semolina flour), gently form the dough with your hands into a 10- to 12-inch pizza.

Spread the whipped cream onto the dough, using care to keep the center area thin. Distribute the chocolate onto the pie.

Transfer the pizza to the oven. Cook until the chocolate is melted and the crust is browned, about 2 minutes.

Remove the pizza from the oven and top with the marshmallows. I place the cut sides down.

Return to the oven and cook until the marshmallows are browned, 30 seconds to 1 minute more.

Remove from the oven and let rest for 1 minute before slicing.