Recipes
Rustic Red Onion Tart
A good onion tart is a lot like French onion soup you can eat with a fork. In this case, we've also added a healthy dose of pancetta and roasted it with wood smoke. Cheesy and packed full of flavor, this tart makes a fantastic side dish for your holiday table.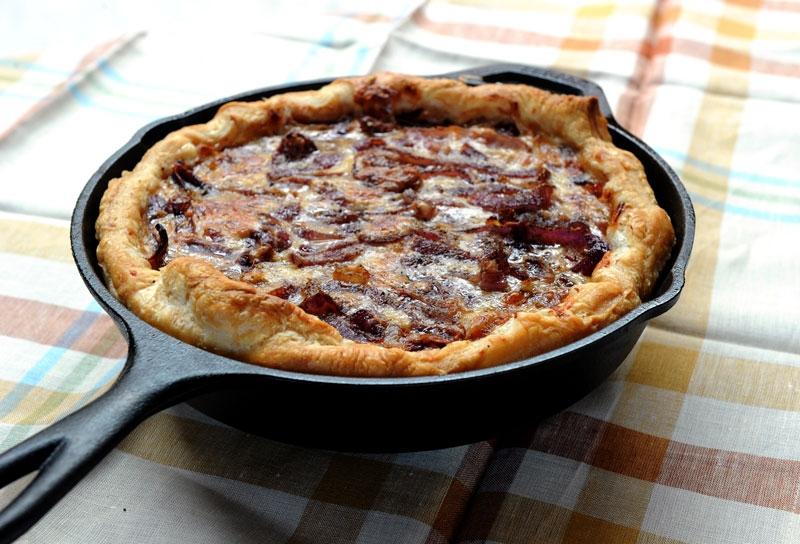 ---
Ingredients
½ pound pancetta, cut into ½-inch cubes
2 tablespoons unsalted butter, plus extra for greasing the skillet
3 red onions, sliced ¼-inch thick and separated into rings
1 large shallot, sliced ¼-inch thick
1 teaspoon salt
14 ounces puff pastry dough (I use Dufour Classic Puff Pastry found in the frozen foods section)
2 eggs
½ cup half and half
Leaves picked from 4 sprigs fresh thyme
8 ounces grated Gruyere cheese
½ teaspoon coarse ground black pepper
10-inch cast-iron skillet
Directions
Cook the pancetta in a skillet over medium heat until fully-cooked but still soft, about 10 to 15 minutes. Remove from the skillet and reserve.
Add the butter to the pancetta drippings in the pan and melt. Then add the onions and shallot. Season with salt. Continue cooking over medium heat until the onions are browned and soft, about 30 minutes. Stir frequently. Remove from heat and reserve.
Prepare the grill for indirect grilling with a little wood smoke at an air temperature of 400°F. You can cook with a wood fire or use your preferred method to add smoke. If using a Kalamazoo Hybrid Fire Grill, this is a good time to use our pellet adapters.
Grease a 10-inch cast-iron skillet with butter. Lay out and shape the puff pastry dough into the skillet, trimming off any excess.
Beat together the eggs and cream in a large bowl. Stir in the thyme, cheese and black pepper. Stir in the cooked pancetta, onions and shallot.
Pour the mixture into pastry crust and transfer the skillet to the indirect zone of the grill. Bake with the grill lid closed for 1 hour, rotating once for even cooking.