Recipes
Roasted Branzino with Lemon, Rosemary and Thyme
Branzino is an incredibly delicate fish which really benefits from roasting in the Shokunin Kamado Grill or the Hybrid Fire Grill. This fish is often roasted in the oven, but it takes flavor very well, and the hint of hardwood charcoal or wood flavor imparted during the roasting process makes it a perfect candidate for the grill. It's great for a weeknight family meal or an elegant dinner party.
---
---
Ingredients
2-3 fresh whole branzino, cleaned and scaled
1 dozen cherry tomatoes
2 lemons, sliced and seeded
6 sprigs, rosemary
½ bunch, fresh thyme
¼ cup olive oil
Sea salt and fresh cracked black pepper to taste
Directions
Start by setting up your Shokunin for cross-flow roasting and establish your grill's temperature at 425°F. If you're using the K500 Hybrid Fire Grill, light a burner on one side and leave the other burner off. If you're using the K750 or K1000, light the two outermost burners, leaving the center burner(s) off.

While the grill is preheating, use a sharp knife and make three to five (depending on the length of your fish) slices, ¼" deep in each side of the fish, equal distance apart. Then, rub the fish inside and out with olive oil, being sure to get inside the cuts. Once coated, season the fish inside and out with salt and pepper.




Stuff the branzino with three slices of lemon, two sprigs of rosemary and several sprigs of fresh thyme.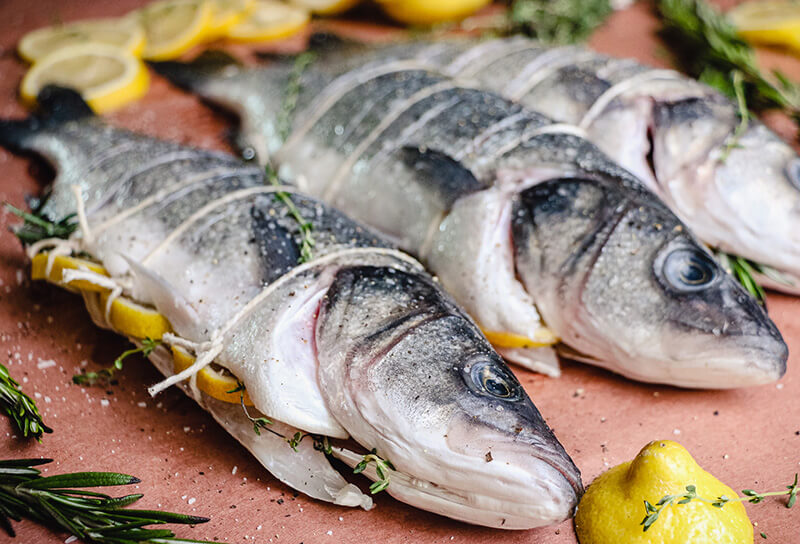 Then, tie the fish closed with butcher's twine and place them on a parchment paper-lined baking sheet. Toss the tomatoes with olive oil and a pinch of sea salt and add them to the baking sheet.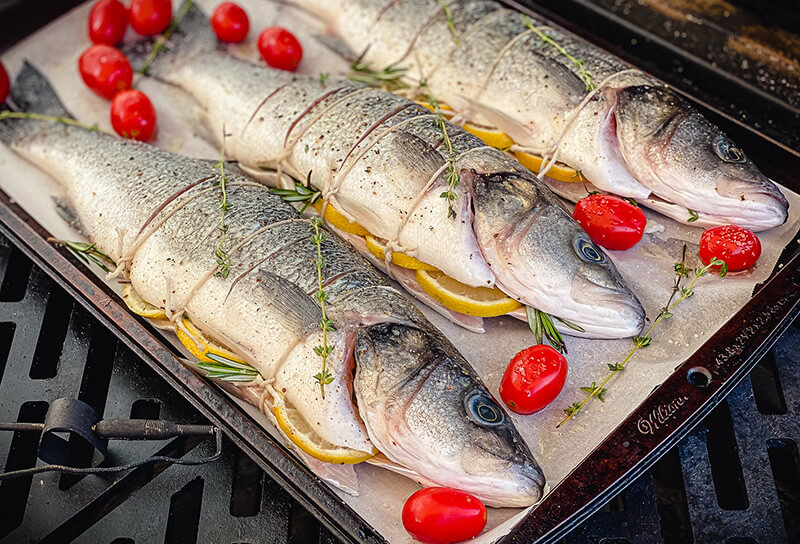 Transfer the baking sheet to the grill, and place it over indirect heat. Position the baking sheet so the heads of the fish are towards the fire on the Shokunin grill. If you're using the K750 or K1000, position so the heads of the fish are towards the back of the grill. Close the grill hood and allow the fish to roast for 10 to 12 minutes, then remove them from the grill.

Adjust your grill vents, or gas knobs depending on your grill type, to increase the temperature to 500°F.

Tip: This can be achieved quickly on the Shokunin by opening the supply vents to 100% open and leaving the lid open for about 7 minutes. Then close the lid, open both exhaust vents 100% and the temperature will quickly climb to about 500°F. Some adjustments to the exhaust vents may be necessary to stabilize temperature.

With your grill's temperature established at 500°F, return the fish back to the grill over indirect heat, close the lid and allow them to roast for 5 minutes. Remove the fish from the grill and serve with your favorite vegetable, like these grilled zucchini ribbons.