Recipes
Rib Cap Steaks with Chimichurri
My favorite cut of steak has always been the ribeye, and for about 12 years my wife and I referred to the outer perimeter of the steak as "the golden crescent." I would choose steaks from the butcher's case partially by the overall appearance, but also by the amount of outer deckle that was present. This part of the steak is called the rib cap, and the meat is extremely flavorful, rich and tender. It wasn't until 2008 that the culinary director at Allen Brothers mentioned to me they offered steaks cut entirely from the rib cap. They call them prime cover rib steaks, and I think they are spectacular.
Because they are relatively thin, rib cap steaks can be grilled with direct heat the entire time. They are also very forgiving in regards to the internal temperature. I like mine medium rare, but I can enjoy them all the way to medium well because the meat is just that good.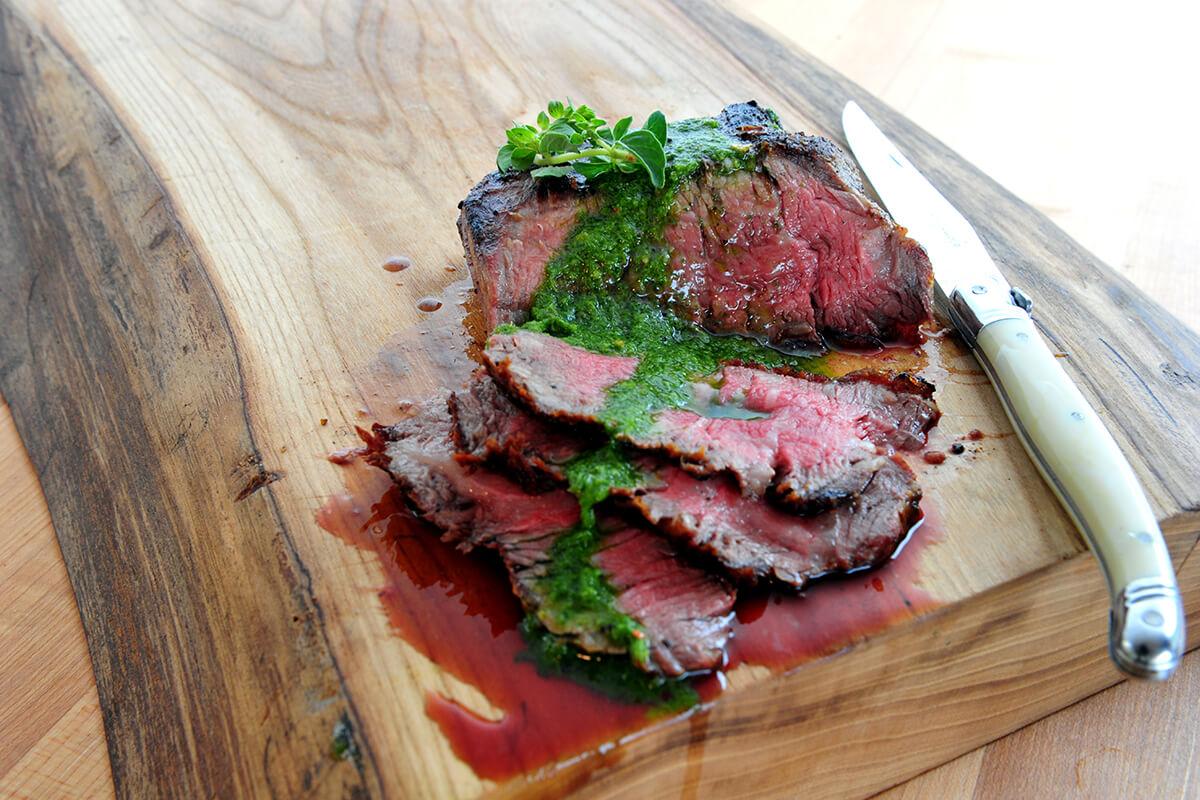 ---
Ingredients
4 rib cap steaks, about 10 ounces each
Extra virgin olive oil
Fine sea salt
Freshly-ground black pepper
Directions
Prepare the chimichurri by combining all the ingredients in a blender. Blend until smooth, then adjust the taste with more salt if needed. Refrigerate until it's time to use it, but no more than 5 hours.
Remove the steaks from the refrigerator. Brush with olive oil and season liberally with salt and pepper.
Prepare the grill for direct grilling over a hot fire, about 600°F. A charcoal fire is preferred.
Grill the steaks above the fire for roughly 9 minutes total, flipping once after about 5 minutes. For medium rare steaks, remove them from the grill when the internal temperature reads 125°F. Let rest for 2 to 3 minutes before serving.
Rib cap steaks are best when sliced across the grain. You may wish to slice the steaks on the bias for your guests, fan them out, and top with a drizzle of chimichurri sauce.