Recipes
Oven-Roasted Chicken and Mushroom Pasta
This simple and quick pasta dish is full of flavor and comes together quickly in the Artisan Fire Pizza Oven. This is a perfect way to make use of any leftover rotisserie chicken or grilled chicken thighs from the night before. If you don't have any left over, you can always use a store bought rotisserie chicken as a substitute. Not feeling the chicken at all? No problem, this pasta is perfect for sliced turducken sausage as well.
---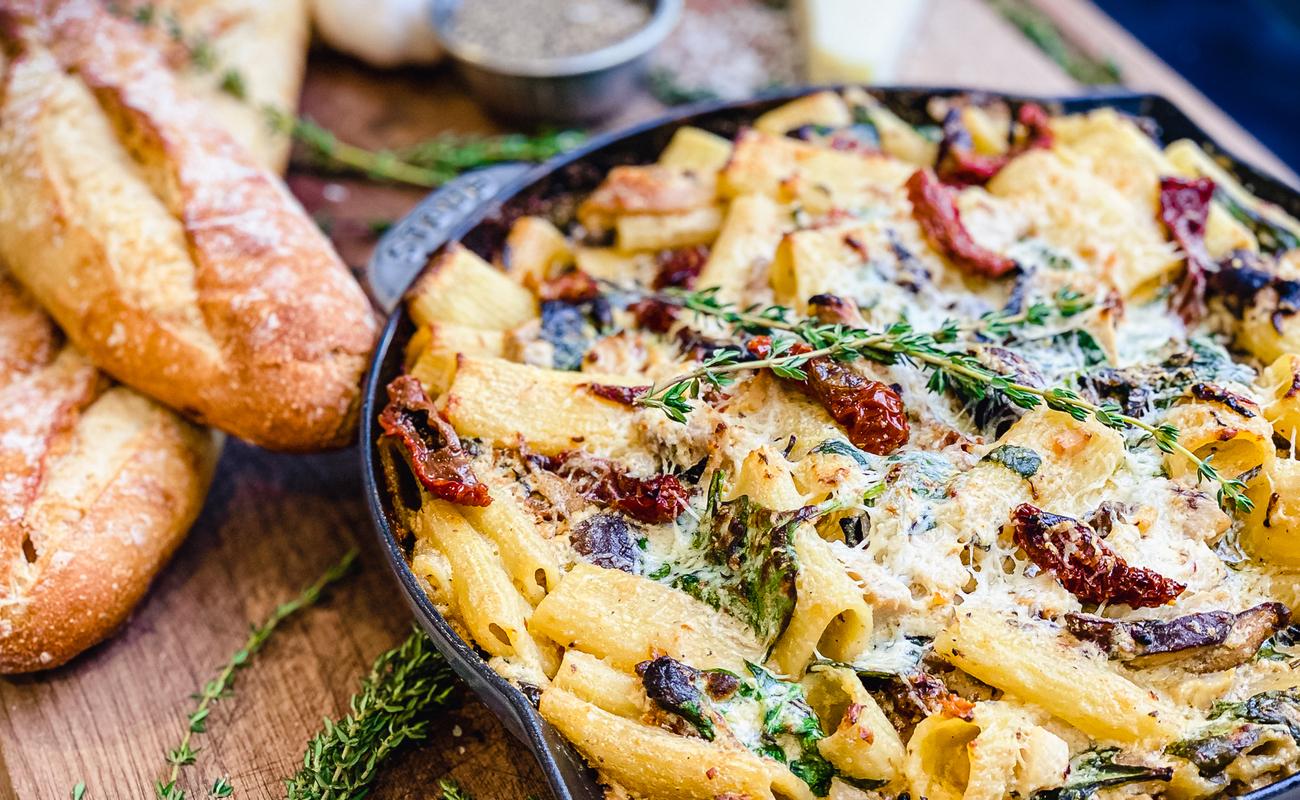 ---
Ingredients
Mushroom Ingredients
10 ounces Baby Bella mushrooms, quartered
10 ounces shiitake mushrooms, sliced
½ medium sweet onion, julienned
4 cloves garlic, minced
⅓ cup olive oil
1 teaspoon kosher salt
1 teaspoon black pepper
1 teaspoon garlic powder
1 tablespoon fresh rosemary, finely chopped
2 tablespoon fresh thyme leaves
Pasta Ingredients
1 pound rigatoni pasta, cooked half way to al dente
2 cup ricotta cheese
1 cup gruyere cheese, shredded
1 cup fontina cheese, shredded
1 cup heavy cream
2 cup reserved pasta water
2 cups roasted chicken, diced
1 cup sun-dried tomatoes, roughly chopped
1 teaspoon red pepper flakes
3 cups fresh spinach, roughly chopped
3/4 cup Pecorino, grated
Directions
Light the Artisan Fire Pizza Oven, setting the bottom burner to high, and the back burner to just above low. (This will maintain an oven temperature of about 425°F.) While the oven is preheating, place the mushrooms and onions in a large mixing bowl. Drizzle with olive oil and toss to coat them.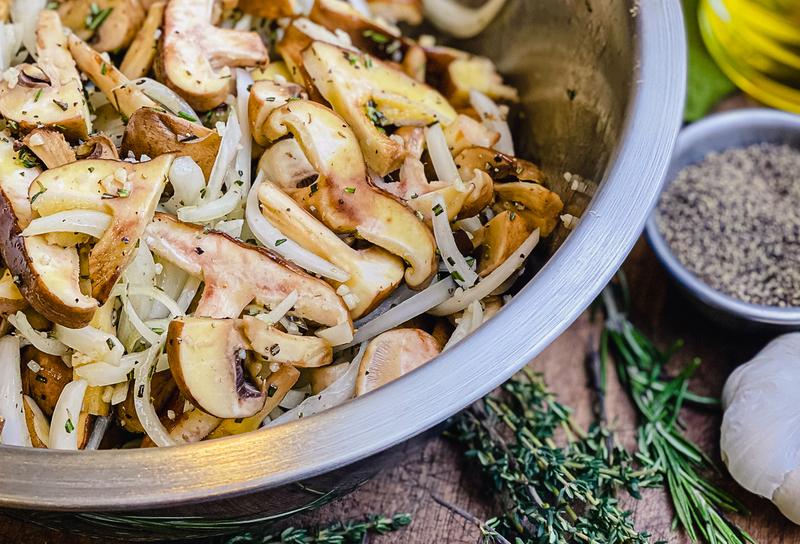 Then, season with the remaining ingredients, and toss again until the mushrooms and onions are evenly coated. Transfer them to a parchment lined baking sheet and place in the oven on a wire cooling rack for 15 minutes, rotating the baking sheet 180° after seven minutes.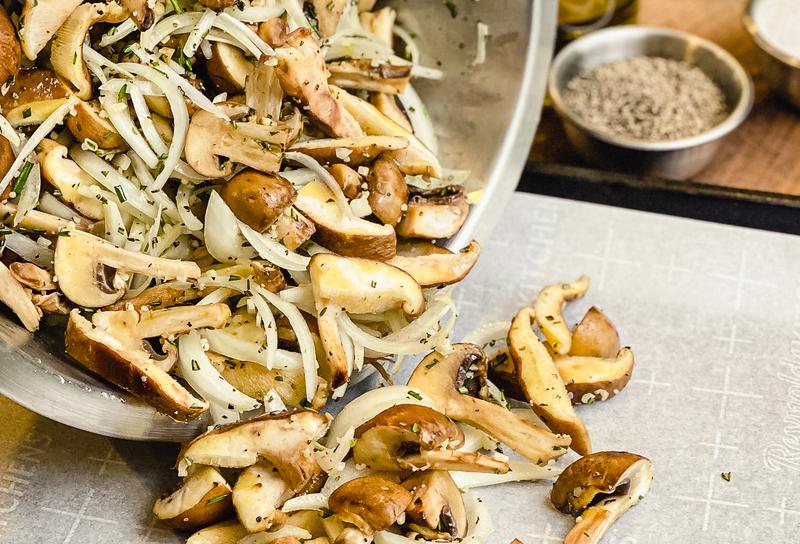 While the mushrooms and onions are roasting, add all the pasta ingredients (except the pecorino cheese) to a large mixing bowl. When the mushrooms and onions are finished, remove from the oven.
Add them to the mixing bowl with the other pasta ingredients. Stir until well combined. Transfer the mixture into an oven safe cooking vessel, and cover with foil. Place it in the Artisan Fire Pizza Oven on the wire cooling rack and allow it to bake for 20-25 minutes. Remove from the oven, and adjust the main burner to high and the bottom burner to off. Remove the foil from the pasta, top with pecorino cheese and return to the oven for five minutes, or until the cheese has melted and the pasta just starts to char on the edges.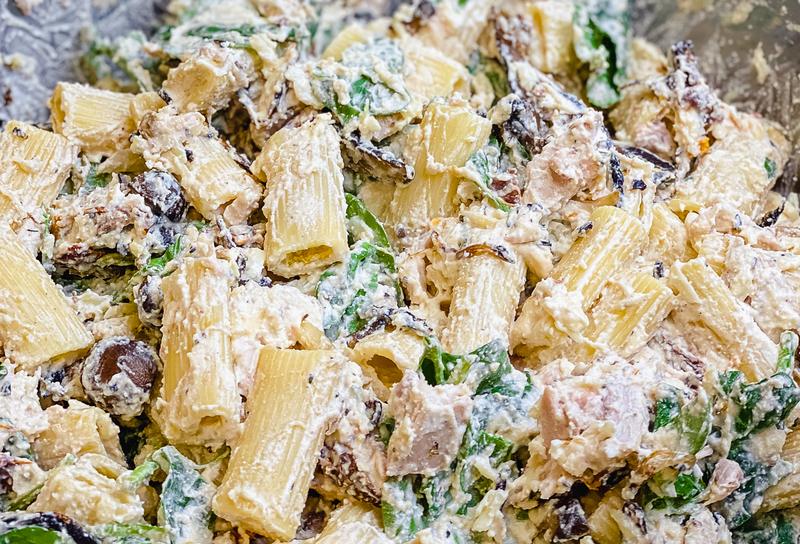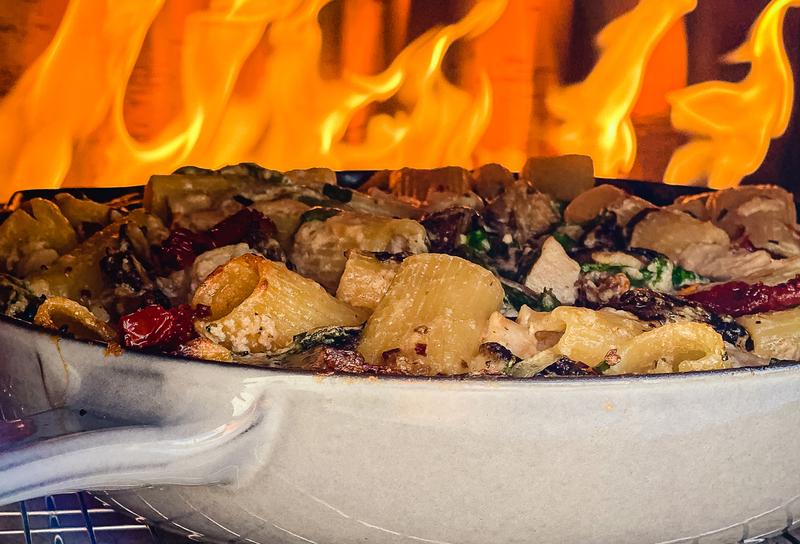 Remove from the oven and serve hot.