Recipes
Turducken Sausage
For anyone who isn't familiar, a Turducken is a unique holiday dish that features a deboned chicken inside a deboned duck inside a deboned turkey. It is quite a sight, but also quite a lot of work. We thought it would be fun to try a simpler offering for Turkey Day tailgating — the Turducken Sausage.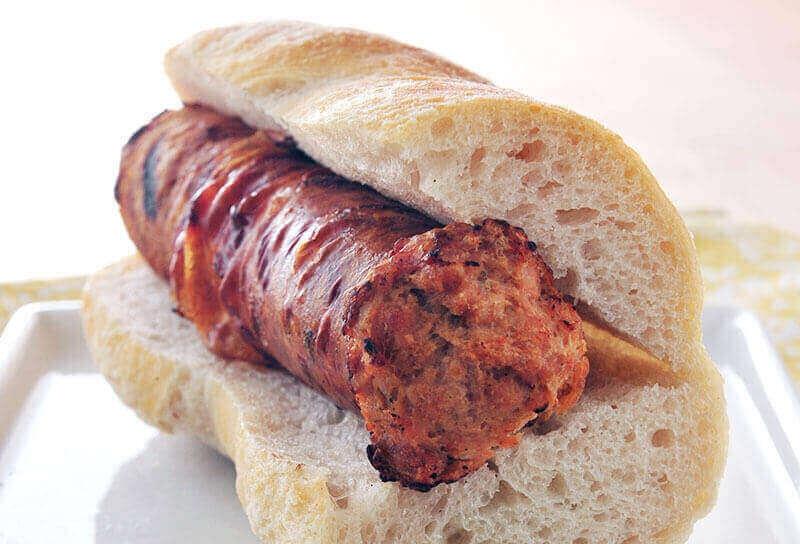 ---
Ingredients
1 pound boneless, skinless turkey breast
1/2 pound boneless, skinless chicken thighs (about 3 thighs)
2 skin-on, boneless duck breasts (about 12 ounces)
1 tablespoon whole fennel seed
1 teaspoon whole green peppercorns
1 tablespoon kosher salt
1/2 teaspoon smoked paprika
1/2 teaspoon ground cayenne pepper
Sausage casings (find them at an outdoor store such as Bass Pro Shop or Gander Mountain)
16 ounces lager beer (I use Bell's Lager of the Lakes)
48-inch baguette, cut into 4-inch lengths and split
Directions
Cut the turkey and chicken into 1/2-inch cubes. Cut the duck breasts into small pieces as well, making sure no piece of skin is larger than a 1/4-inch square. Combine all the meat in a metal bowl and chill in the coldest part of the refrigerator for at least 15 minutes.
Toast the fennel seeds and peppercorns in a small skillet over medium heat until the seeds are browned. Grind them in a spinning-blade-style coffee grinder or with a pestle.
Season the meat with the fennel peppercorn blend, salt, paprika and cayenne. Grind with a meat grinder using a medium or coarse die. Remove the blade and die, add a sausage stuffer attachment and slide on about 3 feet of casing. Close the end with a clothespin and then stuff the ground meat into the casing in a continuous length.
Avoid large air pockets, but don't worry about filling the casing completely tight. Having some "slack" is helpful with twisting into individual links. Pinch to separate at 4-inch intervals and twist tight for the ends of each link. Leaving all the links together, wrap the sausages and refrigerate for a minimum of 2 hours.
Remove the sausages from the refrigerator and cut apart the links. Pre-heat a cast-iron skillet directly over a medium-hot grill fire. Pour in the beer and add the sausages. Sauté in the beer for about 20 minutes, turning occasionally after the first ten minutes.
Remove the sausages from the skillet and continue grilling over direct heat until browned on all sides and cooked through. The casings will begin to split by this time, and the internal temperature should be 175° to 180°F.
Serve on split baguettes with whatever condiments and accompaniments you desire. Grilled Poblano and onions are a great choice.