Recipes
Kalamazoo Supreme Pizza
Most of the pizza recipes we share at Kalamazoo Outdoor Gourmet are a bit untraditional. We thought Father's Day might be a good time to offer our take on an American classic, the "supreme" pizza. This version substitutes poblano peppers for the typical green bell peppers, and uses pickled cherry peppers instead of red bell peppers. These ingredients really amp up the standard flavor profile.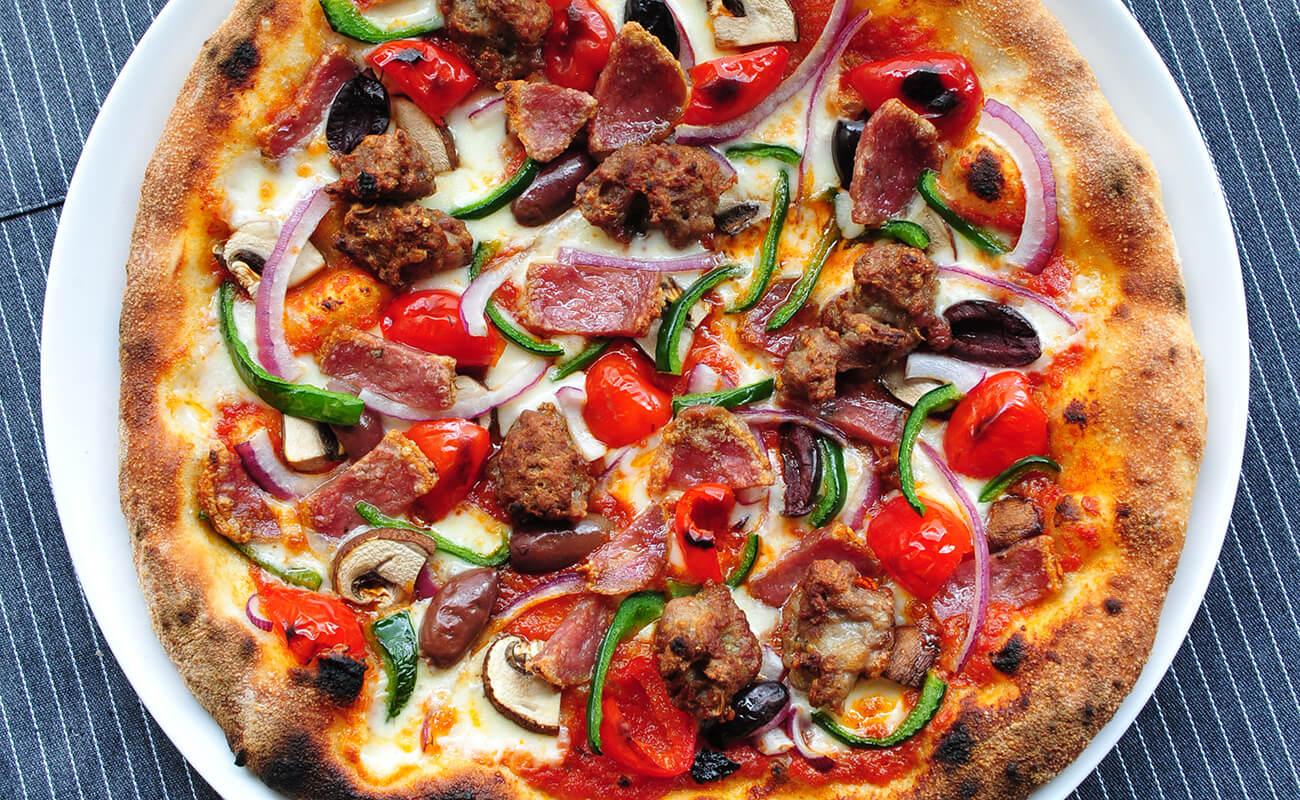 ---
Ingredients
1 10-ounce ball Artisan Fire Pizza Dough
2 ounces Oven-roasted Pizza Sauce
Pecorino Romano cheese
1 ounce smoked low-moisture mozzarella, cut into ½-inch cubes
1 ounce scamorza cheese, cut into 1/2-inch cubes
6 small pickled Italian cherry peppers, stemmed, seeded and cut up
6 black olives, pitted and halved
1 crimini mushroom, stemmed, halved and sliced
1/4 fresh poblano chile, stemmed, seeded and thinly-sliced
1 thin slice of red onion, broken into individual rings and cut
4 ounces Italian sausage, casings removed, and cooked in clumps (I cook them in a cast iron skillet in the pizza oven)
1 ounce pepperoni or uncured salami, sliced and cut into wide strips
Directions
Prepare the outdoor pizza oven or grill for cooking pizza.
Working on a lightly-floured surface (we use Caputo '00 flour), form the dough into a 10-inch pizza. Spread the sauce into an even layer. Grate a light dusting of Pecorino over the top using a microplane grater. Distribute the cubed cheeses, followed by the cherry peppers, olives, mushroom, red onion, poblano and sausages.
Place the pizza on a pizza peel and then transfer to the oven or grill. Cook until the cheese is melted and the crust is nicely browned.
Cooking in a hot pizza oven will take less than 3 minutes. Cooking in a conventional oven at 500⁰F or on a grill will require closer to 10 minutes.
Tips for cooking in the Artisan Fire Pizza Oven:
Pizzas with a lot of toppings like this one need a bit more time for the crust to cook through – especially in the center. Cook this pizza with the lower burner control set to LOW, and the upper burner control set to HIGH. After the bottom of the pizza has taken on a moderate amount of color cooking directly on the ceramic cooking deck, slide a pizza screen underneath to slow down the cooking from below.