Recipes
Horseradish-Encrusted Filet
As the creators of the Hybrid Fire Grill, you can imagine we have grilled far more than our fair share of steaks. But, you can also make a truly fantastic steak by roasting it in the Artisan Fire Pizza Oven. Give this recipe a try, and we are certain you will agree. This dish was inspired by the horseradish crust served at Wildfire steakhouses.
The filets take on a perfect brown crust from the intense sear of the cast iron. Because the steak is surrounded by heat, it cooks quickly. Even the sides are nicely browned, while the interior maintains a perfect, medium-rare. The horseradish crust adds a delicious bit of sophistication, and the slices of baguette soak up the rich, flavorful juices.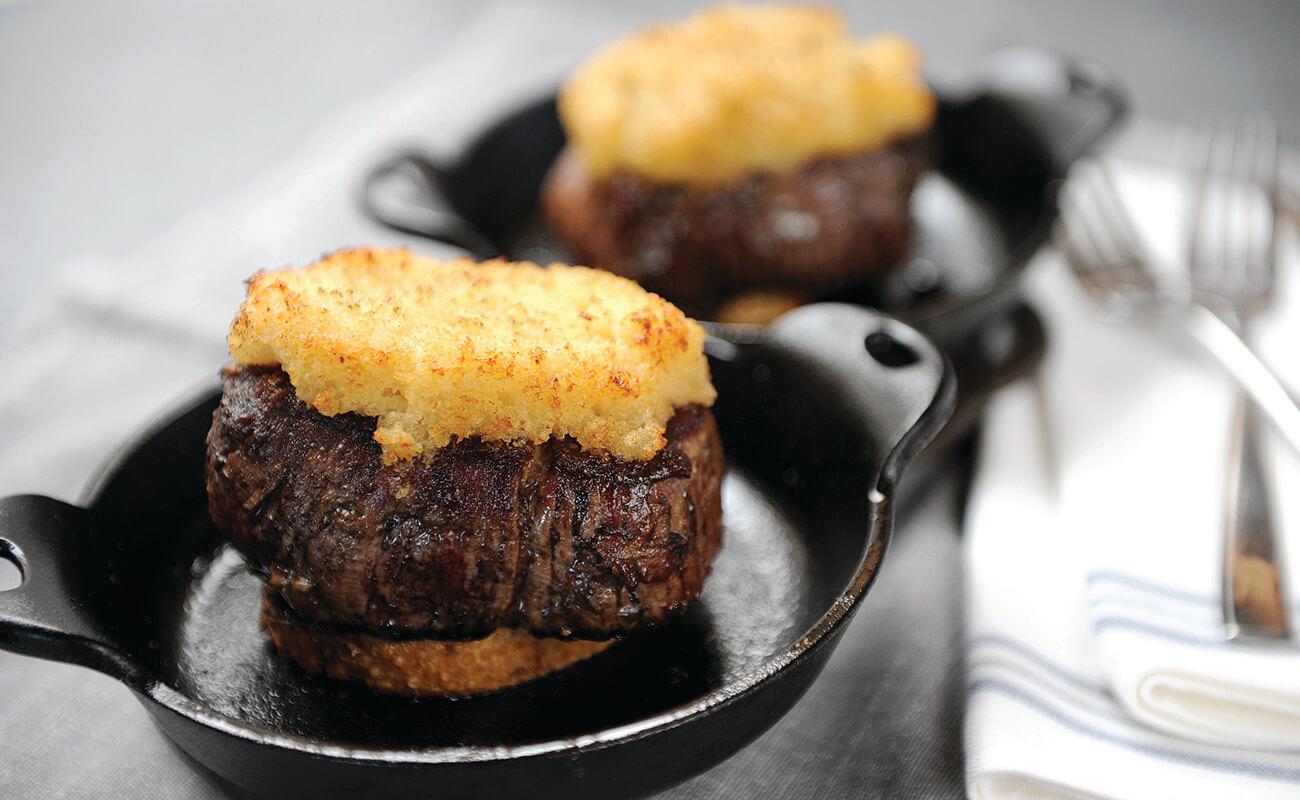 ---
Ingredients
3 tablespoons unsalted butter, brought to room temperature
2 tablespoons prepared horseradish
1/4 cup plus 2 tablespoons panko bread crumbs
2 tablespoons finely-grated pecorino romano cheese
2 thin slices of French baguette, roughly the same diameter as the steaks
2 beef tenderloin steaks, about 2 1/2 inches thick, 12 ounces each, brought to room temperature
Extra virgin olive oil
Fine sea salt
Freshly-cracked black pepper

Cast iron pan(s)
Directions
Preheat the Artisan Fire Pizza Oven with both burners on HIGH.
To make the horseradish crust, combine the butter, horseradish, panko and romano cheese. Split into two equal parts and form into two discs the same size as the filets. Reserve at room temperature.
Brush the steaks with olive oil on all sides. Season with salt and pepper.
Preheat the cast iron pan(s) in the hot oven, directly on the cooking deck, for 10 minutes.
While the pan is preheating, lightly toast the baguette slices directly on the cooking deck of the oven for about 30 seconds. Reserve.
Place the steaks in the cast iron pan(s) in the pizza oven. Roast for 6 minutes, rotating each steak 180 degrees in the pan(s) after 3 minutes. Carefully remove the pan(s) from the oven. Flip the steaks over, top with the horseradish mixture, and return to the oven. Roast for about 6 minutes more, again rotating the steaks 180 degrees after 3 minutes. Remove the steaks from the oven and check the internal temperature. The target temperature is 125°F.
Transfer the steaks to serving plates, placing each one on top of a slice of toasted bread. Let rest for 5 minutes before serving.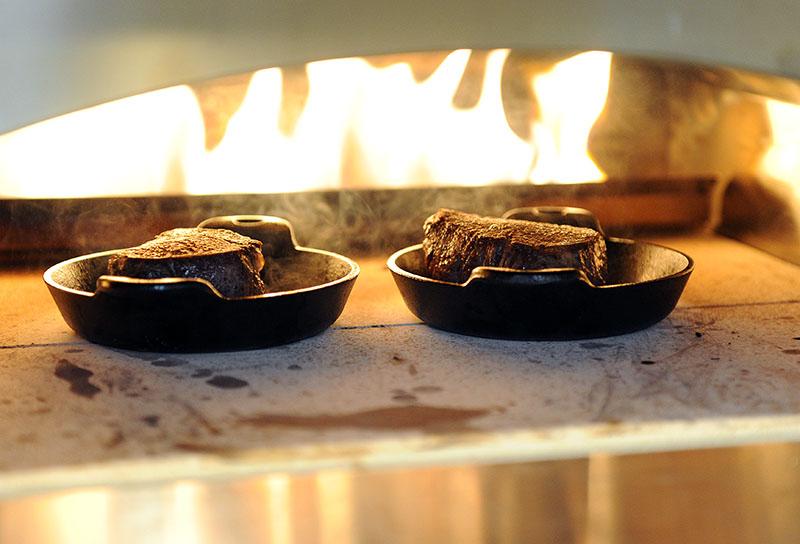 Tip: small cast iron vessels are great for oven-to-table serving. We have built up a collection of cast iron pans in various shapes and sizes for use in the pizza oven. Pans with very low sides, such as fajita skillets, are perfect for roasting meats because they allow more oven heat from the sides.