Recipes
Grilled Pineapple Salsa
The fire from the grill caramelizes the sugar in the pineapple and red onions, making them even sweeter. This creates the perfect counterpoint to the complex heat of the habanero chile. With just one habanero and a poblano, the heat is pretty mild. This is a fantastic fresh, vibrant salsa to celebrate the beginning of summer.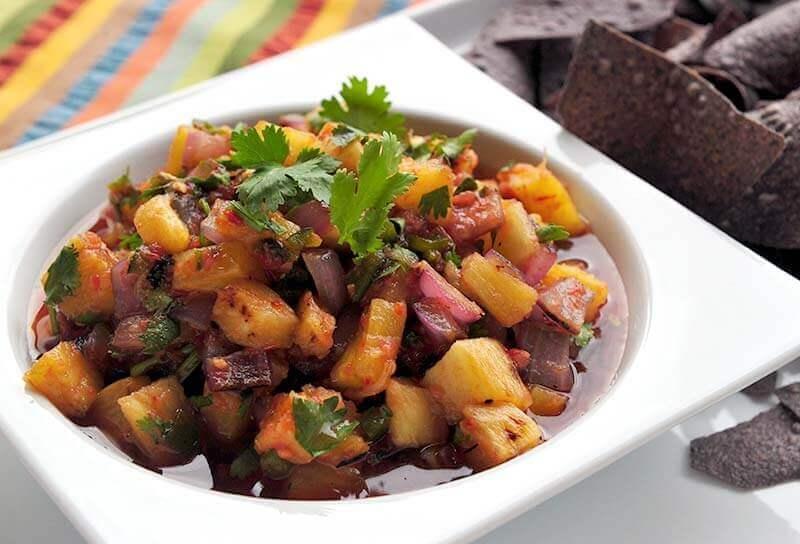 ---
Ingredients
1 pineapple, cored peeled and sliced into rings
1 red onion, ends removed and sliced into 4 rings
1 poblano chile
2 medium-sized tomatoes, stemmed and quartered
1 habanero chile, stemmed and seeded
1/2 teaspoon fine sea salt
1 ounce lime juice
Small bunch cilantro, chopped
Directions
The salsa can be prepared a day in advance, but is best when prepared just a few hours ahead.
Prepare the grill for direct grilling at about 500°F. A wood fire is preferred. We cooked this batch on the new Kalamazoo Gaucho Grill.
Grill the pineapple, onion and poblano directly over the fire. Total grilling time should be about 8 to 10 minutes. The pineapple should be flipped halfway through. By this stage it should be nicely browned. The onion slices also get flipped once, and they should be charred at the edges and beginning to turn translucent. The poblano should have blistered skin all over and requires more turning. When done, remove everything from the grill and let cool for a while.
Combine the tomatoes, habanero, salt and lime juice in a blender or food processor. Pulse until you reach a fine texture.
Dice the grilled pineapple and onion. Scrape the skin of the poblano off and discard it. Stem and seed the poblano and then finely chop. Combine these ingredients in a bowl with the cilantro. Add the tomato mixture and fold together.
Refrigerate in an air-tight container for at least 1 hour before serving.
Enjoy!