Recipes
Grilled Lobster Tails with Ginger Grapefruit and Pink Peppercorn Butter
Steven Raichlen, world-renowned grilling and barbecue expert and author, has been extolling the virtues of cooking food directly in the glowing embers of a charcoal fire for as long as I have been in this business. I think the pinnacle of using this technique is to do it with lobster. Charring the shells in the fire imparts a flavor that I had never experienced before trying it on the set of Project Smoke.
This recipe can be made entirely on the grill grates, but we recommend our simplified technique over charcoal for best results. Star the tails by searing the meat, then placing the lobster shell-side down into the coals to finish cooking. The beautifully grilled tails are topped with a compound butter featuring the bright flavors of grapefruit, ginger and pink peppercorns.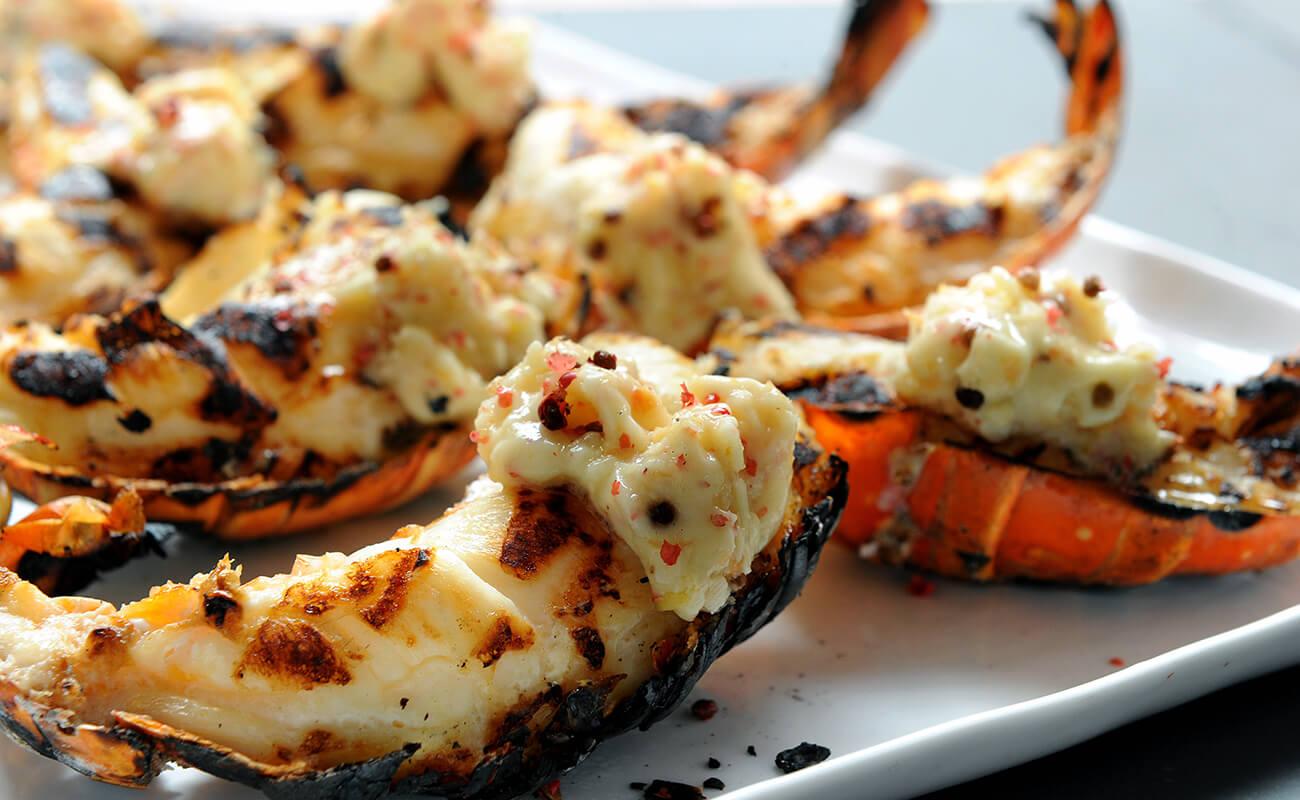 ---
Ingredients
8 tablespoons unsalted butter at room temperature
2 teaspoons freshly grated ginger root
1 teaspoon freshly grated pink grapefruit zest
1 teaspoon cracked pink peppercorns
1/2 teaspoon Maldon sea salt, or other flaky finishing salt
4 lobster tails, 8 to 10 ounces each
Extra virgin olive oil
Fine gray sea salt
Directions
In a bowl, thoroughly combine the butter, ginger, grapefruit zest, pink peppercorns and flaky salt to create the compound butter. Divide into equal parts and reserve at room temperature.
Prepare the grill for direct grilling over a hot fire. A natural lump charcoal fire is preferred.
For a Kalamazoo Hybrid Fire Grill, load the lump charcoal into the drawer in at least two of the grilling zones. Remove the grill grate from the grill over one of the zones to gain direct access to the charcoal fire below.
Split each lobster tail down the center. Start by using kitchen shears to cut through the top and bottom shells, then use a chef knife to split the meat. Brush the meat-side of each half with a light coat of olive oil and season with salt.
Melt 1/2 of the compound butter in a small saucepan over low heat. Remove from heat and reserve.
Grill the tails by starting with the meat sides down, directly on the hot grill grate. Cook until browned, about 2 minutes. If using the method of cooking directly in the coals, take the lobster off the grill grates, turn the tails over and place them shell-side down in the glowing coals. If not, simply turn them over on the grill grates. Continue cooking until the meat turns from transparent to opaque, about 135°F.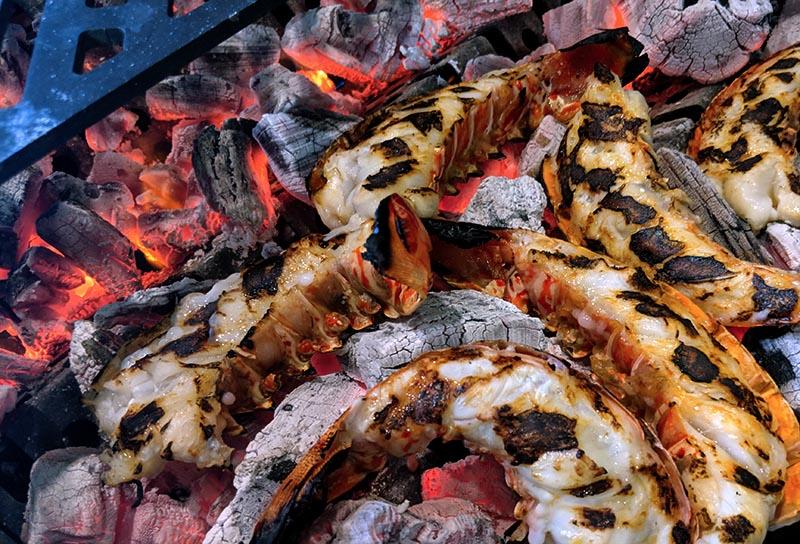 Transfer the cooked tails from the grill to a serving platter. Drizzle the melted butter over each tail, then top with a dollop of the room temperature butter. Enjoy!