Recipes
Grilled Figs Over Vanilla Gelato
Although not exactly common grill fare, figs are fantastic over an open flame (see Michael Chiarello's recipe for Prosciutto-Wrapped Figs and Blue Cheese). The fire brings out the sugars and emphasizes the sweetness. A dusting with sugar and cinnamon caramelizes on the outside to turn these figs into a light dessert.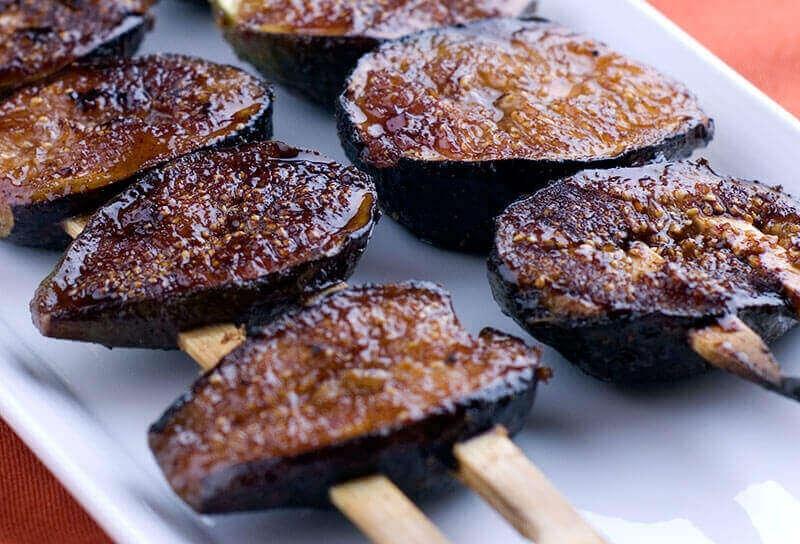 ---
Ingredients
16 Black Mission figs, stems removed and halved
1/2 cup light brown sugar
1/2 teaspoon cinnamon
1/4 teaspoon nutmeg
1/4 teaspoon cayenne
Pinch salt
1 tablespoon canola oil
Skewers
Vanilla Gelato (or ice cream)
Honey (optional)
Directions
Prepare the grill for direct grilling over medium heat (about 300° to 350°F).
Combine the sugar, cinnamon, nutmeg, cayenne and salt in a small bowl. Gently toss the figs in another bowl with the canola oil and thread onto skewers. Using pairs of parallel skewers spaced 3/4" apart will keep the figs from rotating. Place the fig skewers on a cutting board or baking sheet and sprinkle both sides with the sugar mixture.
Cook the fig skewers directly over a medium fire, cut-side-down. Cook until the sugars have completely caramelized, about 3 minutes, and then turn to cook the skin side for another 2 to 3 minutes. Be careful not to burn the figs, especially on the skin side.
Dish the gelato into 8 serving bowls and top with 4 fig halves each. Optionally drizzle with honey.