Recipes
Grilled Corn, Radicchio and Onion Relish
The sweetness of corn and red onion are enhanced by the grill in this quick side dish that also makes for a great topping on turkey burgers or grilled fish. Grilled radicchio, fresh arugula and a quick dressing round out the flavors in this light summer side dish.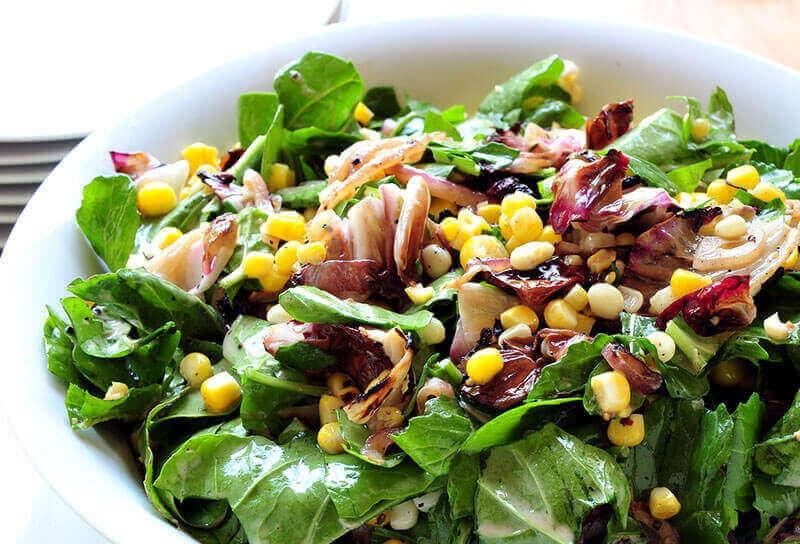 ---
Ingredients
3 ears corn, shucked and cleaned
1 red onion, sliced very thin
1 head radicchio, quartered
Fine sea salt
Coarsely-ground black pepper
3 ounces arugula leaves, coarsely chopped
1/4 cup mayonnaise
3 tablespoons sherry vinegar
2 tablespoons brown sugar
Directions
Prepare the grill for direct grilling over a hot fire with an indirect zone at 500ºF. Preheat a cast iron skillet over the fire or use a Kalamazoo custom fish surface. (See following instructions for setting up a Kalamazoo Hybrid Fire Grill.)
Drizzle the corn, onions and radicchio with olive oil. Season them liberally with salt and pepper. Place the corn in the indirect zone, close the hood and cook for 5 minutes or until it turns golden, turning once. Transfer the corn to the direct grilling zone and lightly mark the kernels over the fire. Remove when done. While the corn is in the direct zone, add the onions to the skillet or fish surface and the radicchio to the grill grate. Toss the onions while they cook until soft and browned, about 5 minutes time. Cook the radicchio for a minute or 2 on each side until they are nicely marked. Remove everything from the grill.
Cut the corn from the cob using a knife or a corn zipper. Coarsely slice the radicchio. Place corn, radicchio, onions and arugula in a large bowl. In a small bowl, whisk together the mayonnaise, vinegar and sugar. Fold this dressing into the relish in the large bowl. Serve warm.
Instructions for a Kalamazoo Hybrid Fire Grill: The warming rack on the Hybrid Fire Grill is perfect for roasting the corn. Rather than using an indirect zone, place the corn on the warming rack above the fire for the roasting period of 5 minutes or more and then transfer it to the direct zone. The Kalamazoo custom laser-cut fish pattern grill surface is great for grilled onions for this and other recipes.
Grilling onions on a custom fish-pattern grill surface.