Recipes
Grill-roasted Fingerling Fries
Roasted fingerling fries are a marvelous upgrade from the common French fry. Even more so when cooked with a wood or charcoal fire. A touch of rosemary and garlic enhance the flavor of this healthier alternative, and they only require about 10 minutes to cook.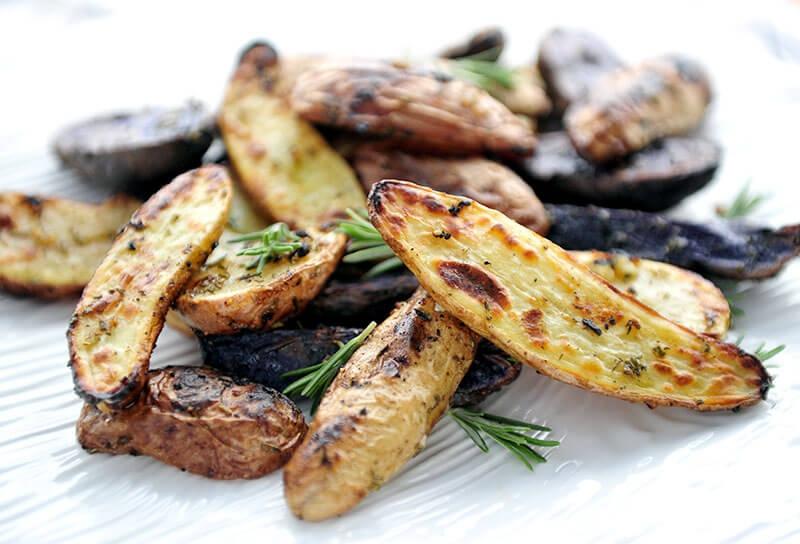 ---
Ingredients
Leaves from 3 sprigs fresh rosemary, finely chopped
2 tablespoons extra virgin olive oil
2 cloves garlic
10 to 12 fingerling potatoes, golden, red and purple
Fine sea salt
Freshly-cracked black pepper
Directions
Combine the rosemary and olive oil in a small bowl. Crush the garlic into the oil. Reserve for 1 hour to let the flavors mingle.
Prepare the grill for roasting with an indirect fire at 500° to 600°F.
Slice the potatoes in half lengthwise. For larger-bodied spuds, slice them lengthwise, and then again into quarters to make each piece about the same size.
Toss the potatoes with the olive oil mixture. Season liberally with salt and pepper.
Place the potatoes in the indirect zone of the grill, skin-side down, close the lid and roast until browned and tender, about 10 minutes.
Remove from the grill and enjoy.