Recipes
Fennel Cream Pizza with Figs, Prosciutto and Arugula
Fennel cream sauce can be summed up with one word: amazing! It lays a wonderful foundation for the contrasting flavors above. Sweet figs, savory prosciutto and peppery arugula make this pizza an appetizer to remember.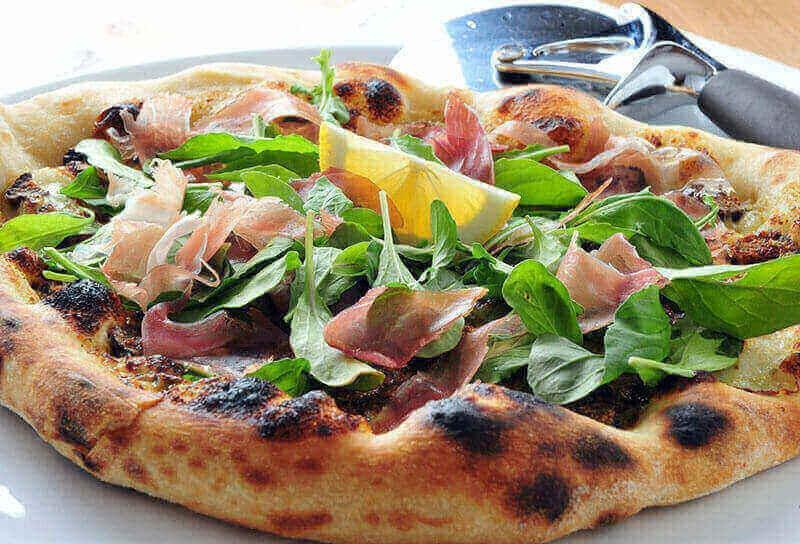 ---
Ingredients
1/2 batch White Wine Pizza Dough, about 14 ounces
1/2 cup heavy cream
1 teaspoon whole fennel seeds, freshly ground
1 1/2 ounces goat's milk mozzarella, broken up (or other goat cheese)
4 dried black mission figs, cut in half then thinly sliced
4 slices prosciutto, very thin, torn up
1 handful baby arugula
1 lemon wedge
Directions
Prepare the pizza oven or grill for baking pizza.
Whisk together the cream and fennel in a small pot over medium heat. Bring to a low boil and maintain the boil for 5 minutes. Whisk in the cheese until melted. Remove from heat.
Form the pizza dough to about 14″ round and transfer to a pizza prep peel lightly dusted with corn meal. Spread the fennel cream sauce over the dough. Add the figs.
Bake the pizza until the crust is golden brown and the toppings are hot. At 500 degrees it should take about 10 minutes. At 750 degrees it will take only about 3 minutes. Rotate as needed for even cooking.
Remove the pizza from the oven and top with the prosciutto and arugula. Squeeze the lemon over the top and enjoy.