Recipes
Dry-rubbed Hanger Steaks with Jalapeño Butter
Hanger steaks, or hanging tenders, are one of those "butcher's cuts" that a lot of people have never tried – cuts that butchers usually reserve and take home for themselves. Hanger steaks are full of that rich beef flavor we love so much, and they are a perfect match for a hot charcoal fire. For a little more information on hanger steaks, check out our blog post about Two Lesser-known Steaks You Should be Grilling.
The dry rub in this recipe is full of garlic and black pepper. The fresh jalapeño butter melts into the steak upon serving, turning this relatively modest steak into something truly special.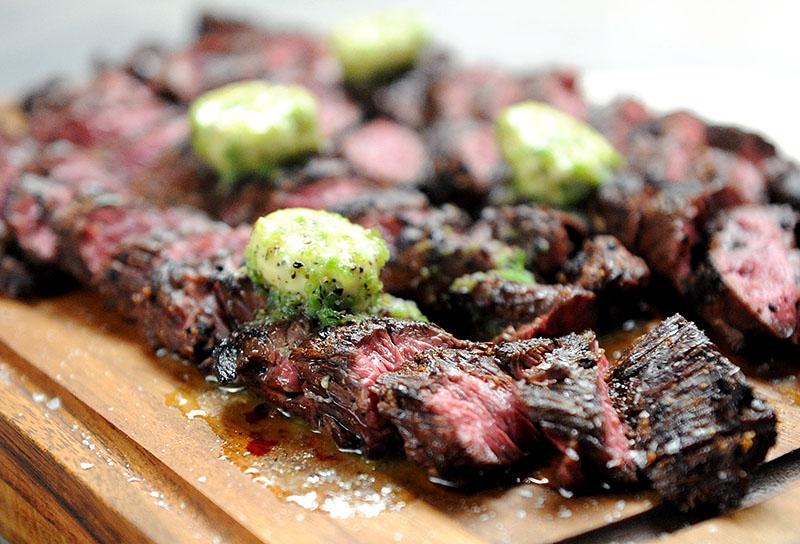 ---
Ingredients
4 hanger steaks, about 1/2 pound each
Extra virgin olive oil
For the Jalapeño butter
8 tablespoons (1 stick) butter at room temperature
1/2 of a large jalapeño stemmed, seeded and roughly chopped
1 teaspoon coarsely ground black pepper
1/2 teaspoon kosher salt
For the Dry Rub
1 tablespoon dried chopped garlic, coarsely ground in a mill
1 tablespoon kosher salt
1 teaspoon ground sweet paprika
1 teaspoon coarsely ground black pepper
Directions
Prepare the jalapeño butter at least 1 hour or up to 1 day ahead of time. Combine the ingredients in the bowl of a food processor, and process until the jalapeno bits are quite fine. Transfer the mixture onto a flat sheet of plastic wrap. Form into a log shape and wrap tightly. Refrigerate until use.
Prepare the dry rub by mixing all of the ingredients together in a small bowl.
Lightly coat the beef with olive oil, then season liberally with the dry rub on all sides. Use all of the rub. Let the steaks sit at room temperature (but not in the sun) while you prepare the grill.
Prepare the grill for direct grilling over very high heat, preferably over a charcoal fire.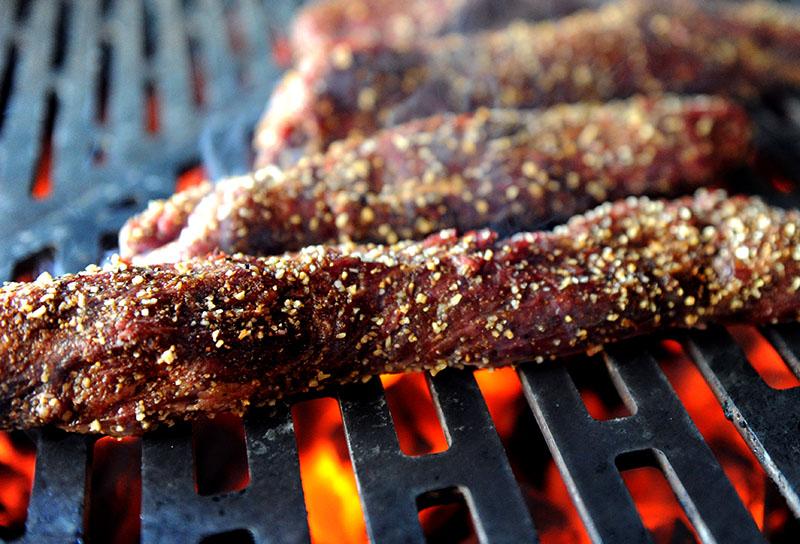 Place the steaks on the grill grate in the direct zone. Turn them after 2 to 3 minutes, or once the first side is nicely browned. Continue moving the steaks every 2 minutes until all sides are browned. Check the internal temperature after the first 6 to 8 minutes, depending on the heat of your fire. For the best flavor and texture, remove the steaks from the grill when the internal temperature reaches 125°F. Let rest for 3 to 5 minutes. To serve, slice across the grain and top with pats of jalapeño butter.