Recipes
Charred Asparagus Salad
Fresh asparagus is grilled quickly over a blazing-hot charcoal fire. The intense heat allows you to char the asparagus, but pull it off the grill while still al dente. Juice squeezed from grilled lemons forms the base for the vibrantly-flavored dressing, and the rest is a delicious combination of orzo pasta, Marcona almonds and shaved Parmigiano Reggiano.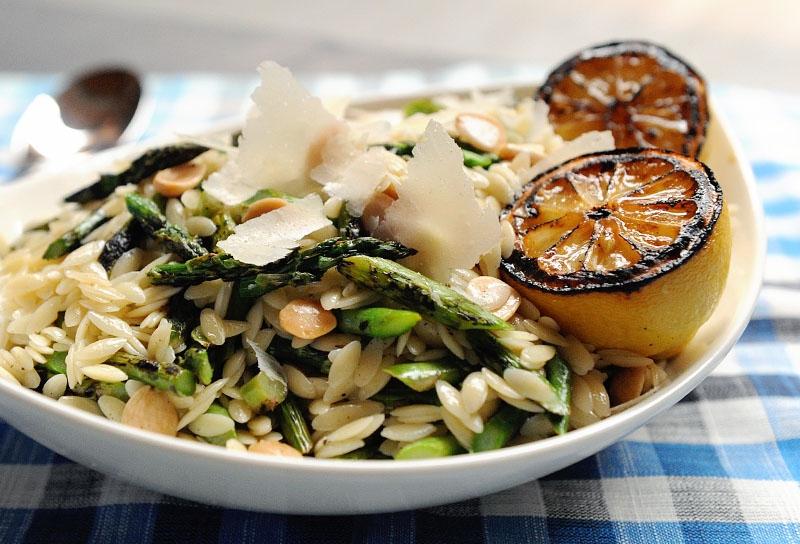 ---
Ingredients
1 pound asparagus, trimmed
4 lemons, cut in half through the equator
2 tablespoons extra virgin olive oil
Kosher salt
1/2 pound dried orzo pasta
1 tablespoon butter
1/2 cup Marcona almond halves
1 to 2 ounces shaved Parmigiano Reggiano
Directions
Prepare the grill for direct grilling over very high heat, preferably over a charcoal fire.
Whisk together 1 tablespoon olive oil and 2 tablespoons fresh lemon juice (squeezed from 1 of the lemon halves). Toss the asparagus in the mixture to coat, then season generously with kosher salt.
Grill the asparagus quickly to char the outside, pulling the asparagus off the grill while it is still al dente (you need a very hot fire for this). Fill a sheet pan with ice. Place the asparagus on top of the ice to cool rapidly and stop them cooking further. Once the asparagus is cool, discard the ice. Reserve the asparagus.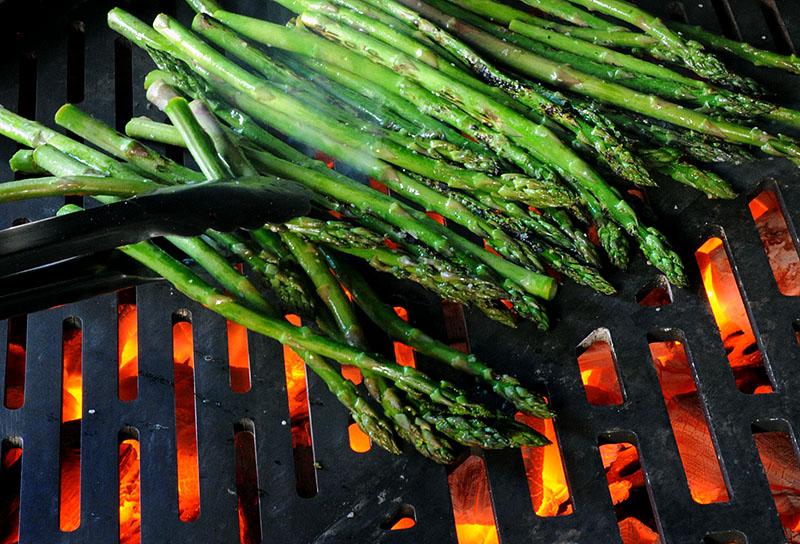 Grill the remaining lemon halves (6 or 7) over the same charcoal fire until nicely browned, about 2 minutes. Reserve.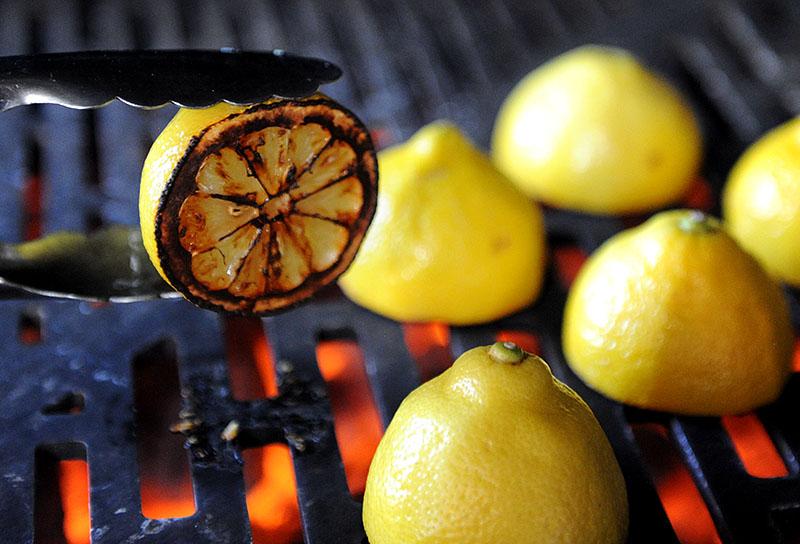 Cook the pasta to al dente in boiling water according to the directions on the package.
While the pasta is cooking, prepare the dressing. Use a lemon juicer to juice 4 of the grilled lemon halves into a saucepan. Reduce the lemon juice in a saucepan over medium heat until thickened. Whisk in the butter and 1 tablespoon of olive oil. Remove from heat and reserve.
Once cooked, strain the pasta and rinse under cold running water to halt the cooking process. Transfer the pasta to a large bowl and immediately fold in the dressing to prevent the pasta from sticking together.
Cut the tips off the grilled asparagus, then slice the stalks on the bias. Fold the stalks and tips into the pasta, along with the almonds and parmesan. Test for taste, adding a little salt if needed.
Serve at room temperature.