Recipes
Caribbean Jerk Sauce
At first glance, this jerk sauce may look a little intimidating just based on the ingredient list. Don't let that fool you, it's surprisingly simple and is made in about 5 minutes with ingredients available at any grocery store.

It's packed with flavor and while it's generally associated with chicken, don't limit this versatile sauce to only poultry — though jerk chicken wings are always a crowd pleaser. Try it with pork, it's excellent on pork chops, pork loin, pork tenderloin and even pork belly. I also love using this sauce on shrimp skewers, grilled prawns as well as various types of roasted whole fish.

I always recommend making enough to divide, using some as marinade and reserving some to use as either a dipping sauce, or to baste on as you're grilling your poultry, pork, or seafood.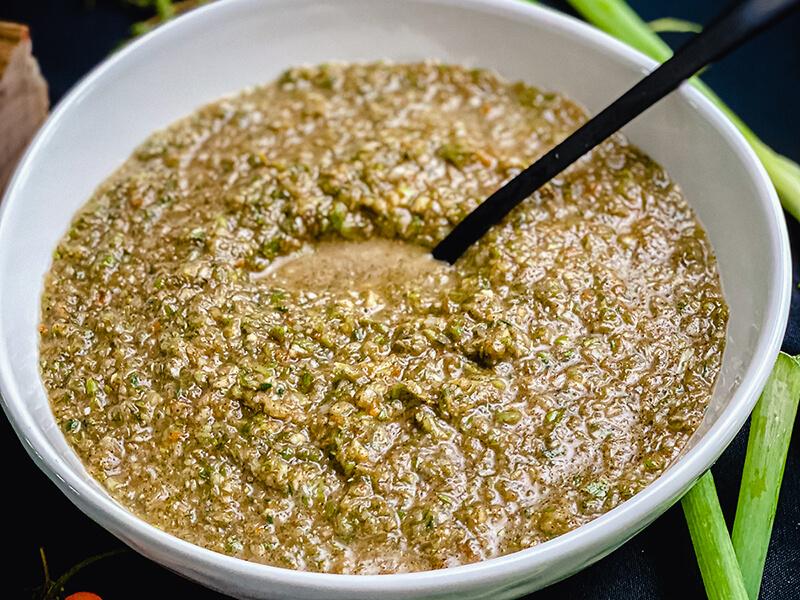 ---
Ingredients
12 whole green onions, roughly chopped
2 scotch bonnet peppers, seeded and veined
5 cloves garlic, peeled
2 inch piece fresh ginger, peeled
½ medium Spanish onion
1 bunch fresh thyme, stems and all
3 tablespoon Worcestershire sauce
3 tablespoon soy sauce
¼ cup avocado oil
¼ cup light brown sugar
2 ½ teaspoon ground allspice
1 teaspoon ground cinnamon
½ teaspoon ground cloves
1 teaspoon Kosher salt
Juice of 2 limes
Zest of 1 lime
Directions
Roughly chop the first six ingredients, and place them into a food processor. Add remaining ingredients and pulse until smooth, but chunky.