Recipes
Bacon-Roasted Potato Skins
These potato skins are a hit at every game day gathering. They take some time to prepare, so plan accordingly, but the crispy potato skins, amped up in flavor from the rendered bacon fat and smoky seasoned salt, are well worth the wait.
---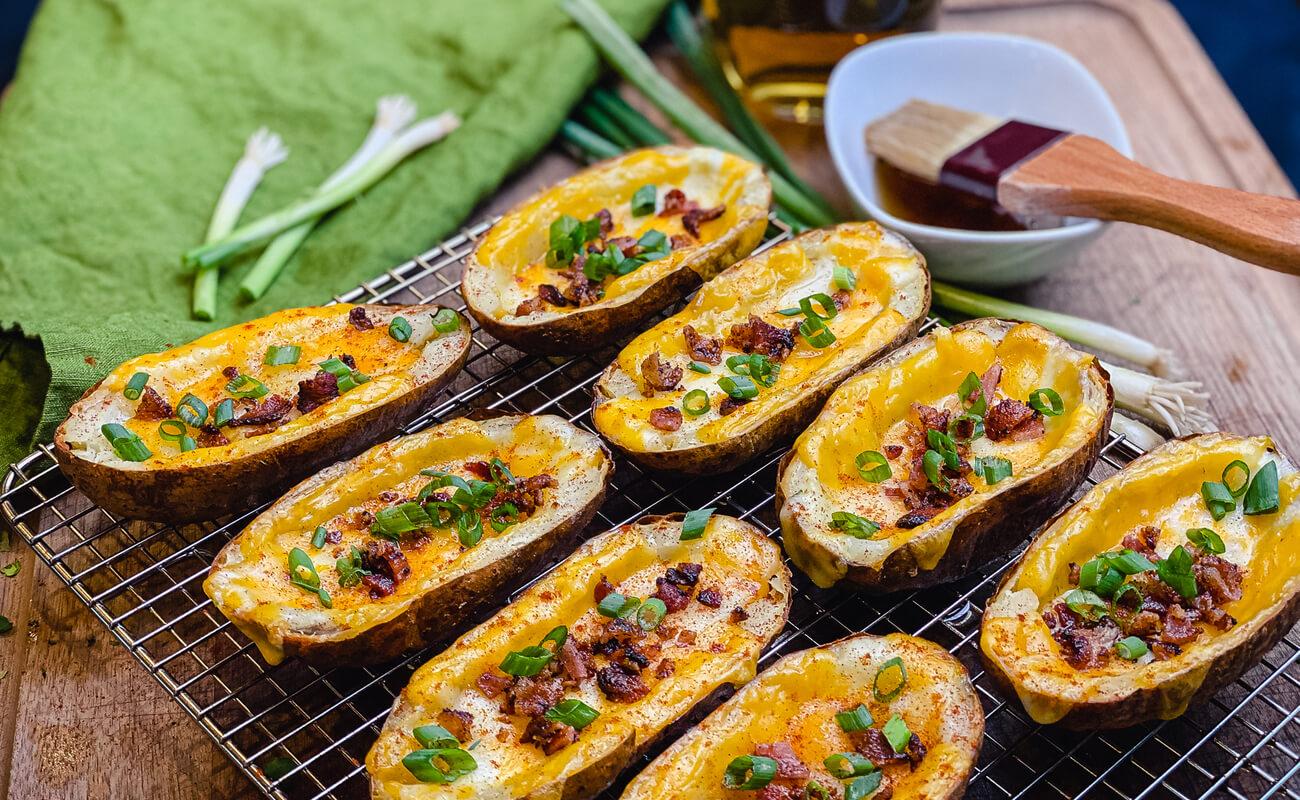 ---
Ingredients
6 small russet potatoes
12 slices bacon, cut into ½" squares
12 slices cheddar cheese
12 slices Colby Jack cheese
4 scallions, thinly sliced
1 tablespoon smoky seasoned salt
Directions
Start by lighting the Hybrid Fire Grill and establishing the temperature at 400°F. For the K500, light either the left or right burner. For the K750 or K1000, light both outermost burners.

For the Shokunin Kamado, set up for cross flow roasting, and establish temperature at 400°F.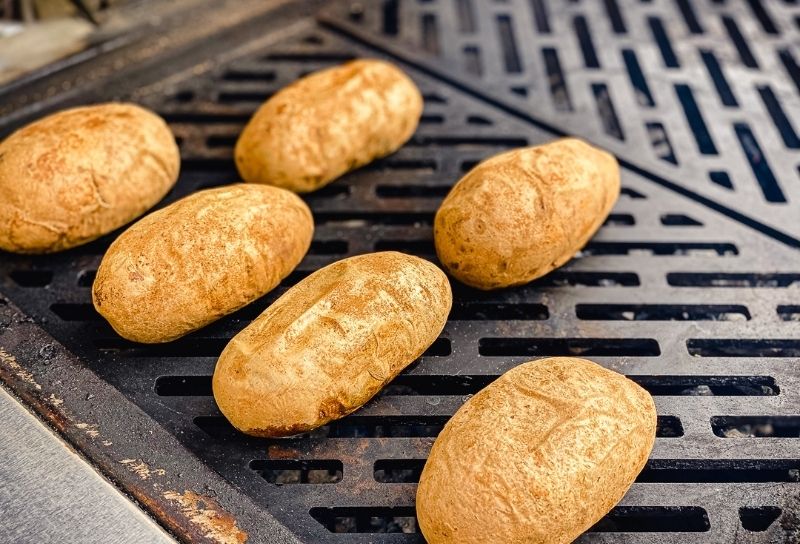 While the grill is preheating, scrub potatoes thoroughly and pierce the skins in several places with a fork. Place the potatoes on the grill over indirect heat and allow them to roast for 60 minutes. While the potatoes are roasting, fry the bacon squares until they are slightly crispy. Place the bacon on a paper towel-lined plate and reserve the rendered bacon fat.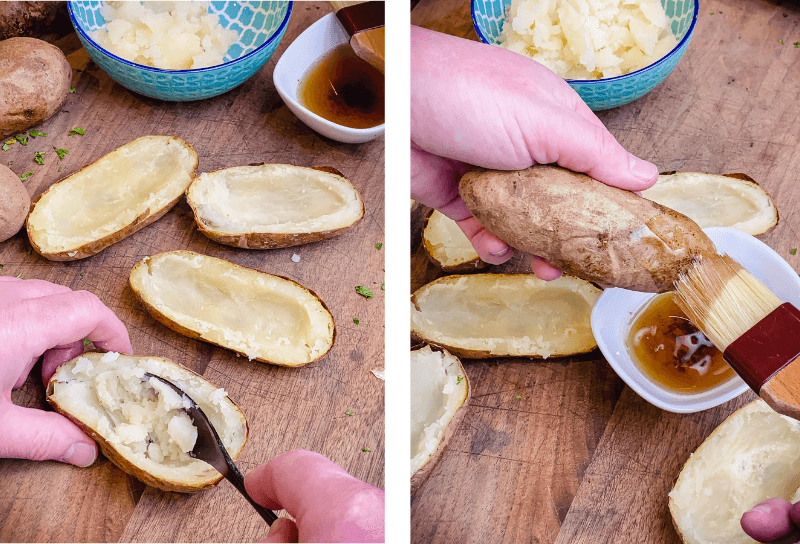 Remove the potatoes from the grill and slice them in half lengthwise, being careful as they will be very hot. Using a spoon, scoop out the center of each half of the potato.

Tip: Save the scooped-out potato for some loaded twice-roasted potatoes.

Then, using a pastry brush, lightly glaze the skins of each potato half with the rendered bacon fat. Season the bacon-glazed skins with smoky seasoned salt and place them skin side up on a cooling rack. Return to the grill for 7-10 minutes.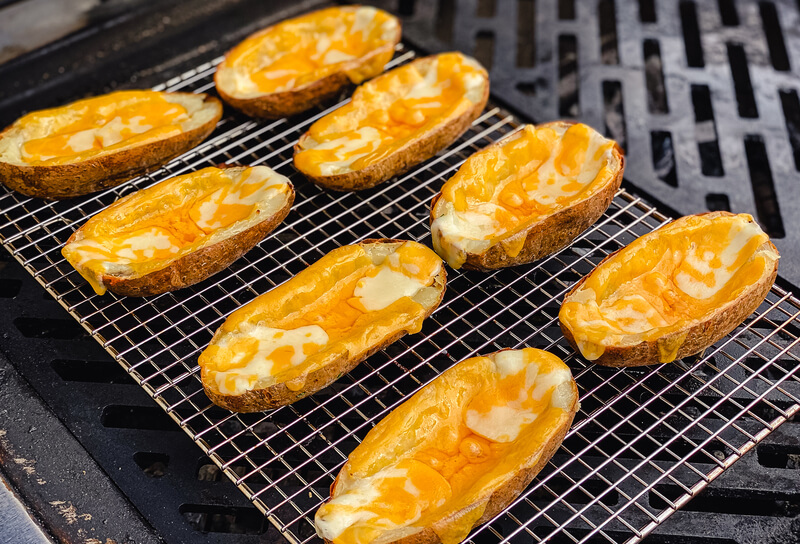 Then, flip the potatoes over on the cooling rack and place a slice of cheddar and Colby Jack cheese in each. Close the lid and allow the cheese to melt for five minutes. I prefer sliced cheese to shredded cheese, so the cheese will melt and sort of fold over the edges of the potato. Shredded cheese tends to sink into the middle of the potato "boat."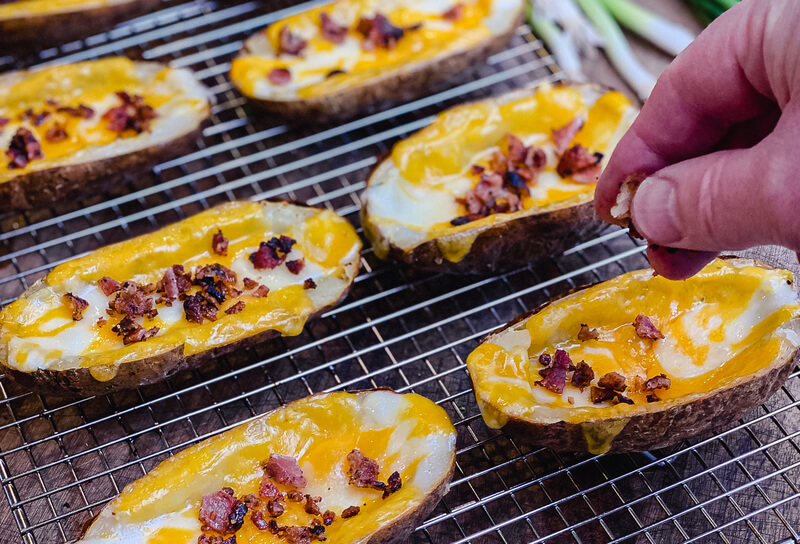 Remove them from the grill and fill each potato boat with bacon pieces and scallions. Serve with ranch dressing or your favorite condiment.